Uber and City of Cape Town locked in licence battle
Drivers caught in middle as more cars are impounded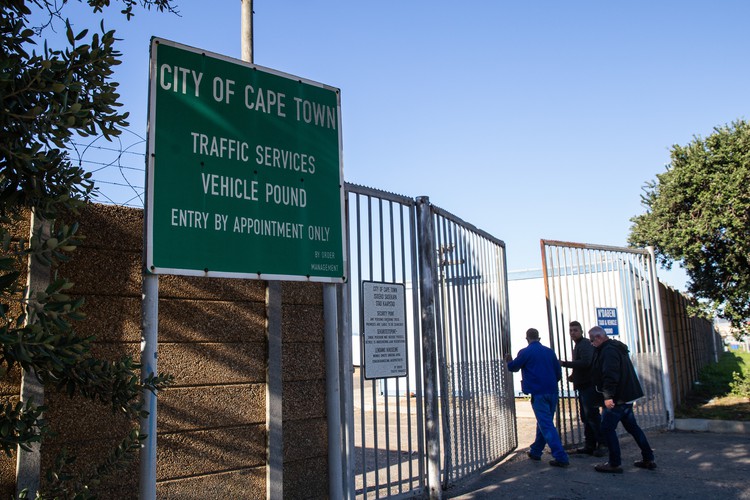 Uber drivers are desperate for the City of Cape Town to issue more operating licences as they face vehicle impoundments for operating without a licence.
But the City says that Uber drivers have not used all the licences made available because they have not followed all the steps or met the requirements.
Samantha Allenberg, Uber spokesperson, said that the delays are due to City backlogs in processing the application documents and that "all drivers-partners using the Uber app have already completed the required steps in applying for their operating licenses."
"Driver-partners are providing for their families and giving the citizens of Cape Town a service they want and need: safe, affordable and reliable rides," Allenberg said. "However the City continues to enforce impoundments even when the delay is on their side."
The City has impounded about 480 Uber vehicles in 2018, according to Richard Bosman, Executive Director of Safety and Security for the City of Cape Town, compared to 646 for the whole of 2017. There is no reason for the uptick in impoundments besides the fact the City has more resources to focus on the Uber permitting issue than before, according to Alderman JP Smith, Mayoral Committee Member for Safety and Security.
"They're breaking our spirit and it is very unfair," said Riyaad, 34, who has been an Uber driver for four years. "We've been waiting for permits since 2015." His car was impounded once while driving a customer in Claremont. (He asked to be identified only by his first name.)
An Uber driver must obtain an operating licence to avoid impoundment. The City of Cape Town made 1,035 operating licences available in 2015. A successful application depends on having documents in order, such as work visas, proof of residence and vehicle ownership, according to Councillor Brett Herron, the Mayoral Committee Member for Transport. There must also be a need for transport services in the area.
Of the 1,035 metered-taxi operating licences offered to Uber drivers, 465 are still available to those that have started applying but have not yet completed all the necessary steps, according to Herron.
Uber helps drivers to apply, and Herron said it takes about 60 days for the City to review applications. These are then sent to the Western Cape Provincial Regulatory Entity for final approval and the issue of the licence. Herron said the City of Cape Town had approved 56 applications in 2018.
GroundUp tried to contact the Western Cape Provincial Regulatory Entity for comment, but without success.
Uber drivers found without an operating licence must pay impoundment fines to retrieve their vehicles. The City has collected over R13,200,000 from vehicle impoundments since the start of the fiscal year in July of 2017, according to Smith. Roughly 20% of impoundments in 2018 are cars driven by Uber drivers, according to Richard Bosman, executive director of safety and security for the City.
Bosman said the City conducts traffic stops at checkpoints and requests that Uber drivers show their operating licence. If the driver does not have a valid licence, the car is impounded in a lot in Maitland or Ndabeni.
Mandla Hlatshwayo, an Uber driver, said his car had been impounded on a Friday evening. Traffic offices are closed over the weekend, meaning Hlatshwayo could not retrieve his vehicle until Monday. "I work from Monday to Friday to pay the rental of my car and then I work the weekend to pay for other things for family. That threw me off financially. Even till now I couldn't pay my debts because I was impounded."
Bosman said to retrieve a vehicle, drivers had to pay an impoundment release fee as well as a fine of R7,500 for a first offense and up to R15,000 for a third offence. Drivers who do have licences but are operating in violation of the terms of the licence, must pay a fee of up to R10,000 for a third offence.
Hlatshwayo and Riyaad said that Uber covered the impoundment fines by paying money into Uber drivers' accounts. Uber did not say if they pay the fines, but Allenberg said that "we are doing as much as we can to make this process easier for driver-partners and will continue to support and stand by our driver-partners until we have a solution from the City."
Despite the financial assistance, impoundment still takes its toll on the drivers.
Riyaad said the City did not want to issue more permits because of the money made from fines.
"They don't want to release the permits because it's like an ATM," Riyaad said. "Uber pays for it, but the Uber drivers suffer two-to-three days loss of money."
Herron said the City can determine the number of licences available but ultimately cannot grant licences (this is the job of the Provincial Regulatory Entity). Since Uber drivers have not used the entire first batch of licenses, the City does not want to make more available.
Lack of an operating licence is not the only cause of impoundments of Uber drivers' cars. If they drive more than 35km outside their their permit zone, the City can impound their cars, according to Herron. This means to complete trips to Stellenbosch or other extended trips, drivers operate illegally.
Uber drivers must either own their car or have their car financed by a registered credit provider, such as a bank, due to conditions imposed by the Western Cape Provincial Regulatory Entity, according to Herron. If an Uber driver does not meet either condition, the driver cannot get a licence. Drivers such as Riyaad and Hlatshwayo rent their cars because they cannot afford to own one, and so would not meet licence requirements.
Allenberg said that Uber tried to help drivers get bank finance for cars. She said drivers all had professional drivers' permits, insurance and roadworthy certificates.
The City said it was working to resolve the operational licences issue with Uber.
Update from Western Cape government on 7 June, 10:45am
After publication, the Western Cape Provincial Regulatory Entity responded to Uber drivers' criticisms of the delays. The PRE has granted 802 licences in the last three years, according to Byron la Hoe, spokesperson for the Department of Transport and Public Works. Once the licence is granted, it is up to the driver to validate the licence with a vehicle inspection and relevant paperwork.
"The Western Cape PRE has the best turn-around times in the country and we take great pride in delivering quality services," la Hoe said. "The affected operators will have to provide reference numbers for this averment to be investigated."
La Hoe also said that rented cars are allowed by the Western Cape "provided that the applicant is registered as the operator of the vehicle with the relevant registering authority". This contradicts the City's response on renting cars to use for Uber.