Traders and shopowners face off over sewage spill
Motorists are splashing sewage onto my meat, says Cape Town trader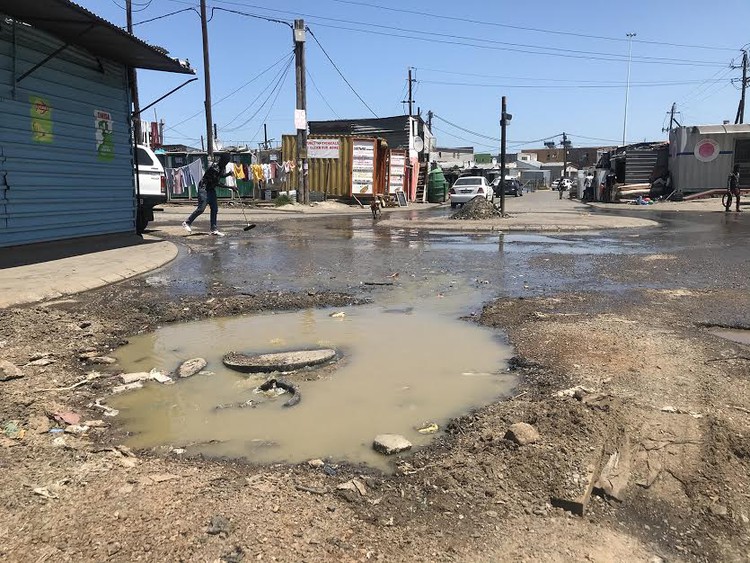 Informal traders are facing off against spaza shop owners in Dunoon in Cape Town, blaming them for diverting sewage overflows towards the traders selling meat and offal.
The sewage follows the downward gradient of Dumani Street and so the spaza shop owners dug a drain to divert it past them. Now the sewage flows past the informal traders' stands where passing taxis splash it onto their meat.
Trader Mamtolo Mdaka says she is not getting customers because of the sewage flowing past her stand.
The situation has been made worse, she says, since a spaza shop owner dug around the blocked manhole from which raw sewage bubbles, which directs the flow towards Mdaka's stand.
"Motorists are splashing the raw sewage onto my meat stock," says Mdaka.
The spaza shop owner, Yifru Asfaw, who last Thursday was seen mopping the sewage in Mdaka's direction, says when his customers walked the dirt into his shop, the whole shop smelled of sewage, so he swept it away.
Mdaka says the City of Cape Town should repair the crumbling sewage infrastructure as the sewage overflow is destroying people's livelihoods.
Meanwhile, living conditions in the nearby Ethembeni informal settlement have not improved despite the Western Cape Environmental Affairs and Development Planning investigation into "allegations of pollution and degradation" found that the City of Cape Town had failed to "adequately address the appalling unhygienic conditions in Dunoon township which is affecting the health and well being of residents and causing significant pollution and or degradation of the environment".
Following the investigation, the provincial Department of Environmental Affairs and Development Planning issued the City with a notice of intent to issue a directive in terms of the National Environmental Management (NEMA) Act.
On Thursday 23 January, community leader Sandiswa Dayimane said nothing had changed in the informal settlement, and living conditions were worsening.
Dayimane said residents planned to go to the City of Cape Town and ask a senior official to spend a night in the informal settlement to see the conditions.
On Thursday, GroundUp asked the City to comment whether it had a solution to permanently address the Dunoon sewage problems but there was no response forthcoming by Monday morning.
Dodgy people are suing us. Please support us by contributing to our legal costs and helping us to publish news that matters.