Top cops try to reassure Khayelitsha community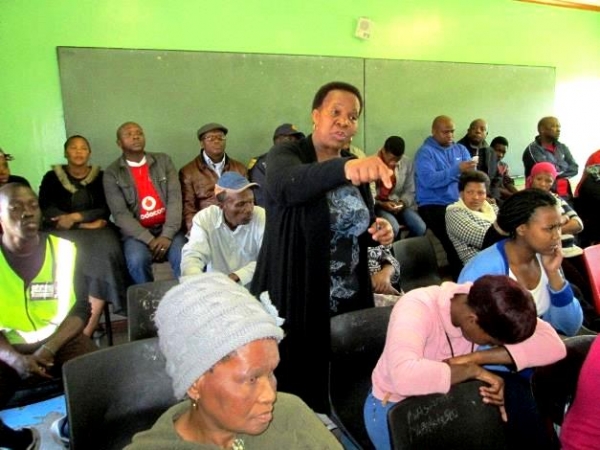 On Saturday at a meeting convened by police at Siviwe Primary School in Khwezi Park, police pleaded with the Khayelitsha community not to resort to vigilantism.
Top cops and officials in attendance included acting Western Cape commissioner Major General Thembinkosi Patekile, Major General John Brand, acting Khayelitsha station commander Colonel Cookie Rameshwarnath, Brigadier Mpumelelo Manci, chairperson of Khayelitsha police forum Major Mgxaji, and chairman of anti-vigilantism committee Colonel Mkhuseli Nkwitshi.
The gathering occurred after residents made a gruesome discovery near the school of the body of a young woman riddled with stab wounds.
A week before the meeting, angry residents chased down three youths accused of robbing commuters on a Khayelitsha-bound train and necklaced them.
Nikwitshi said that two of the youngsters were still in critical condition in hospital following the vigilante attack and one died during the attack.
He said the police had resolved to reactivate inoperative crime-busting structures in the township.
"We will identify street committees and train them to work with the police and set up community policing forums and neighbourhood watches to contain crime here."

Major General John Brand and Major General Patekile were among the top cops who addressed Khwezi residents at Siviwe Primary School. Picture by Vincent Lali.
Patekile appealed to residents to "allow the robbers to answer for their crimes in court and report to the police [any] robbers selling stolen goods".
"Knock on the station commander's door and report police who don't do their jobs … We will fire police officials who don't serve the community and who work with thugs and drug dealers, but we won't act against them if you keep quiet," he said.
Chairperson of the Thembokhwezi residents forum Mzwandile Mwahla listed the things the residents wanted in order to make the township safer.
He demanded that the police dispatch more vans to the township. "Here we have only one van, which speeds away once trouble erupts and leave us to the mercy of thugs," he said.
"We want the police to place cameras in crime hot spots, bring us containers for neighbourhood watch members and a satellite police station," he said.
"The cameras placed here are not working, which flies against the recommendations of the Khayelitsha Commission of Inquiry."
But Brand shot down the idea of a satellite police station. "A satellite police station requires lots of resources. You need four people to run it, but it won't stop crime."
Resident Cora Kwepe (57) asked what the residents should do when they know criminals operated in their areas.
"Some youngsters sell drugs from a house in Plum Crescent. They sometimes rob and terrorise residents to get money for drugs," she said.
Brand responded that residents "must mobilise to get the owner of the house out. The police will assist them."
He promised: "We won't leave those youths alone until they close the house."
He said that when cops refused to do their jobs, residents should call him on 0835761813.
Dodgy people are suing us. Please support us by contributing to our legal costs and helping us to publish news that matters.
© 2016 GroundUp.
This article is licensed under a
Creative Commons Attribution-NoDerivatives 4.0 International License
.