Telkom workers demand 11% and end to retrenchments
Striking workers march through Cape Town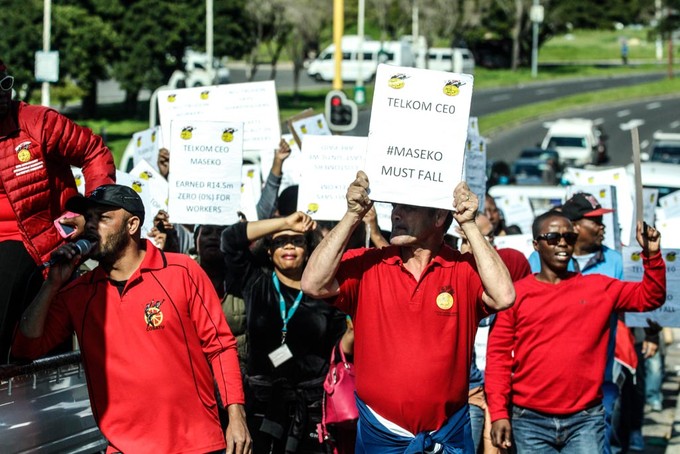 Approximately 100 Telkom workers with the Communications Workers Union (CWU) marched from Keizersgracht Street to the telephone company's Cape Town offices today to hand over a memorandum demanding a wage increase.
"No more boardroom discussions" shouted the workers outside the Telkom offices.
Some of the memorandum's demands are that Telkom for an 11% general increase, a three year moratorium on retrenchments and outsourcing and six months fully paid maternity leave. The striking workers also want remuneration for lower-paid employees to be brought in line with the information and communication technology sector.
Provincial chairperson for the CWU, Riedwaan Vermeulen, told GroundUp that they are delivering the memorandum today because all negotiations with management have deadlocked.
"The CEO of Telkom is a job killer … for this year alone he has retrenched more than 700 workers. In 1994 [Telkom employed] 67,000 workers. Today we are sitting between 10,000 to 12,000 workers and they have full intentions to reduce that number further," said Vermeulen (GroundUp has not yet been able to confirm these claims).
Marna Wilde signed and accepted the memorandum for Telkom's management. When asked for comment by the protesters, she responded, "On behalf of management I will make sure that the memorandum reaches the company. The comment will come from the head office … I am just accepting on behalf of the organisation," said Wilde. Further attempts by GroundUp to get comment from Telkom today have been unsuccessful.
The workers who are members of the CWU have been on strike since 1 August across the country.
Elfonso Bass who has been working for Telkom for 18 years as a technician told GroundUp that the workers' first aim is to get a salary increase. "The standard of living has gone up. Everything is now expensive. Petrol is expensive."
He continued, "The other thing is the retrenchments that have been happening. They say they are voluntary but if someone forces you to go it is no longer voluntary. They make us work under bad conditions making it difficult for anyone to say no to the packages offered," said Bass.
Another technician, Chris van der Heever, has been with the company for 30 years. He complained that employees are expected to work out of town but are not given the money to do so. "When you are sent to work outside Cape Town, for example, and are expected to stay there for two days they do not want to provide us with remunerations in terms of accommodation and food. They expect us to answer seven calls a day knowing very well that you can only work five to six calls a day."
© 2016 GroundUp.

This article is licensed under a Creative Commons Attribution-NoDerivatives 4.0 International License.
You may republish this article, so long as you credit the authors and GroundUp, and do not change the text. Please include a link back to the original article.