Taxi drivers chase school children in day of violence in Cape Town
Truck driver describes his narrow escape after his vehicle was torched by mob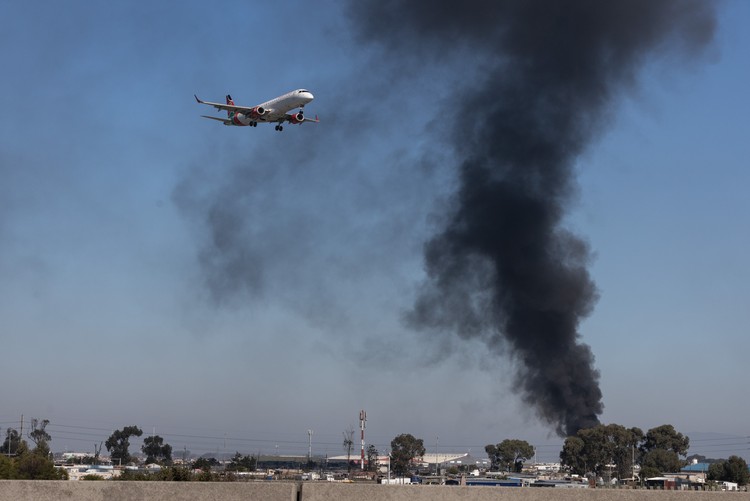 Criminals have taken advantage of the taxi shutdown by hijacking vehicles, looting shops and burning infrastructure. One of our reporters also witnessed taxi drivers directly taking part in the violence that enveloped parts of Cape Town on Monday.
The situation is especially volatile in Philippi, where there was a standoff between police and stone throwers. Now and then police fired rubber bullets to disperse the crowd but people kept coming back and burning tyres on the road.
Stalls around the Philippi Mall and Philippi Plaza have been looted and damaged. It's not safe for motorists; passing private cars are being stoned.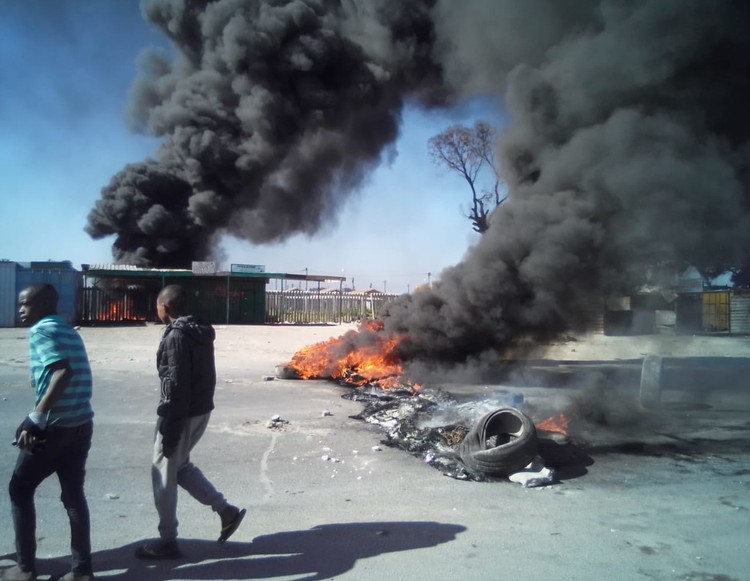 "I pleaded for my life" says truck driver
Simon Filander's truck was burnt to ashes in Philippi.
Filander said he was driving from Nyanga to Mitchells Plain via Philippi when his truck was stoned by a group of more than 100 youths. He said the incident happened at the corners of Emms Drive and Govan Mbeki Road after 9am.
"The people had blocked the road with stones and tyres so I could not speed off. They stoned the truck and shouted that I should stop and get out. I complied. I pleaded for my life and asked them not to hurt me because I have small children. They asked me to run and from a distance I could see the car burning," said Filander.
"When I woke up this morning I never thought this would happen to me. I'm sad but at the same time happy I'm not hurt," he said.
"I did not know where to go and because I am a coloured person I am different from everyone there," Filander said. "I was scared."
He said he had to ask for refuge at a nearby house. A woman allowed him to sit at her house while police came to escort Filander out of the area.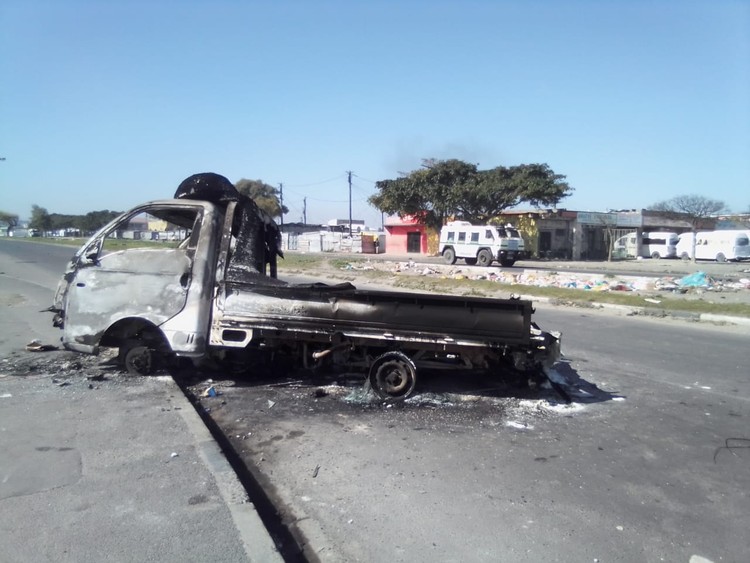 "Everyone else is looting so I decided to join"
We spoke to some of the looters and stone throwers. Some are as young as 13.
One young person told us: "Everyone else is looting so I decided to join. I'm not a taxi driver. The taxi shutdown got out of control and people like myself have taken advantage of the situation. I can't stop it myself because no one is going to listen."
One youth said that he and his friends had attempted to break into the Junction Mall in Philippi but were stopped by law enforcement.
"People are participating in this violence because of the hype around it. We are gaining nothing except damaging people's cars and property. Every car that passes here is stoned unless you are known around the area or people are scared of you. If we see you are scared, we attack but if we suspect you might be armed with a firearm or the car is full of men no one touches you," he said.
Stalls at the corner of New Eisleben Road were damaged and looted and tyres burnt on the road. Another young person told GroundUp he managed to take some clothing and electrical appliances that were sold at these stalls. "We want to get our hands on anything valuable that might be useful to us to sell," he said.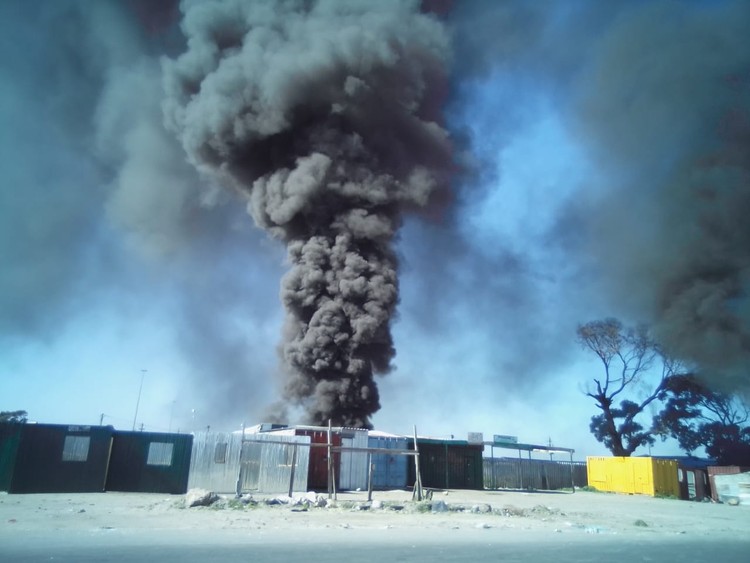 Learners chased by taxi drivers wearing balaclavas
David Maynier, the provincial education minister, said that the strike had prevented over 450,000 learners and nearly 17,500 staff from getting to school on Monday. He said this "is a devastating loss of teaching and learning time that our children simply cannot afford".
In Samora Machel, Philippi, teachers and learners ran away when they were chased by taxi drivers.
About 20 staff at Weltevreden Primary School as well as learners were standing outside the school gates when the drivers arrived. Thembinkosi Gura, the school's caretaker, said he was hesitant to open the gates because he received threats that all operating schools would be burned with people inside.
A few moments later as children made their way to the school with their parents, taxi drivers from the nearby taxi rank started throwing stones and using their vehicles to chase people.
Besides learners, they also targeted people going to work. The taxi drivers wore balaclavas to cover their faces.
A grade 5 learner at Weltevreden said he was at the school gates waiting for it to open when he was chased by men carrying big stones, telling him to go home.
A grade 8 learner from Philippi Secondary said he was on his way to school when he saw other learners running back so ran with them. "I won't go to school tomorrow", he said.
Business and daycare centres in the area were closed on Monday.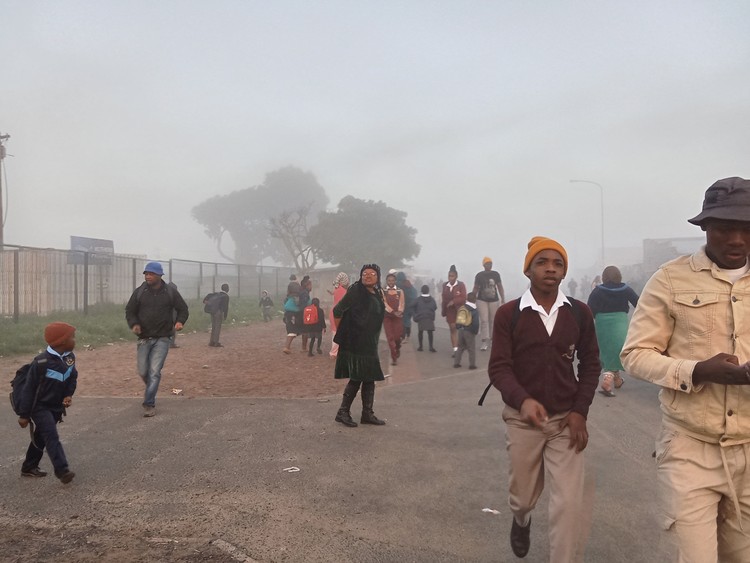 Trains affected
Metrorail Acting Regional Manager Raymond Maseko said that train services had been affected by the taxi strike as staff were not able to get to work.
Maseko said train services were curtailed by about 20% in the morning, but were operating normally in the afternoon. He said the Cape Town to Nyanga line was most affected, with the first trains running from 5:30am rather than the usual 4:30am departure time.
© 2023 GroundUp. This article is licensed under a Creative Commons Attribution-NoDerivatives 4.0 International License.
You may republish this article, so long as you credit the authors and GroundUp, and do not change the text. Please include a link back to the original article.
We put an invisible pixel in the article so that we can count traffic to republishers. All analytics tools are solely on our servers. We do not give our logs to any third party. Logs are deleted after two weeks. We do not use any IP address identifying information except to count regional traffic. We are solely interested in counting hits, not tracking users. If you republish, please do not delete the invisible pixel.