Students left to study under trees after school roof blows off
Eastern Cape school waiting for repairs since November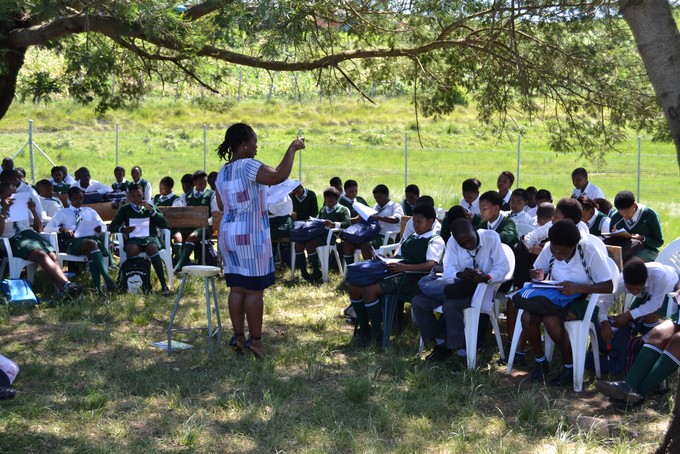 Students at Majali Technical High School near Port St Johns have been studying under trees since last year when the roof blew off their classrooms.
Strong winds in November blew the zinc roof off part of the school in Majola, one and a half hours drive from Port St Johns, leaving two classrooms without a roof and several others with broken ceilings. The school has nearly 600 students.
Some classes are held under trees in the school grounds, in the Eastern Cape rainy season. When it rains or the wind blows the school closes and the students are told to go home.
Teachers interviewed by GroundUp said the damage to the school affected matric results. The school's grade 12 pass rate had dropped from 65% to 28% because the revision programme had been disrupted, they said. Revision classes had been held in a community hall with no electricity, and the final exams were written in the same hall, said School Governing Body member Patrick Majali.
When GroundUp visited the school this week, pupils were sitting under a tree studying. Loud music could be heard from a house not far from the school.
"This is what we deal with almost every day when we come to school. How are we going to concentrate on our studies if we can hear loud music coming from houses and people are passing here all the time?" said grade 11 learner Nikelwa Ngodwana.
"It's hot. Teachers are struggling to control us. You can only concentrate for a few minutes in this heat."
She said earlier this week some students had been overcome by the heat and had to be taken to hospital.
Majali and teachers confirmed that three students had been treated in hospital as a result of the heat.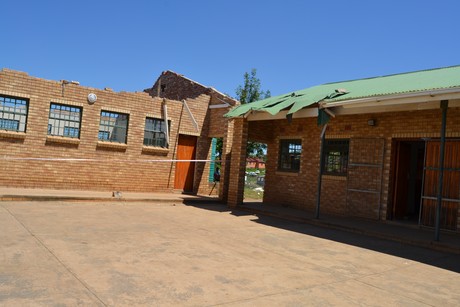 Majali said the roof had been blown off on November 2. He had immediately reported the damage at the Mthatha education district office.
"On the third of November the department was here to check the damage. They suggested the roof be put on again, but they never came back. Again last month, we went to the department of education offices in Bhisho, and again they promised to assist. But we are not sure if they are going to deliver as they promised," he said.
Majali said the school wanted the department to provide temporary classes, and demolish and rebuild the school.
"We don't think the school was built properly. As you can see, the bricks are falling one by one, some of these classes are leaking, and there are cracks between bricks," he said.
"When the department came here last year, they told us that they were going to fix the school before December ends. We thought by the time we opened, temporary classes would be here. Instead they kept quiet until we pushed them," said Majali.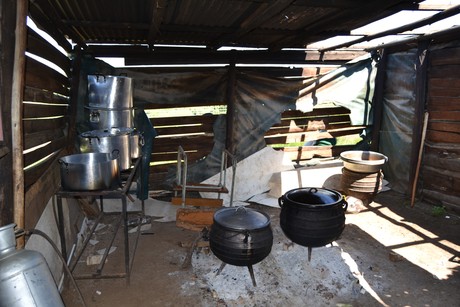 Another SGB member, Siyabulela Zongo, said the department of education did not seem to take the matter seriously.
"They were here last year assessing the place, giving suggestions but they never came back to us. The school had no choice but to let the students study in those broken classrooms as we have no other classrooms. This school had only five classrooms and they were overcrowded. Now two classrooms have no roof.
"What we want from the department of education is to give us at least 20 temporary classrooms, because if they give us five, we will still have the same problem of students studying under trees and it is not fair on them," he said.
Eastern Cape Department of Education spokesperson Mtima Mali said the department knew of the Majali school situation. He said quotes had been received for temporary classrooms which would be delivered within two weeks.
Dodgy people are suing us. Please support us by contributing to our legal costs and helping us to publish news that matters.
© 2016 GroundUp.

This article is licensed under a Creative Commons Attribution-NoDerivatives 4.0 International License.