Student demands must be taken seriously, says Justice Khampepe
Constitutional Court judge calls for all sides to listen to each other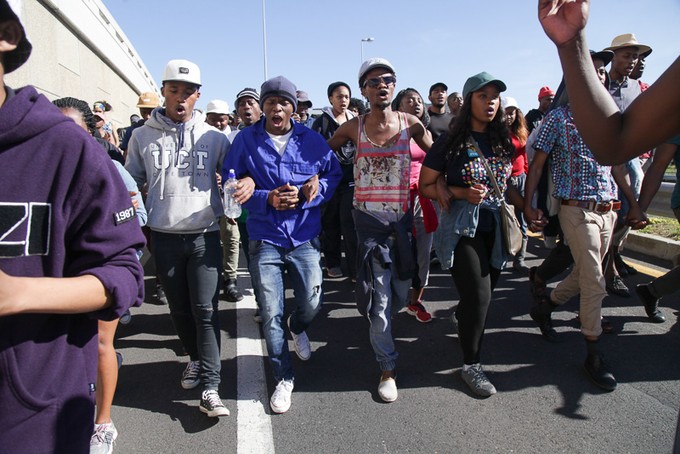 No student should be left out of university because he or she does not have money to pay for education, constitutional court judge Sisi Khampepe said last night.
Delivering the annual human rights lecture at Stellenbosch University, Judge Khampepe said the grievances of students in the FeesMustFall campaign "are not simply unfounded".
"Our children should be applauded for their input."
But, she said, the FeesMustFall movement was "not necessarily transformative".
"That depends on how we, the rest of society, respond. Do we listen, engage, adapt? More often than not, we err when we confront civil disaffection without hearing those who cry. More's the pity that we listen only when there is destruction of property and acts of criminality."
"We are currently witnessing a wave of protests by university students country wide. The students demand free education now, not in the near future. This demand must be taken seriously. When seen in the context of our Constitution, education is the lifeblood of democracy. The quality of life of our children can only be enriched through an environment that permits all students to be educated."
"No student should be refused admission to a university for financial reasons. We will not be freeing the potential of each student, which our Constitution promises, if the current situation is not swiftly tackled," Judge Khampepe said.
The way to resolve the current "impasse", she said, was through "meaningful participation".
"In my opinion, this means that the Department of Higher Education must not take the firm view that it is not prepared to listen to the concerns of students unless those who can afford to pay are excluded from the discussion. By the same token, universities must not only be concerned about the percentage fee increase. Equally, students must be willing to take the practical concerns of management and the Department seriously."
"In short, what is required is an open mind and a commitment to one another."
"Our Constitution abhors an ethic of obedience, and is resistant to a culture of docility. We must work vigorously for a lasting solution. At no point can we pass the buck, or wash our hands of the issues."
"Meaningful participation as transformative process demands that we engage one another," she said.
Dodgy people are suing us. Please support us by contributing to our legal costs and helping us to publish news that matters.
© 2016 GroundUp.

This article is licensed under a Creative Commons Attribution-NoDerivatives 4.0 International License.
You may republish this article, so long as you credit the authors and GroundUp, and do not change the text. Please include a link back to the original article.