Street vendors accuse Buffalo City of empty promises
"There is no support offered to us, although formal businesses get so much attention from the metro."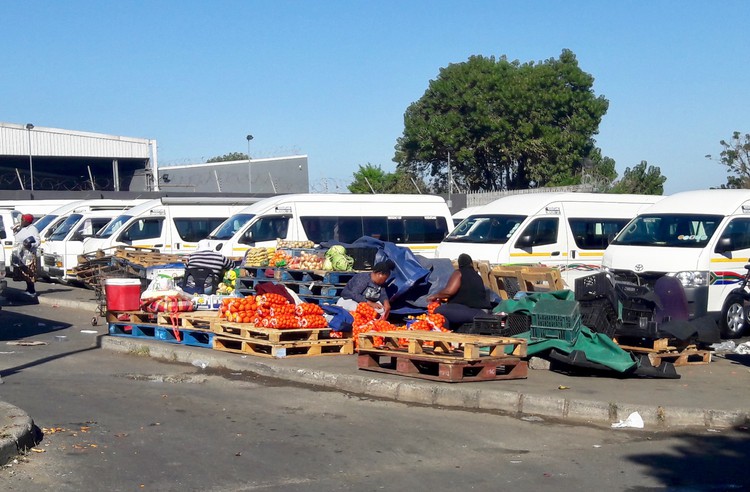 In April, Buffalo City Metropolitan Municipality's business development manager Xolelwa Majiza announced to the media plans to assist street vendors. Majiza said R2.5 million would be invested in better infrastructure, cooler boxes and umbrellas. About a thousand informal traders in East London were to benefit from the project starting from July for three years.
"Honestly, I do not see that happening; not with our municipality. We have been promised things for years," a street vendor said.
Questions sent last week went unanswered, although a month ago, the municipality told GroundUp that plans were in place for next year to make some improvements to the Tsholomnqa taxi rank specifically.
Lulama Zono looks after his 77-year-old mother. He has been selling fruit and snacks in Oxford Street for over 12 years. "About five years ago the municipality promised us shelters and to give us training in business but nothing has happened. In the meantime our stock gets damaged by rain and the sun … Basically, we are ignored. There is no support offered to us, although formal businesses get so much attention from the metro."
"I have a National Diploma in Human Resource Management from the Buffalo City College. But since I couldn't secure any employment, I decided to open my own stall and trade … All my kids are at school and I raise them as a single parent. A little push from government would make a big difference in my and my family's life," said Zono.
Siphokazi Belani, who has been selling fruit at the Tsholomnqa taxi rank for five years, said, "Street vendors contribute to the economy as well. But the government has failed us. The informal trading sector has been ignored … When it rains, I cover the fruit with plastic [bags] … I pay a permit every month to operate this stall, but I don't understand where this money goes, because there is nothing I get. I am praying for just a shelter."
Sibusiso Mlota, who has been selling fruit, sweets and cigarettes in Caxton Street for three years, says he pays the metro a permit fee every month. "I am yet to see any improvement for us by the metro … Since 2016, I have been trading here. There is no shelter over me, except the veranda of the store I am situated close to. Since last year, we have been receiving promises, but nothing is happening."