Stateless in South Africa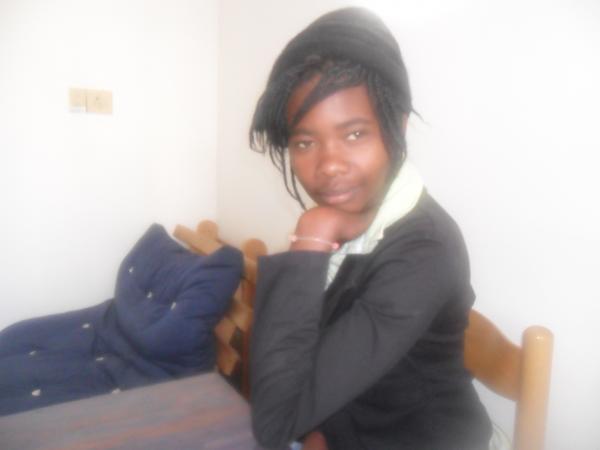 Love Mathobela was born in South Africa and has lived most of her life here, but she is not yet recognised as a citizen.
"I had a birth certificate and South African passport which my father had obtained for me using his forged South African identity documents he acquired when he came to South Africa 22 years ago. During the 2010 Special Dispensation for Zimbabwean Nationals 1, my father gave away his forged identity documents including mine as requested by the law. He died the same year before he fixed the proper documents for me. Now I cannot even tell my citizenship. I was born here. I don't know any of my parents' relatives and have never been to Zimbabwe," says 20-year-old Mathobela who is visibly upset.
Mathobela explains that she lost the copy of a fake birth certificate and passport in Johannesburg in 2011 when she became a street child. She said at one time her father who worked as a truck driver was transferred to work in Botswana and he moved with her. Her father only stayed in Botswana for a few months and returned to South Africa because the company he was working for wanted him back. She was enrolled in a boarding school and stayed in Botswana till she finished matric. Her father passed away in 2010 when she was writing her matric exams and the school sponsored her trip to come to South Africa to bury her father.
In 2011 after finishing matric she returned to South Africa and her life became very hard especially without identity documents. She went to Soweto Home Affairs where her father had surrendered the fake identity documents. She was told that all the forged document information handled during the Special Dispensation for Zimbabwean Nationals was deleted from the Home Affairs database. She then tried Queenstown Home Affairs where she was told to bring her mother's identity document and two people who know about her birth to testify. This proved to be difficult because her mother's identity document is unavailable and her father's death certificate could not be processed because he had surrendered his identity document by the time of his death.
Mathobela's mother died when she was still a baby and she was raised by her father. She is convinced there is a great problem that led to her father leaving his birth country, never going back or keeping in touch with his family because a normal person would not do that. She said, "My father was secretive about his family. Whenever I tried to get information about his family and birth country he would become aggressive or just remain silent. When I was 17 years old he went to Zimbabwe to deliver some goods for work and I overheard him telling my stepmother that he feels sorry that he attempted to visit his family."
"He was too stressed and complained of headaches. To me it was a sign that things did not go well when he went to visit his family in Zimbabwe. In 2008 he wanted to get married to a Zulu woman but when the woman's family insisted that he brings a member of the family and not only friends he gave up on the relationship."
Mathobela said she once searched for people with the same surname as her on Facebook. A teacher from Johannesburg accepted her invitation. She is upset that the person unfriended her when she asked him if he knew her father, Witness Mathobela.
She added that when she graduates from university and acquires enough resources she will go and search for her relatives in Zimbabwe. Her problem is where to start searching and she is not sure if the family will welcome her since she is certain her father might have done something unforgivable to the family.
A legal practitioner from PASSOP, Guillain Koko said, "Love Mathobela was entitled to apply for a South African citizen when she turned 18 according to South Africa's law." He is assisting her to get identity documents. "I phoned Parkland Hospital in Johannesburg where she was born to trace her birth record, took her to Wynberg SAPS to fill an affidavit and I asked Mathobela to bring a testimonial from her church pastor who knows her parents. I will also try to get her parents' death certificates and at least two people who can testify that they know her."
---
The Special Dispensation for Zimbabwean Nationals "was introduced in April 2009 to respond to the high inflow of Zimbabweans into South Africa. Amongst some of the key points in the agreement to carry out the Project was the promise that South Africa would issue permits to qualifying Zimbabwe Nationals in terms of the Immigration Act on relaxed requirements. After the Special Dispensation which ended in May 2010, the Documentation of Zimbabweans Project commenced on 20 September 2010 and sought to regularise undocumented Zimbabweans currently residing in South Africa. It also sought to relieve pressure from the Asylum Seeker Management system." Source: http://www.pmg.org.za/report/20110920-department-home-affairs-zimbabwean…↩
Dodgy people are suing us. Please support us by contributing to our legal costs and helping us to publish news that matters.
© 2016 GroundUp.
This article is licensed under a
Creative Commons Attribution-NoDerivatives 4.0 International License
.