South Africa is at an economic impasse - an interview with Mark Heywood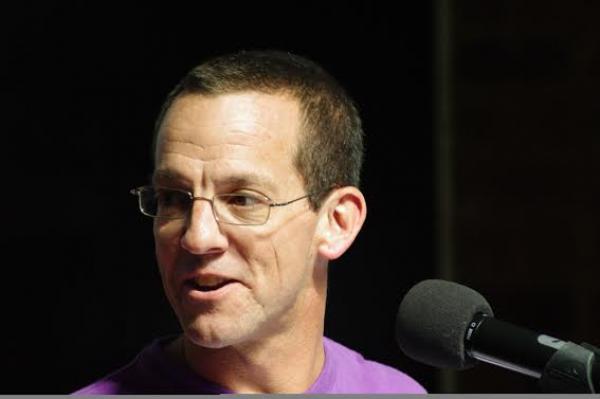 Mark Heywood has been one of the leaders of the Treatment Action Campaign since it started on 10 December 1998. He has also directed the AIDS Law Project since 1997 and its successor, SECTION27.
Heywood, partly inspired by his love for punk rock and reggae, especially Bob Marley, has fought for human rights since he was a teenager. Born into a British expat family in Nigeria, he lived in the UK, Ghana and Botswana as a child. In the 1980s he was actively involved in the Marxist Workers Tendency of the ANC.
Despite directing one of the country's most successful public interest law firms for almost two decades, Heywood's academic background is in English literature, which he studied at Balliol College, Oxford. He has been outspoken on political struggles, not only in South Africa, but also China. He has been at the forefront of the campaigns for AIDS medicines and school textbooks in Limpopo. We asked Heywood about a range of politically pertinent questions.
GroundUp: What are the most immediate political crises we're facing?
Mark Heywood: South Africa is at an economic impasse and there is no apparent exit strategy. The National Development Plan is not an economic strategy, and one of the biggest criticisms of it is that it does not address the economic crisis. This has huge ramifications for the social fabric of our society. For example, the government has a constitutional mandate to progressively realise the right to health care services and immediately realise the right to basic education. But health and education are at risk of further deteriorating because the economic crisis means budgets are being cut. This crisis creates huge social insecurity and inequality. It perpetuates high and persistent unemployment, and in particular youth unemployment. It's going to move us into intensified social crises.
GU: What are the critical things the government is getting wrong?
MH: We must always remember that there are many robust parts of the government. Many people who are honest, hard working and commited to social justice, like Aaron Motsoaledi, Thuli Madonsela and Derek Hanekom hold high office in government. But the head of the state and parts of its body have been captured by people like President Zuma who appear to be subverting the state for personal enrichment. In a lecture I gave in 2012 at a memorial for Ruth First I argued that there has been a "coup" in South Africa; that is, not in the way we understand the word traditionally, meaning a military take over, but one where important parts of the state have been hijacked from under our noses by corrupt interests. This makes it very difficult for the good and well-intentioned parts of government to act in a way that is coherent and to use its ample resources effectively.
Sometimes I worry that civil society is overly critical of government but on the other hand you look at the crisis in our social fabric, or issues such as the state of the police and its hijack by gangsters and politicians, and it confirms that we face a dire situation. There's a lack of strategic direction. Key social issues get lots of lip service, but little real change. For example, a new law is being mooted about gender equality. But if you are really serious about gender equality, the best strategy would be to urgently sort out public education because girls are marginalised in the education system and just sorting this out would greatly improve gender equality.
GU: What about the role of civil society?
MH: The notion of 'civil society' can't be a passing fad. It has to be seen as a necessary part of democratic governance - a necessary part of the constitutional formula. It plays a role in government, not by sitting in government offices, but by ensuring accountability and monitoring implementation. Take the antiretroviral programme. In 2003 civil society broke government intransigence and changed policy thereby ending denialism. But recently TAC, SECTION27, MSF, RHASP and others published research that shows a stockout rate of 20% in about 2,500 clinics. Civil society has to organise and speak out, but we need a more skilled and strategic civil society to do that effectively. It is difficult to do that, because our history of discrimination based on race and now on class has left millions of people disadvantaged and badly educated. We're not the UK, US or even like India and countries in Latin America where civil society has had decades and decades of experience. So the job of building civil society in SA is difficult and complicated.
"The notion of 'civil society' can't be a passing fad. It has to be seen as a necessary part of democratic governance."
Nonetheless, there's a lot of exciting things happening in civil society. The Awethu! meeting on November 28th is one example of that. There's a lot of questioning. NGOs are beginning to realise there's no point in working in silos. Civil society has to develop a political agenda, not a covert one nor a party political one, but one about state and private responsibility and accountability, about the constitutional dictates for delivery of social services. Working in civil society can be depressing and challenging but change is possible and you have to stick with it.
GU: Civil society has been criticised from both the left and right. One frequently made point is that the state is elected by a popular majority and the role of ordinary citizens is to focus on changing things at the polls, not through activism. And Jeremy Cronin has accused you of being obsessed with criticising the state and ignoring the private sector.
MH: It is a naive argument that reflects a misunderstanding of our society. Ours is participatory democracy in which voting is one point which takes place every five years. But in a participatory democracy people have to be continually involved and in contest with the state about what the best policy should be, particularly if it is to benefit the poor.
Cronin's accusation is also wrong. Sometimes he speaks as if he lives in the mid-19th century idelogical fog which is a pity because he's a clever and commited person. We don't dispute that private power behaves badly. My argument is that misbehaviour of private power should be systematically addressed by state. Not arbitrarily, but by making sure excessive prices don't prevent access to education, health or food – all of which are constitutional rights.
But the state is not doing its job. It can't properly regulate the private sector if it is a rotten state. For example, the state turned a blind eye to the platinum industry in the North West and Limpopo even though it disrupted and exploited communities and ruined the environment. You have to clean up the rotten state to get it do the job. And although civil society has some legal power to hold the state to account, it has far less power to hold the private sector to account. The crossover between the state actors and private sector actors needs to be examined, including Cyril Ramaphosa's role. Patrice Motsepe is probably paying millions to fund the ANC, while his mines exploit workers and despoil the environment. The ANC won't disclose its funders so we can't prove that, but I bet he is.
"The state turned a blind eye to the platinum industry in the North West and Limpopo even though it disrupted and exploited communities and ruined the environment."
GU: The view that the state should be left to do its things comes through implicitly in the campaign for minimum norms and standards for school infrastructure. Both Education Minister Angie Motshekga and Premier Helen Zille have resisted the call for norms and standards.
MH: Zille's intervention claiming that the government should not be required to set minimum norms and standards was wrong. It confirms the conservatism of the DA and its lack of sympathy with the poor. The right to basic education has to be immediately realised in the Constitution but what is practically required to do that? The answer is that government must do everything possible to provide quality education. What it considers impossible it must justify and explain. But you can't enforce that requirement if you don't have a social force, if you don't use the courts and you don't have minimum standards for all schools that can be used as a measure. Government doesn't understand that. Recently I discussed the screw-ups in education in Limpopo with Stan Matabatha, the Limpopo premier. It became clear in the discussion that he doesn't understand what the Constitution requires of his government, and that he sounds like he has accepted the dreadful state of schools in that province as something that cannot be changed.
GU: Why does the Constitution call for immediate realisation of basic education, but only progressive realisation of health?
MH: Education was important symbolically because discrimination in education was a hallmark of apartheid. It was what the Soweto youth rose up against in 1976. But also because education is so critical to development. The same is true with health. But with education you can provide what's needed more quickly if there is political will to do so. Surely, it is possible to relatively quickly make sure that all schools have desks, books, toilets, roofs over class-rooms, even to train enough teachers? It's an issue of priorities. This government has made education accessible, yes, but it's a poor quality of education. In fact the quality of education is so poor that the people coming out of our system are unemployable, which contributes to the employment crisis. There are not enough skilled people to meet the needs of the state's bureaucracy or the private sector. The economist, Iraj Abedian makes the point that government spends more on education than in the past but it's wasted because so little has come out of it.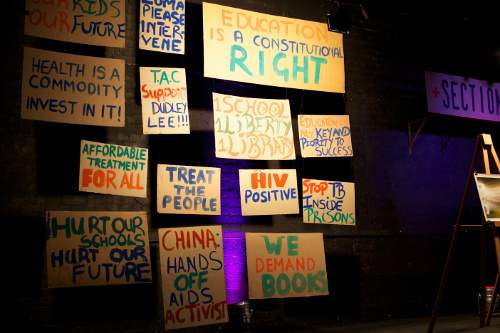 GU: Why we getting so little out of it?
MH: It's a whole combination of factors: a poor quality state, corruption, political interference and a misguided union. In a meeting we had with the Limpopo MEC for Education in September she effectively admits they cannot provide education and they have no plan or capacity to do so. That is profoundly wrong and they need to be called to account by parents and learners.
GU: What are your issues with SADTU?
MH: An effective teacher's union can be a very important player for both teachers and unions. But we have seen that SADTU sometimes exercises its power as a union irresponsibly and to the disadvantage of learners. Unions have to represent members and do so vigorously. But strategies and tactics that aim to improve teachers' conditions can be applied without weakening the education system. I also believe that there is lots of corruption in the education system and SADTU has not tackled members of theirs who are involved vigorously enough. I don't think SADTU does enough for its members. If you look at schools, the non-existence of toilets or water, for example, affects teachers as much as it does learners. The tripartite alliance has, as you look back on it now, had a negative effect on delivery in areas like health and education. Because if you're in an alliance with your employers and the people who run education, that limits your ability to challenge the system.
There are parts of SADTU, like government, that are pioneering and doing good work. There are good members and leaders of SADTU. But there are bad parts hindering them. They are not playing the transformative role in the education system that they should be playing. Saying this is not about SADTU bashing. Critical debate is needed about all of us. We all need to be subject to criticism and debate so that we can improve.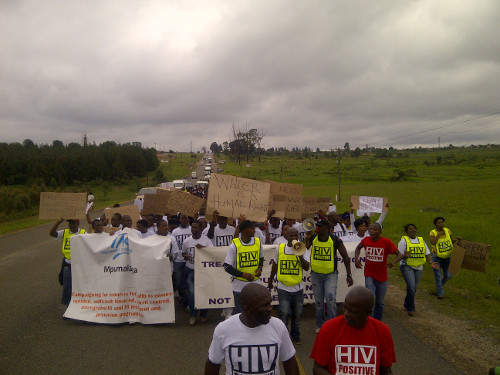 GU: During the Treatment Action Campaign's struggle for antiretroviral treatment, you made an enormous, and ultimately successful, effort to get COSATU to support the campaign. What's your assessment of the situation in COSATU now?
MH: We've had a big orientation to the labour movement because it has an important history especially since 1985 when COSATU was formed. The labour movement made a major contribution to the end of apartheid by making the country ungovernable and apartheid too costly for capitalism to continue to support.
"COSATU played a role on issues like AIDS beyond that of just an ordinary trade union movement. It gave TAC shelter."
The alliance between TAC and COSATU was a natural one. At a time when civil society was weak, the trade unions were a social movement of the poor. COSATU played a role on issues like AIDS beyond that of just an ordinary trade union movement. COSATU gave organisations like TAC shelter. The worker's movement has helped us, but in a small way I think we have also influenced the strategies of the worker's movement. Look at how leaders like Zwelinzima Vavi and Jay Naidoo link struggles to the rights we have in the Constitution. They don't buy into the crazy claims that the Constitution was a sell-out. Having said that though, we also can't overlook the role that Vavi and COSATU played in Zuma's election, and the destruction of the Scorpions, which led to greater state interference in the National Prosecuting Authority. I don't think Vavi realised the consequences of what he was doing, which is why we have to all get to a higher level of sophistication in our politics.
But having said that, I think now the trade union movement is so divided that you can see the rot, including in COSATU. Take Vavi's sex scandal. It's a problem in itself, but Vavi's conduct also reflects the conduct of many male leaders in COSATU and elsewhere. So while there was lots of talk of gender equality, men continued to abuse their power in relation to women in the trade union movement.
GU: So you think he did abuse his power?
MH: I think his conduct was wrong and opens him to accusations of abusing his power as a man and a leader. As a senior trade union leader you've got to be responsible. You've got to be seen to set an example. The employment situation opens avenues to abuse power because of the inequality in relationships between employers and employees and between men and women.
GU: There's still a future for Vavi?
MH: I hope so. I've discussed Vavi's conduct with Sonke Gender Justice and others. I've said to Vavi that I believe he needs to go and meet with women leaders and have his conduct interrogated. He will have to provide visible leadership on this issue, on men's conduct towards women and gender equality. I'm glad that he has apologised but just apologising is not enough.
Finally, while the trade union movement has held together in 20 years post-apartheid I don't think they've worked well as trade unions, i.e. defending member interests. You can see that in the split in COSATU and outside. For example, there would be no AMCU if the NUM had done its job properly. That is why we are now at a turning point for the trade union movement.
GU: Now we're seeing the rise of the EFF, which some have called a proto-fascist organisation. What do you think?
MH: I think to call it proto-fascist is an exaggeration. I think the idea of economic freedom is attractive to people who remain un-free, unemployed and young. Malema is able to draw people on that basis. I think that we have to counter-pose what economic freedom means as opposed to social justice. We have to win people over to the notion of social justice not economic freedom. They are not the same. Economic freedom is a component of social justice, but it also means freedom to be a boss and exploit people. Economic freedom should not be an end in itself.
But instead of calling EFF names, we needs to engage with it on its own terms. Ignore the fact that Julius Malema has proved his real colours with his thuggish behaviour and allegations of corruption that face him. Ignore the fact that in the same way that JZ mobilised a movement to make his prosecution difficult, Malema has mobilised a movement to do the same and to cloud the reasons for his prosecution on criminal charges.
"The people joining the EFF want change. But the EFF is dangerous because it's leaders are chauvinistic, racist, populist and don't actually have solutions."
The people joining the EFF want change. But the EFF is dangerous because it's leaders are chauvinistic, racist, populist and don't actually have solutions. It will take a significant number of votes. It is populist and anti-Constitutional and can mislead people, throw us all back. We'll have to prove to people why the Constitution is important for poor people and not a brake on achieving equality.
GU: Let's talk about the law and the courts, because that has been one of SECTION27's big contributions. There are criticisms about how SECTION27 and TAC have used the courts. On the left you're criticised for relying too heavily on constitutionalism and the courts. But others accuse you of undermining a popularly elected government through the courts.
MH: These are ill-informed and inaccurate criticisms. It's not that we use the courts. It's that we use the law in very many ways that might involve courts. We use the law to get accountability and get people in government and the private sector to answer criticisms. If you look at SECTION27, we haven't been in court this year but we've used the law and the Constitution everyday. I believe that many legal frameworks, particularly those around human rights, have been achieved through struggles. Therefore it makes sense that modern struggles must take legal frameworks into account wherever it is possible. In countries where there aren't human rights based legal frameworks and rule of law, such as China, we should be fighting for it.
GU: But law itself isn't sufficient?
MH: No of course not. Take the Dudley Lee case about TB in prisons. It was a great judgement from the Constitutional Court in December 2012 and very valuable. But there's no movement following it up and as a result there's very little change in prisons in the last year. Prisoners are still being infected with TB in large numbers and many are still dying.
By contrast for the Limpopo textbooks, we've followed up every day since the 2012 judgements and got victories for learners as a result. And there are over two million people on antiretroviral treatment which wouldn't have happened except for the TAC case and subsequent mobilisation after that case. It is best when law and rights are used as part of a struggle by social movements.
But there have also been judgments that came out of courts that are very helpful but are not linked to social movements. For example the Mdluli review case run by Freedom Under Law. These have been very useful even though Freedom Under Law has no movement behind it defending this key aspect of democracy. Similarly the recent judgment on payment of legal fees of the arrested and injured miners in Marikana.
GU: There have nevertheless been some bad civil society losses in court. I think of the Jordan case for the decriminalisation of sex work case and the Mazibuko case for access to water.
MH: Both cases need to be studied. Jordan was a real setback. Mazibuko was a loss but not a disaster. We have to learn from these cases. You can use law and the courts to good or bad effect. Don't set yourself up for a bad result.
GU: Civil society is hardly united, even amongst those who define themselves as progressive or left. What are the factors that can unite us?
MH: There are ideological fractures, of course, because people are learning all the time and re-understanding the world we live in. So there has to be a discussion and a willingness to change. So with civil society coalitions, like Awethu!, we're trying to have a discussion and bring in diverse groups and find commonality on principles of social justice, the Constitution and the role of the state. We may or may not succeed but we should try.
There is huge confusion around ideology, because there is not enough work going on into a modern ideology of transformation towards equality and sustainability. So some trade unions throw forward old ideological ideas not workable in the 21st century. However what is happening in NUMSA at the moment is interesting and important and civil society should engage and debate and help NUMSA reach a viable position, and vice versa.
"All of us must get away from the notion that we have all the answers attitude because it's wrong and closes down discussion."
There will always be personality differences. You can be comrades in struggle but it doesn't mean you have to be friends! All of us must get away from the notion that we have all the answers attitude because it's wrong and closes down discussion. We all make mistakes. TAC has made serious mistakes. None of us can claim we are "it".
GU: Onto a bread and butter issue for you: TAC and SECTION27 were quite involved in the original National Health Insurance discussions. There has been much scepticism of NHI and where it is going.
MH: There are objective reasons to be sceptical of the commitment to NHI, but the provision of NHI as an attempt to provide universal health access and equality is important and necessary. But the NHI debate is clouded by ideology. So Health Minister Motsoaledi and others have found themselves in a corner. We can't have a unitary health system in the short or medium term but we can have a unified one where the private and public sectors co-operate and the private sector doesn't undermine the public one.
If we had a really good public health system then who would want to purchase private care? Then you'd just get a handful of people with too much money continuing to use it, but you can't abolish the private health care system by fiat. You must make it redundant by building quality public health systems. But you must also regulate it effectively so that it doesn't harm public health systems or people who have to use it of necessity because of the poor quality of public health.
We talk about NHI but we don't even have a definition of it. I think Motsoaledi is correct in saying that as we flesh out this vague idea of NHI we have to sort out the public health system. And he is moving in the right direction, but he is being undermined by lack of capacity in his department, combined with corruption, combined with a health system falling into such a state of disrepair that it constantly springs leaks, which diverts attention and resources all the time.
GU: There's a wide perception that TAC is the old geezer of civil society, not quite as efficient and effective as it once was.
MH: People who think that don't know what's going on in TAC. It is comparing apples and oranges to compare the TAC of the 2000s with the TAC of 2013. There are very different issues now.
It takes a long time for a social movement to mature and for leadership to develop, particularly in our context. What I see in TAC is a deeper more mature, more representative leadership than I've ever seen in the organisation. TAC obviously has multiple problems, but if you just take the national day of action in September, in which TAC helped expose the dysfunctionality in the Eastern Cape health care system, at least the province's health department has responded. The only force that is holding the health department in the Eastern Cape accountable is TAC and its allies in the Eastern Cape Health Crisis Action Coalition.
One of the reasons why I continue to hold on in TAC and why I invest a lot of emotional energy in it is because TAC's problems were of our own making and will be confronted by every single new social movement in due course. And I think if we let go too easily it'll both be very bad for HIV and TB and it will be bad for society as a whole because we won't have demonstrated that a social movement can survive the challenges it will inevitably face.
So there's no guarantees. I've been down to the very pits of despair with TAC, but I think we're beginning to turn it around. I also don't think people like you and me have a good idea of the vital daily things that happen at branch level and communities in the name of TAC. We're getting stronger, but we're not out of the woods.
I don't think people should despair about TAC, but the problems in TAC are actually broader problems, symptomatic of the political problems in our society.
GU: Finally, you and Vuyiseka Dubula, TAC's General Secretary, were instrumental in starting a running club made up of people in TAC. Why did you do it and what has it achieved? [Heywood has run over 100 marathons.]
MH: TAC is not just about the struggle for antiretrovirals, it is also about people's dignity and self-respect. People make struggles, not robots. I have been running for the last 20 years. It's the place where I find peace and where body and mind connect properly. It's a way to escape and make sense of the sea of troubles we encounter daily. At some point I encouraged Vuyiseka to run and it was her inspiration that led her to encourage others and then to the TAC Runners for Health, which you can find on Facebook. First we ran the Soweto marathon in 2011 as a group, called a bus in runners' language, then the Two Oceans and then finally in 2012 Vu and I led a small group of HIV-positive runners through 89 kilometres of the Comrades marathon. It was a wonderful experience, one of the best in my life. Through running we have seen activists grow as people.
Photos supplied by SECTION27 and TAC.
Dodgy people are suing us. Please support us by contributing to our legal costs and helping us to publish news that matters.
© 2016 GroundUp.
This article is licensed under a
Creative Commons Attribution-NoDerivatives 4.0 International License
.