SJC hold commission outside Cape High Court in protest against minister's court application
|
Mary-Jane Matsolo
Brief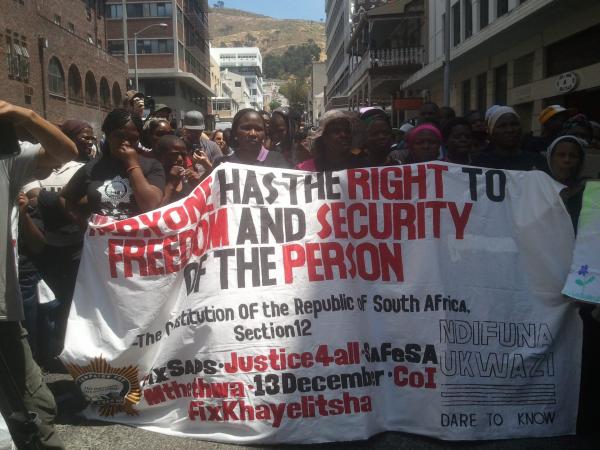 About 500 people gathered outside the Cape High Court last week Thursday opposing Minister of Police Nathi Mthetwa's application to stop a Commission of Inquiry into policing in Khayelitsha from continuing.
Inside the Cape High Court the legal counsel for Mthethwa argued in favour of stopping the Commission of Inquiry from proceeding, while counsel for the Western Cape government and civil society organisations opposed the minister's application.
The commission was announced by Premier Helen Zille in response to a campaign by the Social Justice Coalition (SJC) and other organisations. Mthethwa says the inquiry is politically motivated. The SJC however wrote that this is not about politics and that each day the commission is delayed the safety of the people living in Khayelitsha and other communities across South Africa is jeopardised.
Outside the Cape High Court protesters, mostly from Khayelitsha, as well as academics, including vice-chancellor of the University of Cape Town, Max Price, assembled and held a People's Commission of Inquiry.
Mandla Majola, campaigns coordinator for (SJC) addressed the crowd outside court and said that the minister did not understand when communities say that crime is high and the justice system does not work for them because he is surrounded by bodyguards and lives in the suburbs away from the crime hot spots.
"Next to the Khayelitsha Magistrate Court there is a pool which is always empty, but the court is full to capacity with young people. They don't have time to swim because of the situation and conditions they live under. In the suburbs however is a complete contrast the young people are in universities and swimming in swimming pools." Said Majola
Majola said that black communities are still faced with challenges of apartheid and that the leaders they elected to power are ignoring them.
Veteran activist Zackie Achmat who heads Ndifuna Ukwazi addressed the crowd after being in court. He said it was clear that Minister Mthethwa and his lawyers did not have a case and that it is clear that the minister did not care about communities.
The crowd then marched from the Cape High Court to Parlairment where they handed over an open letter to President Jacob Zuma, Premier Helen Zille and Minister Nathi Mthethwa.
© 2016 GroundUp.
This article is licensed under a
Creative Commons Attribution-NoDerivatives 4.0 International License
.