"Show coach you want to be in the first eleven but have patience"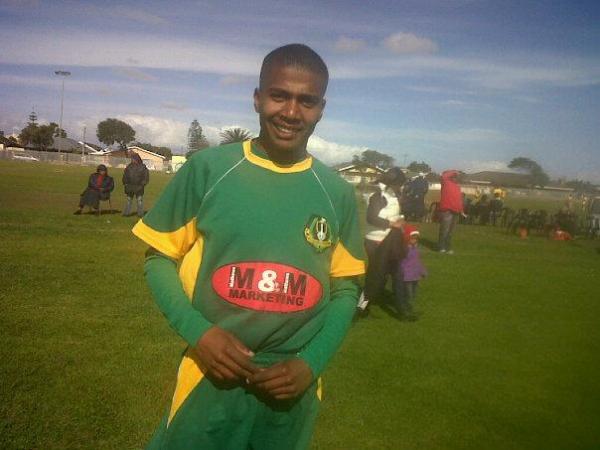 GroundUp spoke to Niven Scott, a 20-year old central midfielder for Junction Rovers, a promising team in the SAB League.
GroundUp: What clubs have you played for?
Scott: I've been playing at Junction Rovers since I was five years old.
GroundUp: What are some of the lessons you've learned on your journey?
Scott: That things do not always go your way. Different coaches and managers all come with different tactics, which means that I, as a player, do not always fit in the coaches' game plans. So I've learned that being patient is one of the most important things in modern day football.
GroundUp: Who is your role model?
Scott: Number 1 has to be the captain of Ajax Cape Town, Granwald Scott. I base my game on his and secondly has to be Milano boy Nazier Jacobs. That guy has vision and skill. He deserves to play in the PSL
GroundUp: What is the SAB League?
Scott: The SAB Regional League is a SAFA League that is more for development. Each team gets to have at least five under 21s on the field all the time, which means us as youngsters get more exposure. Vodacom and National First Division teams are always scouting at SAB games. Also, as this is my third season in the SAB league the level of football is just getting better and tougher.
GroundUp: How was your match on Sunday?
Scott: We drew on Sunday against Durbanville but we won our first game which was last week Sunday against Tribes FC. So for me and for us as a team we are satisfied with 4 points out of 7, but the guys are working hard on training and management are doing wonders behind the scenes. Everyone is happy.
GroundUp: What message would you give to the youth?
Scott: Work hard in training. Show the coach that you want to be in the first eleven on match day but have patience. I'm still a youngster as well so I also work hard and do the extra work on off days.
Dodgy people are suing us. Please support us by contributing to our legal costs and helping us to publish news that matters.
© 2016 GroundUp.
This article is licensed under a
Creative Commons Attribution-NoDerivatives 4.0 International License
.