Shot and twice robbed, refugee wants to leave SA
Somali shop owner says he'll go to any country that's safe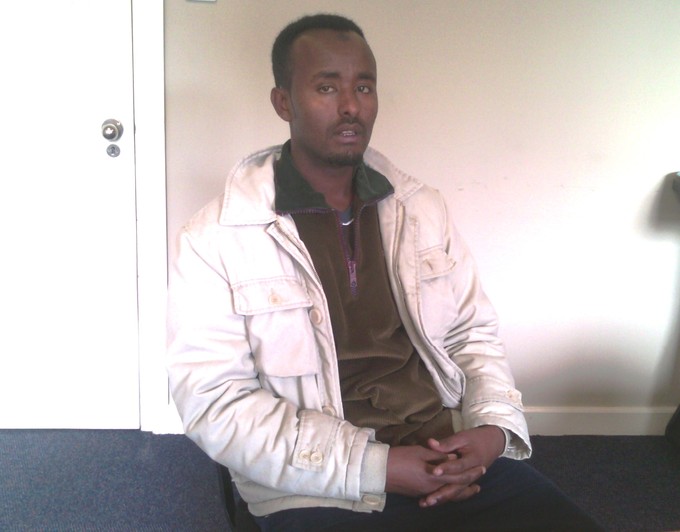 "South Africa is no longer a safe place to live in," says Somali refugee Liban Ali Nuur.
In 2014, GroundUp reported that Nuur had been a victim of armed robbery [in that article he used a pseudonym] in Khayelitsha. A bullet rendered his right arm useless, and he is unable to lift things with it.
"When it is a cold day, I feel a lot of pain," he says. He goes to the clinic in Mfuleni for painkillers.
Nuur relocated to Delft, where he again established a spaza shop with the assistance of family members. But last month, he was a victim of armed robbery for the second time in 14 months.
Nuur had ordered groceries and decided to offload them at his spaza shop the following morning.
"While I was offloading the groceries from my car, around 7 am, four guys opened fire on me. Luckily, they missed and I ran away. They went away with my Toyota Conquest and all the goods I had ordered," he says.
Of the four robbers, one opened fire on him and the others quickly jumped into his car. Nuur jumped out of the car and ran barefoot as fast as he could. He says there were some bystanders who just watched what was happening to him.
A case was opened at Delft Police Station.
Nuur, who is 29, has not felt safe in South Africa since the first robbery. His business was the only source of income for himself and his family and the robberies have left him stressed and homeless; he is unable to pay rent and is currently staying with a friend in Bellville. He says his shop has been put to another use by the owner of the property.
Nuur, whose wife and two children returned to Mogadishu after the first attack, now wants to leave South Africa where he has refugee status. He has been in the country since 2007.
But he says he cannot return to war-torn Somalia. "It is still not safe, especially for a man of my age." He says he will be forced into the fighting.
He wants to be resettled in any country that is safe.
A Department of Home Affairs spokesperson said he should approach the office of the United Nations Commissioner for Refugees.
© 2016 GroundUp.

This article is licensed under a Creative Commons Attribution-NoDerivatives 4.0 International License.
You may republish this article, so long as you credit the authors and GroundUp, and do not change the text. Please include a link back to the original article.