Shack dwellers in King William's Town won't relocate for electrification
Upgrade to Kanana Village means a hundred residents need to demolish their shacks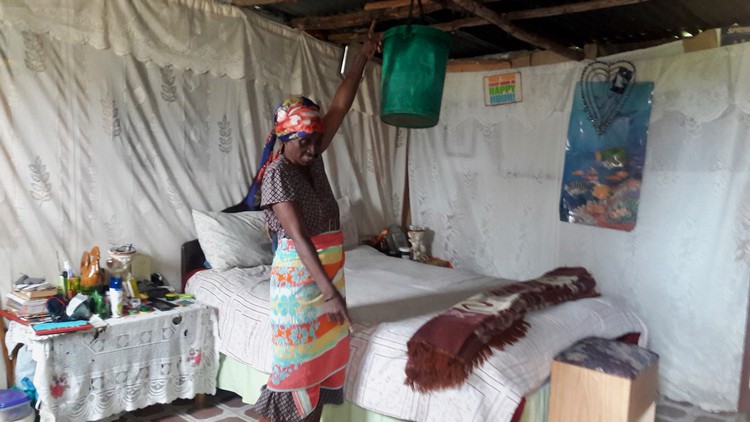 The electrification of Kanana village near King William's Town has left scores of shack dwellers fearing for their homes.
In November 2018, the municipality started installing electricity, but about a hundred beneficieries have shacks on sites not officially recognised by the authorities. About 16 of these people have moved to recognised sites and received electricity in January, but the rest are refusing to move for various reasons.
The authorities are trying to create a grid plan urban layout. No structures are allowed close to the electrical pylon or the water reservoir. One shack is only 14 metres from the pylon.
Ntombentsha Mxoli said she has lived in her shack for 19 years. Her roof leaks and she has almost a dozen containers to catch water when it rains. She says she cannot dismantle her shack and then reuse its materials, because the structure is just too flimsy.
"I do not have money to buy material or even pay labour for someone who will build me a new shack. Anyway, I am told that my [official] site is occupied by the local church, so where am I expected to build?" she asked.
She said if she wants electricity she will have to connect illegally.
Isaac Sithole of the Saints of the Kingdom Ministries said, "The church will not move from where it is because we bought the site from the person who was given the site by the municipality. I had to hire a [bulldozer] to clear the site I was given. It was rocky and had thick trees, but now that it is cleared and I have built my church, I am told that I am occupying other people's sites."
Nontuthuzelo Phantsi, who has two toddlers, said she can't move because her official site is in an area of thick bush and it is dangerous. "In January, I was robbed of my grant money; they took all of it. This was in the same area where they expect me and my children now to move to. I can't. Those bushes are thick. I will not risk our lives. I would rather live the way I am, living without electricity," said Phantsi.
Buffalo City Metropolitan Municipality (BCMM) spokesperson Bathandwa Diamond advised residents to move to their official sites. "All the sites in the area belong to the Metro because the area is earmarked for a housing development … The selling of land and sites is an illegal act," she said.
Diamond said, "There is an urban settlement plan to further develop and upgrade the township into BCM standards."
She said the electrification project had been discussed at length with residents and the ward councillor of the area, and it was agreed that the residents would move to their designated plots as indicated on the layout plan.
GroundUp tried several times to get comment from the ward councillor Zameka Kodwa-Gajula (ANC), but she refused to comment.
No shacks have yet been demolished.
Dodgy people are suing us. Please support us by contributing to our legal costs and helping us to publish news that matters.