Sewage from blocked Khayelitsha toilets overflows into family's yard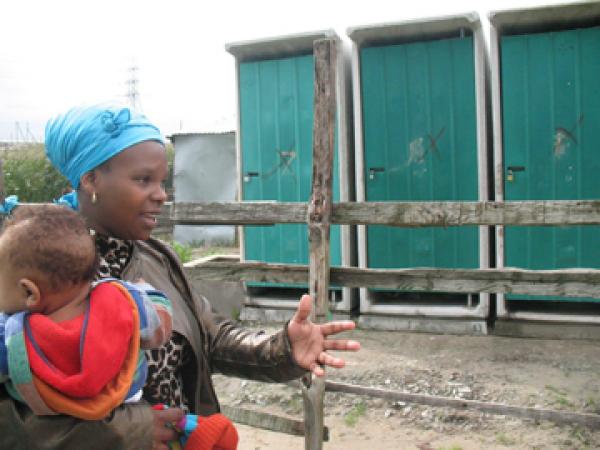 A Khayelitsha mother fears her children's health is at risk as the sewage from the newly installed toilets metres from her home constantly overflows into her yard.
Zimaso Demesha, 26, lives less than five metres from twelve flush toilets installed in RR Nyanga section last year.
According to the City's Mayco member for Utility Services Ernest Sonnenberg, there are 4, 737 full flush toilets in Khayelitsha and, of those, 180 are in RR section.
While the toilets in RR section appeared clean and in a good condition, Demesha said sewage from the toilets, which were often blocked, flowed into the area in front of her door.
"It gets bad and flows right to the front of my door. The toilets are blocked all the time because the people still using buckets in their houses come and throw it into these toilets. When it's in my yard, I just sweep it away with a broom or I throw some clean water over it to wash it into the canal behind the house," she said.
Demesha said she was scared her children's health could be affected if the problem was not resolved.
"My eldest son has a rash on his body since this started happening. My four-month-old baby is always crawling here and I'm scared he will also go into the sewage water or even drink it. I'm scared they will get very sick because the smell also gets so bad you can't even breathe sometimes. In summer, the flies are all around us," she said.
Demesha said the toilets should not have been placed near homes.
Sonnenberg said the blockages in RR section were mainly a result of people putting inappropriate objects into the sewer systems.
"A collaborative effort between the City and the community is needed to overcome this problem. We ask the community to work with us in alleviating this issue by not putting inappropriate objects into the system and by reporting any blockages," he said.
Asked about the positioning of the toilets, Sonnenberg said the ward councillor and community leaders had been involved in the positioning of the toilets.
"They were part of the public participation process and they were also very influential in determining the position of recently installed 180 full flush toilets. The City always goes through a full consultation process with the community before placing toilets," he said.
Sonnenberg also said that the City was in the process of fixing toilets in PJS section, and that new toilets in TR section along Mew Way Road would be completed within the next few weeks.
Sonnenberg urged residents with problems to notify their ward councilor, call Sharecall at 086 010 3089, SMS 31373 or email waterTOC [at] capetown.gov.za.
Dodgy people are suing us. Please support us by contributing to our legal costs and helping us to publish news that matters.
© 2016 GroundUp.
This article is licensed under a
Creative Commons Attribution-NoDerivatives 4.0 International License
.