Sappi workers strike over 9% wage hike
The company has offerred unions a 3% pay hike among other concessions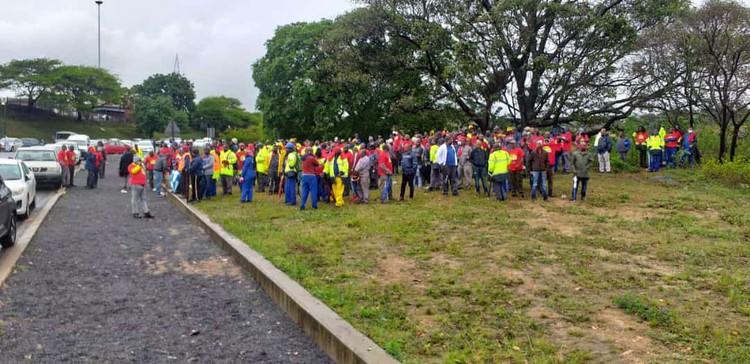 A strike by Sappi Southern Africa workers has entered its second day.
Workers are demanding a 9% wage hike.
The company is only offering 3%.
The workers are expected to continue their strike on Wednesday.
---
Dozens of workers at Sappi Southern Africa Umkomaas mill on the south coast of KwaZulu-Natal downed tools for a second day on Tuesday, demanding a 9% wage hike among other things.
The workers are affiliated to the Chemical, Energy, Paper, Printing, Wood and Allied Workers' Union (CEPPWAWU) and the United Association of South Africa which embarked on a national strike on Monday.
Umkomaas mill is one of three in the province where workers went on strike. Workers at the Ngodwana Mill in Mpumalanga had accepted the wage increase offered by management and signed a plant-level agreement.
Sphiwe Dlamini of CEPPWAWU in KwaZulu-Natal said representatives will be meeting with the company soon to discuss the way forward.
According to an internal memo dated 3 October, seen by GroundUp, Sappi's management put a 3% increase on the table which would be effective from 1 July 2020.
It further states that the employee portion of the medical aid contributions will be limited to an increase of 2% with the balance of the increase subsidised by the company. Shift allowance will remain at 10.5%. This is 0.5% above the industry standard of 10%, the company said.
Zelda Schwalbach, Communications Manager at Sappi Southern Africa, said that the company was committed to working with the unions. She noted that embarking on industrial action does not benefit employees. "Such action will further exacerbate the already negative impact on the sustainability of the industry and job security," said Schwalbach.
The strike by CEPPWAWU members is expected to continue on Wednesday when Congress of South African Trade Union members and affiliate unions are set to down tools and stay home.