Running a vegetable shop from a wheelchair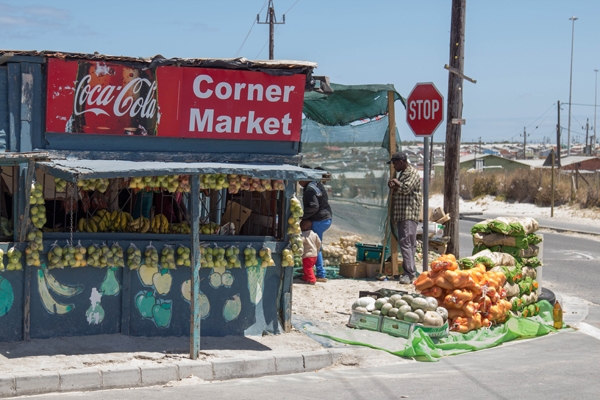 Lulamile Witbooi lost his legs in a train accident in 1991. Today he runs the "Corner Market", a thriving fruit and vegetable shop in Zwezwe, Khayelitsha.
At the time of the accident, Witbooi was boarding a packed train. As he got into the carriage, people were pushing and he lost his footing. He fell out of the carriage, his legs on the tracks and his body between the tracks and the platform wall, and the train drove forward and sliced off both his legs.
"I woke up in the hospital without legs three weeks later," says Witbooi.
He spent the next several months in hospitals. He was not contacted by police or Metrorail following the incident, and was never told how to seek compensation.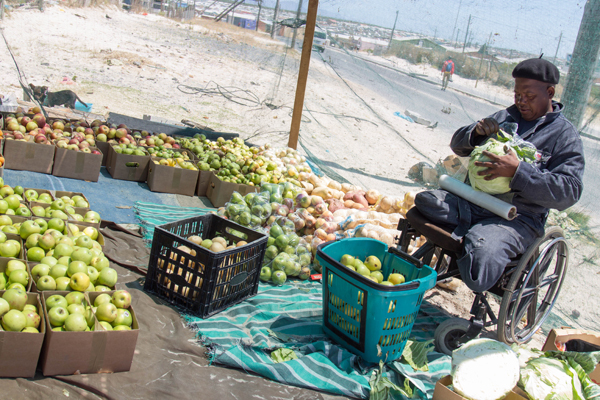 Lulamile Witbooi wraps cabbage to be sold at his shop. Photo by Joyce Xi.
"Times were different. It was still during the apartheid era so nobody paid attention to the case," he says. "I slept in the hospital with no idea what to do. Nobody came to tell me. I was left on my own."
Witbooi never received any legal assistance because he did not know how to seek it. In 2011, he approached Metrorail himself but found it was too late to file a claim.
Though Metrorail has no record of the 1991 accident, the company offered R80,000 as a "goodwill" payment. The money was paid to Witbooi last June.
But he says he is not happy with the settlement. He would have preferred prosthetic legs.
"Only after 20 years, Metrorail offered me R80,000, but my legs are not just worth R80,000. This affects my life and my family. They won't even allow me to file a claim." After he went home from the hospital, Witbooi needed to find a way to make a living. He asked a friend to help him get to town, where he told his story to anyone willing to lend an ear, and in this process found a job as a parking attendant.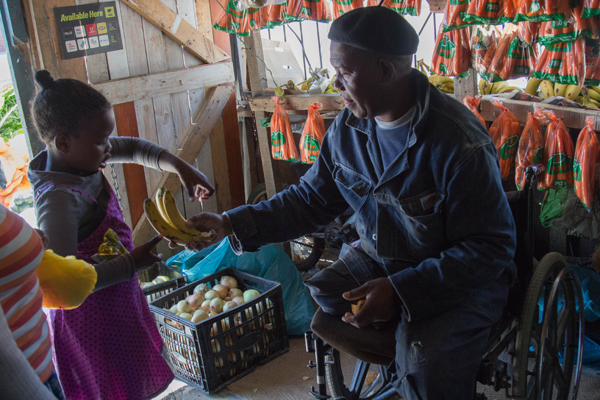 Lulamile Witbooi sells bananas to a young customer. Photo by Joyce Xi.
When that contract ended, Witbooi didn't look for another job because transport was too demanding and he knew he couldn't do many types of work. Instead, he used his savings to start a shop.
"I started my own business because I can't do much else," he says. "Going even to the train station is difficult. I must always have somebody pushing me around."
Witbooi now spends his days chatting with and finding change for customers, and free moments wrapping and packaging fruits and vegetables for display. He does everything from his wheelchair, and has hired an assistant who helps out with tasks that might be difficult without legs.
Even with his disability, Witbooi is the breadwinner in his family. He supports 7 people—his 4 children, wife, grandson, and sister's son. Even though the shop is doing well, Witbooi still struggles to make enough to support everyone. His monthly disability grant is spent on university fees for his sister's son.
For Witbooi, owning a shop comes with many challenges. He lives in the shop because it is easier for him to stay there given his limited mobility. As the shop is a target for crime, he lives alone without his family. "It is risky here. People steal things. They came in with guns three times—they break in and want money.
Security is bad," he says.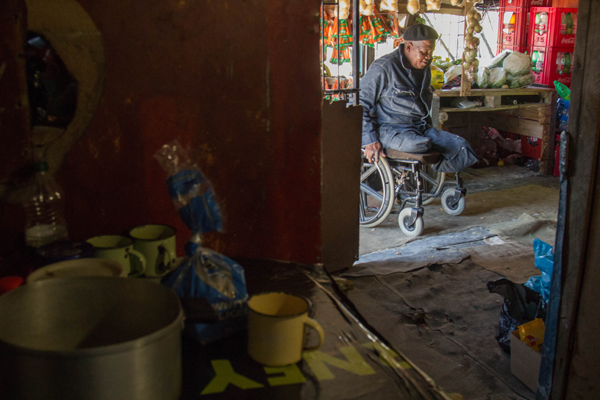 Lulamile Witbooi lives in his shop because it is easier for him with his limited mobility. Photo by Joyce Xi.
He says municipal officials have told him his shop is illegally located on government land, something he didn't know when he moved to the area.
"They could ask me to leave anytime. If they make me move, I don't know where I would go."
Transportation is his biggest challenge, and he always has to rely on someone else to help him get to the market where he buys stock.
Witbooi still hopes to get prosthetic legs someday so that he can walk again.
© 2016 GroundUp.
This article is licensed under a
Creative Commons Attribution-NoDerivatives 4.0 International License
.