Rubbish piles up in East London
Duncan village may have to wait until next year for illegal dump sites to be cleared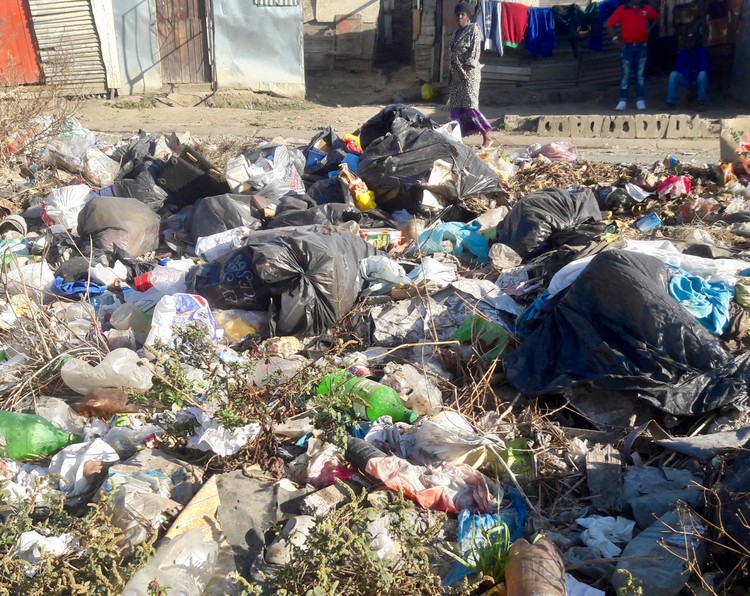 Residents of C-section in Duncan Village say there has been an increase in illegal dumping because there is no legal dump site for the informal settlement. They say rubbish is piling up, including rotten food, human waste and even dog carcasses.
Bongiwe Delihlazo, who has lived in the area for over ten years, said, "This area was not a dumping site before. There were shacks here and those people were moved to RDP houses in New Life. Residents now use it [the open land] as an illegal dumping site."
"It's funny because the [Buffalo City Metropolitan] municipality refuse collection truck passes here every week, but they just ignore the rubbish," said Delihlazo.
"We live with big rats here. People dump human waste and urine at night after using buckets. This has been going on for over a year now. The smell goes straight to my shack because I live nearby," she said.
"Last year, I mobilized a few residents and we cleared this illegal dumpsite with our own hands. But within a week, people came back to dump again," said Delihlazo.
Local committee member Sthembele Madlavu said, "This is long overdue now, because the councillor also knows about the illegal dumping that is ongoing in this area. Maybe she is not pushing this enough. We fight amongst ourselves here, because most of us do not condone illegal dumping. Most of it happens at night … The municipality must come and remove this filth and also educate residents on how we can keep this area clean."
Ward 2 councillor Ntombizandile Mhlola said, "C-section is really filthy and the problem is not confined to one area." She said the municipality had bought TLBs (Tractor loader backhoe vehicles) but they were busy digging municipal cemeteries. "This might be an issue we will consider in the next financial year [2019/20]," said Mhlola.