Robertson farmer charged with assault on employee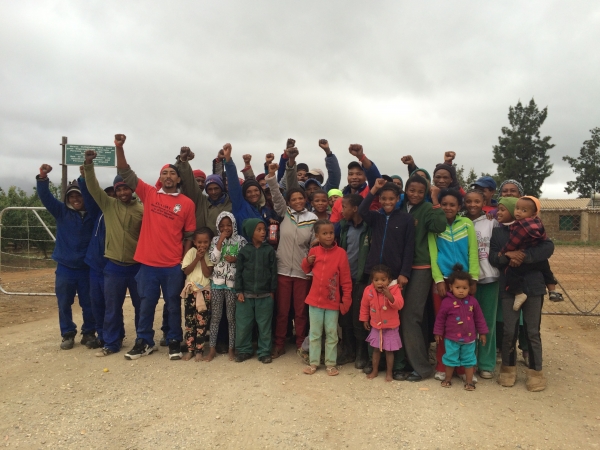 The owner of Eilandia farm will stand trial on charges of assaulting and strangling an employee in the Robertson Magistrates Court on Friday. Whatever the outcome of the case, a local farm workers' union has heralded the police investigation and court appearance as a victory.
Since accusing his employer of assault on 2 December last year, 26-year-old farm worker Gerald Slingers has been isolated on Eilandia farm.
Slingers said farmer Michau Viljoen has forbidden him from speaking to other workers during work hours. No longer allowed to work with the team, Slingers has been made to work alone in a young vineyard. He starts at 6am; he takes his breakfast alone, out of earshot from the worker's communal meal time gathering at 8am.
"It is not pleasant to work by oneself … we rely a lot on teamwork and conversation to get us through the hard work day. I feel very lonely," he told GroundUp, speaking on his cellphone on Thursday morning. He said the temperature had already topped 30 degrees in Robertson.
The previous day saw Slingers hauled before a disciplinary hearing for "theft". Slingers recently picked and ate two peaches. Fruit, he says, is a common allowance for workers on Eilandia – a privilege that he has enjoyed until recently. Yet, he now stands to lose his job. He expects the outcome of the hearing to be communicated to him early next month.
"It is obvious that mister Viljoen wants to get rid of me, but up until now he has had no grounds to fire me. I am a good worker, but he says that I am a bad influence on the others," said Slingers.
Slingers is a shop steward with Commercial, Stevedoring, Agricultural and Allied Workers Union (Csaawu). One evening in early December, he invited Csaawu deputy general secretary Karel Swart to the farm to meet with and recruit other farm workers. Viljoen confronted Swart and asked him to leave the farm. Later that evening, Slingers alleges Viljoen assaulted him – strangling him to the point of losing consciousness.
GroundUp could not reach Viljoen on his phone this week. His lawyer, Jaenre Botha, said that he would deny every charge against him and plead not guilty when the matter is heard in the Robertson Magistrates Court on Friday.
She declined to comment on Slingers's further accusations that he was being isolated at work. In a letter dated 5 December, Viljoen denies the assault charge. "Our doors and premises are always open to unions to visit and engage with us, but … we expect that prior appointments are made to enter our business and premises as set out in the Labour Relations Act," wrote Viljoen.
Swart contends that he was visiting the workers after hours at their homes and at their invitation. Requiring permission from the farmer in such an instance flies in the face of the workers' constitutional rights to freedom of association, he argues.
Despite being chased off the farm, Csaawu claims it now has a majority membership on Eilandia. The union has sent a letter of grievances to the farm management, complaining about long work hours, no sick or public holiday leave, and the poor quality of the drinking water. Water is piped from a dam where people and animals swim, directly to the workers' homes without being treated, said Swart.
On Friday, Slingers is expected to take to the witness stand and testify that Viljoen slapped and strangled him in a secluded part of the farm, out of sight and after Swart had left.
Csaawu admits that a lack of evidence may see the case thrown out of court. The union remains upbeat though. The very fact that the case was investigated by police and has made it to court is a victory, said Swart.
"In the past, these cases would fall by the wayside. The police would not investigate and a farmer would not often be seen standing trial for assault. In our opinion and experience, assaults on workers occur regularly on farms in the areas where we operate. Concerted pressure from the union resulted in this case being investigated by police, and we find that to be a positive and progressive development."
Meanwhile, Slingers told GroundUp that he has sent a message to Viljoen. On Monday, he will fall in with his colleagues to work alongside them – consequences be damned.
Dodgy people are suing us. Please support us by contributing to our legal costs and helping us to publish news that matters.
© 2016 GroundUp.
This article is licensed under a
Creative Commons Attribution-NoDerivatives 4.0 International License
.