Reopen events, say Gauteng entertainers
"There's no food anymore. There's no income."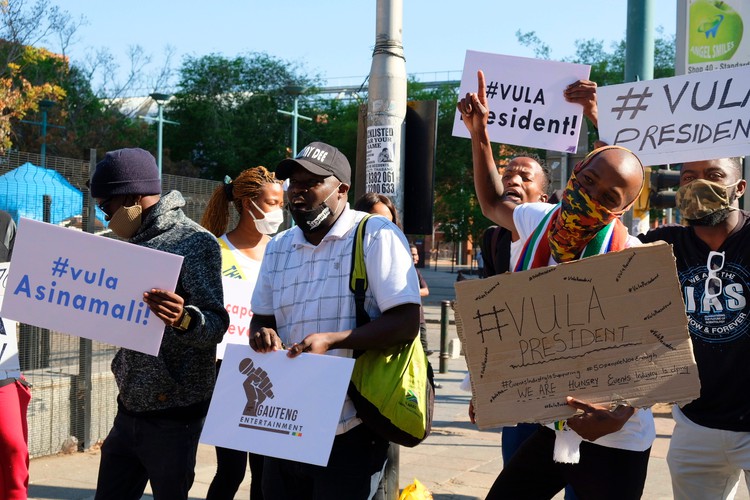 A group of artists protested on Friday outside the Union Buildings.
They want the president to allow entertainment events to reopen with Covid-19 protections.
They argue that taxis and taverns are open, so entertainment venues should be able to open.
This protest follows one in Durban on 2 September that was dispersed by police.
---
Musicians, DJs and artists in Gauteng are asking the president to reopen the entertainment industry to save their livelihoods. A group of about 15 entertainers marched to the Union Buildings in Pretoria on Friday under the banner #VulaPresident.
Their primary demand is that events should be allowed to take place with at least 70% capacity. Event organiser, radio presenter and event MC Percy Sleash said, "All the pubs, all the taverns where people go to have fun — those places are open. But we are not allowed to host events. So they might as well open up for us."
Secondly, the group wants clarity about how Covid-19 relief grants have been allocated to artists across the country. "Not many of us got the relief funds," Sleash said.
The Department of Sports, Arts, and Culture is currently in its second round of accepting applications for these grants, with R65.7 million spent during the first wave.
One of the musicians marching, Leon Lee, applied for funds and was rejected. He said he and his fellow artists have suffered. "There's no food anymore … There's no income."
Lee said he would be open to adjusting events to adhere to Covid-19 safety regulations, such as sanitising hands and wearing masks. He suggested attendees be kept apart in small groups by barricades.
Event MC Patrick Gubayi was also marching. He said not only artists are affected by the industry restrictions. Many supporting roles such as sound engineers, photographers and security guards also profit from events.
Gubayi said: "We know things are tough in South Africa, but we're just asking you, Mr President: Just open the events, and make sure that at least we get 70% capacity."
An official at the Union Buildings accepted the memorandum, which said that the entertainment industry had been sidelined during the reopening of the economy. It made a comparison to the taxi industry: "It is open and to make things worse, there is no social distancing in a taxi. But when it comes to the entertainment industry, it is not open."
The march was affiliated with other actions under the #VulaPresident hashtag. Protesters blocked the N3 highway in Durban on 2 September under the same banner. Police reportedly used stun grenades and rubber bullets and arrested about 30 people.
Sleash said that the KwaZulu-Natal group was able to advise them on how to hold the protest peacefully and safely. The Gauteng group also has an online petition to further their cause.
Dodgy people are suing us. Please support us by contributing to our legal costs and helping us to publish news that matters.