Refugees struggle to renew their asylum documents with Home Affairs online system
Some asylum seekers have missed the 31 December 2021 deadline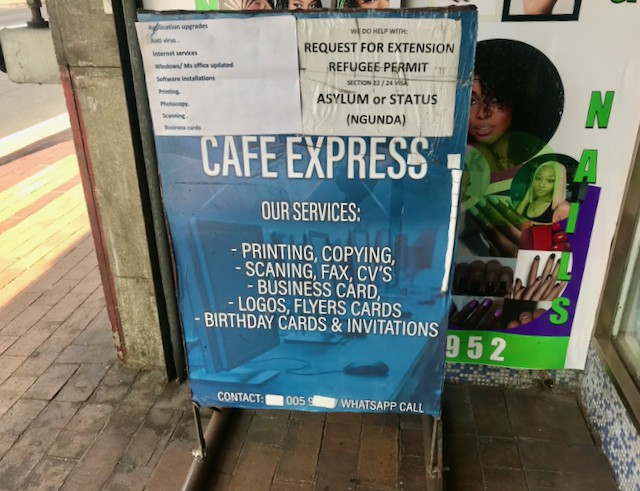 Many refugee permits expired during the Covid lockdown period when Home Affairs closed its offices.
Asylum seekers and refugees were given until 31 December 2021 to renew their papers onine.
Some refugees say they have missed the deadline because of failures with the online system, not for lack of trying.
Home Affairs has not indicated what people who have missed the deadline should now do.
Refugees and asylum seekers in South Africa were given a deadline of 31 December 2021 to renew their documentation online. Some of those who have missed that deadline blame persistent failures of the Department of Home Affairs (DHA) online system for being late. Others say they never got any response after renewing online.
When the Covid pandemic struck in 2020, Home Affairs closed its offices to refugees. Many people's permits expired during the lockdown. Refugees who arrived in South Africa after March 2020 have had no way to apply for asylum status.
Refugees without valid papers struggle to access basic services, enroll their children in schools or open bank accounts. They are also vulnerable to arrest and deportation, to exploitation by employers and to crooked police extorting bribes.
Home Affairs granted a blanket extension for all asylum seekers and refugees whose permits expired on or after 15 March 2020. Refugees were told to renew their papers online. The system went live on 15 April 2021. They had until 31 December 2021 to renew.
Last year in July, GroundUp reported that refugees were frustrated by Home Affairs' online renewal system.
Victor Chikalogwe of People Against Suffering, Oppression and Poverty (PASSOP) said when their office opened in January, many refugees and asylum seekers said they had received no response, while others said they had been called in for a second interview.
He said, "We know they renewed online and the applications didn't go through because of the failure of the system. But DHA is taking it as if they are ignoring the deadline."
The Legal Resource Centre (LRC) says Home Affairs has not given any advice on what asylum seekers who missed the deadline due to online system failures should do.
Zimkhitha Mhlahlo, an attorney at LRC, said the department has also not announced whether the online renewal process will continue to be the system in use now that lockdown regulations have relaxed.
In December GroundUp received an email from an asylum seeker who needed assistance with online extension. Her papers expired during Covid-19 lockdown. "Nedbank froze my account and right now I don't have money to pay rent, buy food and baby stuff," she said.
Another asylum seeker (in South Africa since 2009), whose papers expired in May 2020, said she has done the online application and sent emails subsequently but without success. Her asylum papers expired during the Covid-19 lockdown.
She discovered her account was frozen when her bank card was declined at a till at a supermarket in October 2021. She went to the Nedbank branch at St George's Mall and was told her asylum permit was invalid.
She showed GroundUp her asylum online application and the follow up emails she had sent Home Affairs. She needs her account in order to run her small business selling hair oils.
Nedbank spokesperson Annaleigh Vallie said the bank froze the account because the asylum permit expired on 25 November 2019. We pointed out that the bank was wrong. November 2019 is actually the date when she last successfully renewed her permit; it expired only on 25 May 2020 during lockdown, and she has been trying to renew subsequently.
Huge backlog
PASSOP and Lawyers for Human Rights (LHR) are skeptical that Home Affairs will be able to clear a massive backlog in South Africa's asylum system which was there even before the pandemic.
In March, the DHA, the Refugee Appeals Authority and the United Nations High Commissioner for Refugees (UNHCR) launched a US$9.6 million asylum seeker backlog project.
Home Affairs Minister Aaron Motsoaledi and Gillian Triggs, the Assistant High Commissioner for Protection for UNHCR, met on 25 January to review strategies for management of asylum seekers and refugees in South Africa.
Motsoaledi said the Government is reviewing the Refugee Act, the Citizenship Act and the Immigration Act to align them and simplify them.
"We recognise that some of our laws were enacted in a period where things were very different to how they are now. We need to modernise our laws to reflect our current circumstances, based on our realities. South Africa does not have a problem with people who are legally seeking protection. The challenge is with those who are here illegally," said Minister Motsoaledi.
Triggs said, "The UNHCR will be investing in a project with the government to strengthen the entire asylum system and resolve the existing asylum backlog and to ensure proper documentation."
The UNHCR referred GroundUp's queries to the DHA. For a week we tried to get comment from DHA spokesperson Siya Qoza but the department had failed to comment at the time of publication.
Dodgy people are suing us. Please support us by contributing to our legal costs and helping us to publish news that matters.
Letters
Dear Editor
I am horrified at what my dear driver, Makanda, had to endure last Friday evening while trying to make an honest living and innocently doing deliveries of games and orthopaedic cushions in Edenvale for me.
Last week Saturday two "lovely" South Africans mugged him and took his cellphone and his wallet, and he was desperately trying to make up for the loss he endured.
He called to tell me that he has been pulled over by SAPS. I could hear a commotion in the background and a raised male voice. I was trying to tune it out so I could hear what Makanda was saying. He sounded concerned but I knew the bike was licensed two weeks ago. He told me they were requesting his asylum papers, which get emailed to the refugees. Bear in mind he was just recently robbed of his wallet and just got the new phone yesterday.
He told me the SAPS officers were refusing to accept his emailed asylum status papers and were insisting they see his printed copy, which he did have at home. I asked him to please see if his girlfriend was home and then l would arrange to get the copy. I hadn't heard back so I called him. He told me that he had arranged for someone to come and everything will be okay. After all, he's a legal refugee.
You know that asylum status that our government grants people they believe are in need of protection? As he was telling me not to worry, I heard the policeman shout aggressively, and now very loudly, "Hey you!"
Makanda politely replied, "It's ok, someone is bringing a printout of my papers. My friend is fetch–"
Before he could even finish, Mr Xenophobic policeman screamed out with pure hatred in his voice, "F*** you, f*** your mother. Where are you from? Zimbabwe?"
Makanda replied, ever so calmly, "No sir, DR Congo."
"This is not your country!" The last thing I heard him shouting was just profanity and then I heard the police vans doors close.
I was horrified at his foul mouth and disgraceful behaviour. How does he treat the ones that can't provide an email or hard copy? Makanda was allowed to live here to keep him safe. Our country failed him twice this week. And Mr Policeman, what does his mother have to do with it?
© 2022 GroundUp. This article is licensed under a Creative Commons Attribution-NoDerivatives 4.0 International License.
You may republish this article, so long as you credit the authors and GroundUp, and do not change the text. Please include a link back to the original article.
We put an invisible pixel in the article so that we can count traffic to republishers. All analytics tools are solely on our servers. We do not give our logs to any third party. Logs are deleted after two weeks. We do not use any IP address identifying information except to count regional traffic. We are solely interested in counting hits, not tracking users. If you republish, please do not delete the invisible pixel.