R2K demands cheaper airtime and data
Picket outside cellphone companies' offices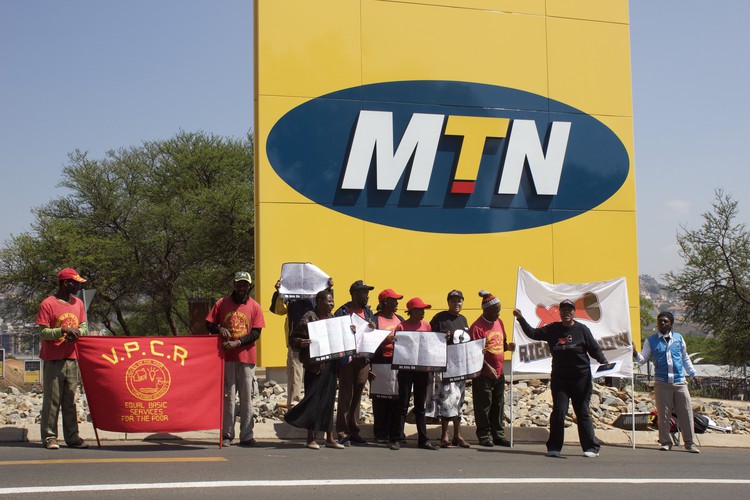 Members of Right2Know (R2K) and the Diepkloof Voices of Poor Concerned Residents picketed outside the head offices of several cellphone companies in Gauteng on Tuesday to demand cheaper airtime and data.
The protesters gathered outside the MTN offices in Randburg, Cell C offices in Sandton, Telkom offices in Centurion and Vodacom offices in Midrand to hand over a memorandum.
R2K said in a statement that demands which had been "continuously presented" to the cellphone companies since 2013 had not been met.
"We want to be taken seriously," R2K coordinator Eunice Manzini said at the gathering outside MTN's head offices in Randburg.
According to R2K's research, South Africa has some of the most expensive data rates in the world and cellphone companies make up to a "300% profit on all SMSes" as the costs of transmission are very low. Nearly 83% of South Africans have cellphones, says R2K, yet high data and airtime prices place communication "out of reach of the country's poor".
R2K, supported by Voices of Poor Concerned Residents, is calling for "affordable data and airtime for all South Africans" and demanding that unused data bundles should not expire. R2K called on the Independent Communications Authority of South Africa (ICASA) to "regulate the cost of airtime and data to stop profiteering."
"Far too many South Africans are deprived of the basic right to communicate because of the ruthless profiteering of the big telecoms companies," the statement said.
Other demands on the memorandum included:
All SMSes should be free;
A free basic amount of airtime and data for everyone;
Better cellphone service, including network outages, dropped calls, calls that don't connect, and data coverage;  and
The expansion of the list of free numbers (like police and ambulances) to include schools and hospitals.
Johan Pansegrouw, MTN's head security specialist, accepted the memorandum from R2K protesters in Randburg. "I will not make any promises," he said. "But I will take this to the executive." He did not want to comment further.
Michael Seema, a member of R2K and of Voices of Poor Concerned Residents, said he spent "more than R200 a month on data". "They must reduce the prices," he said. "This is a very big problem for us."
Voices of Poor Concerned Residents has over 500 members in Diepkloof, Soweto. The goal of the organisation is to achieve "equal basic rights for the poor" of their community. "Airtime is a problem for all our members," Seema said. "You can't eat data. If people aren't working, it's very heavy to choose – must they buy food [or data]."
Apner Modupi, another member of the group, said cellphone signals did not reach all of Soweto, especially at weekends. "No one has landlines anymore, but the cell network is not okay."
© 2017 GroundUp.

This article is licensed under a Creative Commons Attribution-NoDerivatives 4.0 International License.
You may republish this article, so long as you credit the authors and GroundUp, and do not change the text. Please include a link back to the original article.