Fired workers block access to public toilets
Cleaners in Uitenhage say they have been "tricked"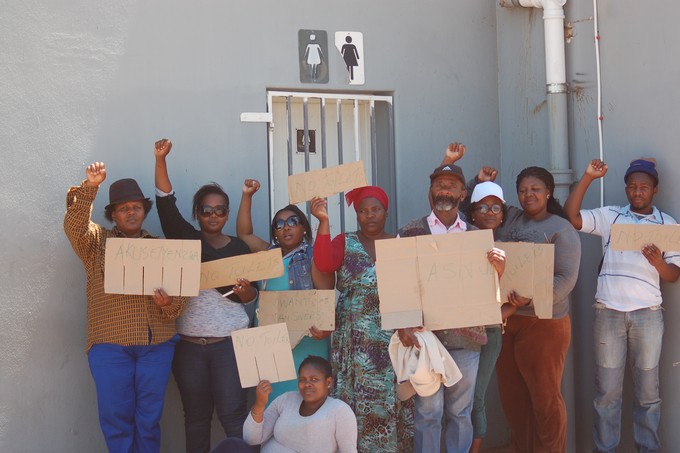 Since last week, public toilet cleaners in Uitenhage have locked up the town's toilets, demanding their jobs back. Originally working as volunteers, they were paid by two successive private companies contracted to the municipality, first Lington Enterprises, then Plateau Solution. This last contract has now ended and the 10 affected toilet cleaners say they are left in a desperate state and they do not accept that the municipality has no responsibility to them.
Meanwhile, Nelson Mandela Bay Municipality took on 32 new workers through the Extended Public Works Programme to clean the public facilities.
At a protest joined by members of the community last week on Thursday, workers dumped several plastic bags of human waste at the entrance to the town hall. Today, the toilets remain guarded by workers after the municipality hired a locksmith.
The workers said they were informed on 4 November that they would no longer be employed. They were angered, they say, when Nelson Mandela Bay Municipality refused to engage with them.
Ntomboxolo Ketadi said some of the workers started in 2013 as volunteers. "We volunteered to clean the toilets because the town was dirty and people were just urinating and messing up everywhere. Then a private company was hired and we were being paid by that company."
The company, Lington Enterprises, was contracted from 3 November 2014 to 31 July 2016. Then Plateau Solution took over in August for three months.
Ketadi is 31 and lives in KwaNobuhle. She supports a family of six, including her brother who is a student at Nelson Mandela Metropolitan University. She said the workers were being paid R2,300 a month.
"I am now desperate. What will I tell my children and my siblings? They will have a grim festive season. We were never told that the contract would end this way. We cleaned this town when no one wanted to do the job. All along, we knew that we belonged to the municipality. We used to get everything, including detergents directly from the municipality.
"Yes, the private companies paid us, but our impression was that they were there to manage us only. We will remain guarding these toilets and ensure that they remain closed until the city fathers give back our jobs."
Another worker, Mziyanda Cagwe, 47 and a father of four, said, "Plateau Solution was deducting UIF money from our salaries. This further reinforced the belief that we were employed full-time. We only got surprised last week to see a new crew."
Ntombethemba Ngecheni, 29, has four children and she looks after her 14-year-old brother. She said she also started as a volunteer in 2013. "We went through tough times when we were volunteering. When the first company was appointed to manage us, we had to buy our gloves and other protective clothing to use because the owner used to tell us that the municipality should supply us. This is what made us think we were under the employment of the municipality. We were not allowed to take off days. We worked from 6am to 5pm every day, including on public holidays. Then it just ends like this?"
Mzukisi Dyeneli, who is 60, claims he has been cleaning toilets for 25 years. "All along, I thought I was under the municipality. All the successive municipal leadership know me. What will I do at this age? Who will employ me, when my only expertise is to clean toilets?
"The municipality has tricked us. I was under the impression that I was going to get something when I retire, but I was shown the door with no money in my pocket."
Mzukisi supports a family of eight children and grandchildren.
Nelson Mandela Bay Municipality Deputy Mayor Mongameli Bobani disputed the workers' allegations. "We did not fire these people, because they were not [on] our payroll. We had a three-month contract with their company [Plateau] and the contract has expired. It is the responsibility of the company to accommodate them because they belong there.
"As a municipality, we don't like to see people losing jobs. Unfortunately, they are not our workers. I monitored the hiring of the new workers and it was done in a transparent manner. This is part of the Extended Public Work Program. We are here to create employment for our people and at the same time to be cost-effective, because we can not hire an outside company to do a job that we can do internally as a municipality."
Bobani said that Dyeneli should visit the municipality with convincing proof that he had worked for it for 25 years.
Plateau Solution director Eschel Liesering said: "I knew from the onset that the contract was for three months. I wish the contract was extended because these workers are now suffering. They were happy with me. If I had other jobs I [would] accommodate them, but not at the moment."
© 2016 GroundUp.

This article is licensed under a Creative Commons Attribution-NoDerivatives 4.0 International License.
You may republish this article, so long as you credit the authors and GroundUp, and do not change the text. Please include a link back to the original article.