Protests against "harrasment" of Angy Peter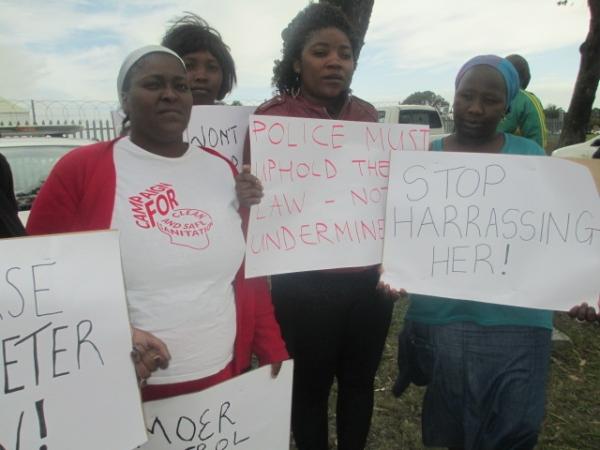 On Sunday activists from the Social Justice Coalition (SJC) staged a picket outside the Langa Methodist Church where National Police Commissoner Riah Phiyega was addressing a Women's Day Service.
"We are picketing here today because we want to plead to the Commissioner to tell the police to release Peter because she is innocent," said Nontembeko Nduna from the Social Justice Coalition.
Angy Peter was arrested again last week and has been charged with kidnapping. According to Joel Bregman, senior researcher at the Social Justice Coalition this is the fourth case against Peter since October last year.
Angy Peter has played a prominent role in Khayelitsha, working with victims of crime and trying to assist them in getting justice from the police and criminal justice system.
In November 2011 Western Cape Premier Helen Zille established a Commission of Inquiry into policing in Khayelithsa. Peter has been active in gathering evidence to present to the commission. The Commission is currently on hold pending a Constitutional Court challenge by Police Minister Nathi Mthethwa.
Bregman says, "when you look at the patterns and you look at all the subsequent arrests, harassment and intimidation, it's clear that the police are trying to stop Angy from doing her work".
Peter is due in court later this week to face other charges of kidnapping and murder stemming from October last year.
SJC says that the Police Commissioner has not communicated with them about a meeting promised last Sunday regarding the harassment of their colleague.They say they will continue to protest until the police meet with them and address their concerns.
© 2016 GroundUp.
This article is licensed under a
Creative Commons Attribution-NoDerivatives 4.0 International License
.