R350-a-month grant to be extended to March 2025
Finance Minister Enoch Godongwana announces extension of Covid-19 grant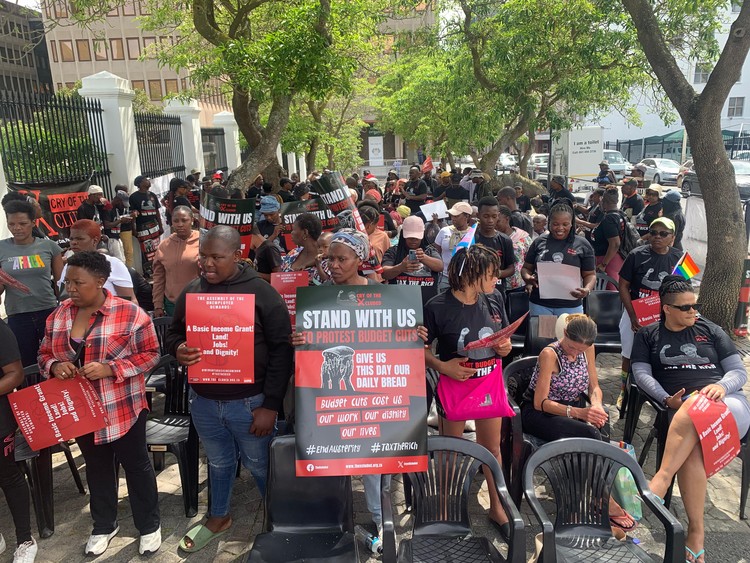 The R350-a-month Social Relief of Distress grant is to be extended for another year, until March 2025.
Minister of Finance Enoch Godongwana said in his Medium Term Budget Policy Statement in Parliament on Wednesday: "The Covid-19 Social Relief of Distress Grant will be extended for another year until March 2025 while government considers social security policy reforms and a funding model."
He said if the temporary grant "or a similar type of grant" were to be made permanent, the number of social grant beneficiaries would rise from 27.3-million in 2023-4 to 40.4-million in 2040-41. This would cost 3.8% of South Africa's gross domestic product, and would require a permanent source of funding "such as additional revenue measures," he said.
Earlier, nearly 100 people had gathered outside Parliament to urge Godongwana to change the R350 grant to a Basic Income Grant of R1,500 a month.
The protest was organised by Cry of the Xcluded and members of activist organisations across South Africa travelled to Cape Town to participate.
The group also urged the Minister not to implement budget cuts, and to:
create decent jobs for millions of unemployed South Africans through rebuilding public services and a climate jobs programme;
end privatisation of basic services;
put additional funding towards healthcare and education in rural areas;
end regressive tax policies and unsustainable interest rate hikes; and
tax the wealthiest South Africans and reverse tax breaks given to corporations and high earners.
"Budget cuts impact the ability of people to survive," said Andile Zulu, energy democracy officer of the Alternative Information and Development Centre. "If you reduce expenditure toward public services, it means that hospitals are overcrowded, schools are understaffed, roads are not getting fixed, people are not getting water and people are struggling to survive."
Cape Town Mayor Geordin Hill-Lewis was outside Parliament during part of the protest.
He told GroundUp his biggest concern with austerity measures is that the cuts would be absorbed by provincial and local governments.
"The nature of the budgets we receive are directly aimed at pro-poor spending," he said. "It's infrastructure, it's housing grants, it's informal settlement upgrades. Those cuts are devastating for our delivery programmes to the poor."
Mooketsi Diba, who came from the Free State to represent the Botshabelo Unemployed Movement, was also concerned about decreased allocations to local government.
He said where he lives infrastructure and sanitation are already poor and he is worried those problems will increase.
"The medium-term budget statement is going to affect us for years to come," he said.
Director of Corporate Services at the National Treasury Lutendo Ramalebana received a copy of the demands and said she would submit them to the Minister of Finance.
© 2023 GroundUp. This article is licensed under a Creative Commons Attribution-NoDerivatives 4.0 International License.
You may republish this article, so long as you credit the authors and GroundUp, and do not change the text. Please include a link back to the original article.
We put an invisible pixel in the article so that we can count traffic to republishers. All analytics tools are solely on our servers. We do not give our logs to any third party. Logs are deleted after two weeks. We do not use any IP address identifying information except to count regional traffic. We are solely interested in counting hits, not tracking users. If you republish, please do not delete the invisible pixel.