SAPS prioritises rich white communities, protesters claim
Opposition to planned R100 million Muizenberg police station upgrade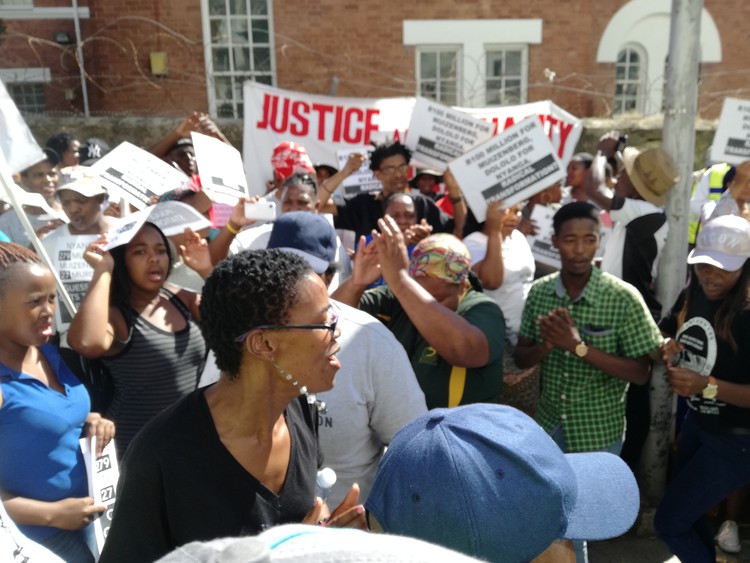 Members of the Social Justice Coalition and residents of Khayelitsha, Nyanga, Grassy Park, Marikana, Masiphumelele and Kraaifontein picketed outside the SAPS provincial head office in Green Point today, opposing the planned R100 million upgrade to the Muizenberg police station.
The SJC wants the R100 million allocated to the Muizenberg police station diverted to areas which need policing more.
The SJC, Equal Education and the Nyanga Community Policing Forum have taken the National Minister of Police, the acting National Police Commissioner, the Western Cape Police Commissioner and the Western Cape MEC of Community Safety to court. They want SAPS to change the way police officers are assigned to police stations.
The matter will be heard in August.
According to Crime Stats SA, 27 murders were reported in Muizenberg last year compared to 279 in Nyanga.
SJC head of Safety and Justice Chumile Sali said the government was taking black people for granted and continued to undermine them.
"We are here to raise our dissatisfaction with the manner in which SAPS continues to allocate police resources. We are aware of the allocation of R100 million to a white, rich, safer suburb. There is no need for another police station in Muizenberg, there is no need for an extension."
"There are areas like Nyanga, Vrygrond, Masiphumelele in need of police stations and yet SAPS continues to prioritise white, rich communities," said Sali.
He said a police station had been promised in Samora Machel for ten years but it had still not been built.
Sali said the SJC would ask the Public Protector to investigate how a police station upgrade could cost so much.
Dalli Weyers, SJC senior researcher for safety and justice, said SAPS's decision to spend the money in Muizenberg was discriminatory.
"No only is there another police station in Nyanga that needs to be built, but the current Nyanga police station requires an upgrade. The child protection and family offences unit doesn't actually sit in Nyanga but in Mitchells Plain, because there is no space in Nyanga."
"The detectives in Nyanga sit in rented offices which are 9km away from the police station," said Weyers.
Lucky Valela from Kraaifontein told GroundUp: "City and national government continue to disrespect us and our needs as people in poor communities, by giving resources to people who already have private security companies guarding them 24 hours a day."
He said in Kraaifontein one police station catered for six sectors.
"We have no mobile station and police visibility is not there. But they are spending money on unnecessary things while we still have communities struggling to access the closest police station," said Valela.
In a statement today SAPS said the Muizenberg upgrade was a Department of Public Works project and it was still in the design stage.
"We strive towards the equitable distribution of SAPS resources guided by crime trends and patterns, as well as spatial growth and development. It is on that basis that the construction of Tafelsig (Mitchells Plain), Makhaza (Khayelitsha) and Weltevreden (Nyanga) police stations is in the initial phase," said the statement.
But Department of Public Works spokesperson Thamsanqa Mchunu referred GroundUp back to SAPS.
"The National Department of Public Works did not approve any R100 million. The budget came from SAPS," said Mchunu.
© 2017 GroundUp.

This article is licensed under a Creative Commons Attribution-NoDerivatives 4.0 International License.
You may republish this article, so long as you credit the authors and GroundUp, and do not change the text. Please include a link back to the original article.