Protest over stalled road project in Pietermaritzburg
"You can't tell me that fixing one kilometre can take years"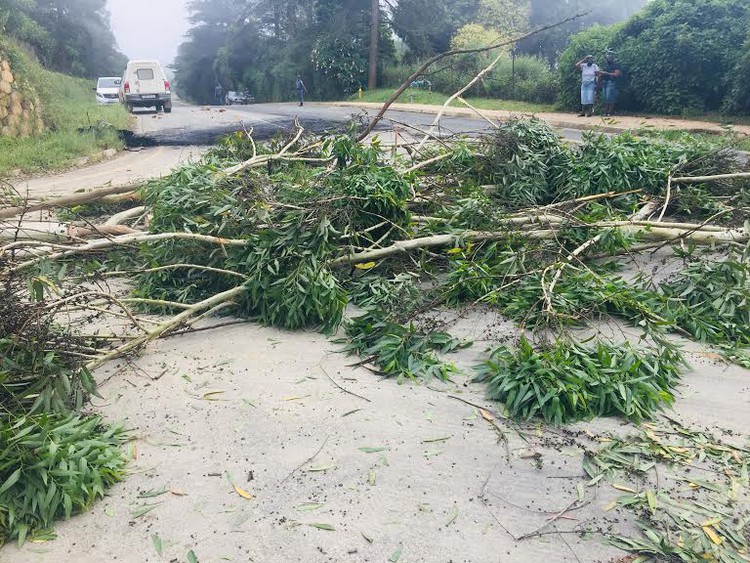 About 50 residents from Mbutshana in Sweetwaters, Pietermaritzburg took to the streets on Thursday over a stalled road project. The R12 million project was to fix a kilometre of the D2069 close to Hilton.
According to ward councillor Sbu Mtshali the project started in 2019.
Residents blockaded Knoll Drive and Dennis Shepstone Drive using trees and burning tyres.
"We came here because we need answers from the Msunduzi municipality," said community leader Thami Mkhize. He said the community wanted officials to explain the delay.
"We need someone above the ward councillor and the only way we can get that is a protest. Every week we encounter tyre punctures on this road. Recently there was a car accident because the road is in a bad condition. You can't tell me that fixing one kilometre can take years. Last week we were informed that the project won't continue. We want to know why," said Mkhize.
Mkhize said part of the stretch of road had been completed, but not the rest.
"What they did is put in some stones. The road is bare, not tarred. There are no workers on site. They have failed to do that 1km they promised."
"I understand the frustration of the residents," said Mtshali. "It's been a long time."
"There have been problems with this project. One of the problems was workers not being paid. I have tried getting answers and clarity but the municipal officials must come and address the community. We need is to push the officials to do their job."
Mtshali said there was money allocated for the R12 million project.
Msunduzi municipality spokesperson Thobeka Mafumbatha said work had been stopped by workers on the site who were demanding outstanding payments from a previous contractor.
She said the department was trying to address the problem and she hoped by Monday next week, the contractor would be back on site.
Dodgy people are suing us. Please support us by contributing to our legal costs and helping us to publish news that matters.