Protesters blame corruption for lack of water in Umlazi
"We hear that the officials are benefiting from the water tankers"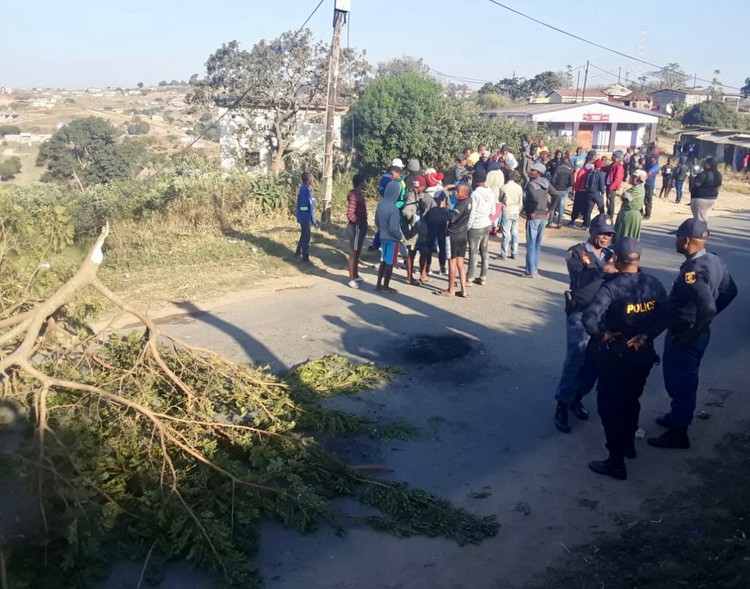 Residents used trees and stones to block several roads in the Engonyameni area near Umlazi, south of Durban, on Monday. The protest was about a lack of water.
Teaching and learning was disrupted at about ten schools. One of the protest leaders, Nkanyiso Msomi, said schools were not their target, but residents had taken to the streets because they had been without water for four weeks.
He said they will protest until the eThekwini Municipality restores water to their homes.
"We hear that officials are closing our water supply so that we will get water through tankers. We hear that the officials are benefiting from the water tankers," said Msomi.
He said their information came from people inside the municipality.
He also said water tanker drivers were forcing people to pay for the water. Two people who did not want to be named told GroundUp that they had bought water tanks because of the ongoing problems. For the past six months they had paid the water truck drivers R200 to fill the tanks at their homes.
Some residents said they are currently relying on the Umlazi River.
Msomi said they were calling on the acting mayor, Fawzia Peer, to investigate the allegations.
He said when they enquired at the municipality a few days ago they were told that the water reservoir was empty. He said they had "discovered" that this was not true.
eThekwini Municipality spokesperson Msawakhe Mayisela said they will dispatch a team of officials who will go to the area, speak to the residents and investigate the matter. He said the municipality is busy with a multimillion rand water project, while it is doing everything in its power to ensure that residents have access to clean water through water tankers. He said the municipality appealed to residents to be calm and patient.