Potholes, broken drains and crime: you've got to be brave to drive in Samora Machel
Sewage oozes onto the streets and there are holes in the main roads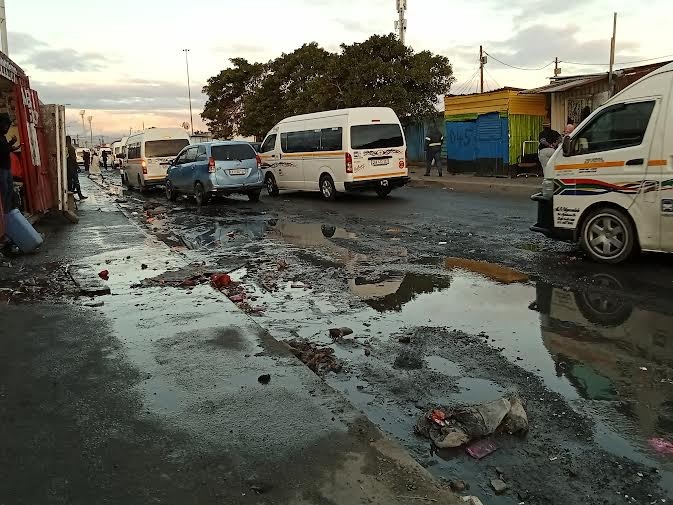 A stench of sewage along Jakes Gerwel Drive lets you know that you are approaching the township of Samora Machel in Cape Town. The roads are pock-marked by potholes, and filthy water overflows from burst drains. Taxis and a few Uber drivers battle their way through the crime and the sewage.
"You can't drive fast in Samora," says one taxi driver who did not want to be named. "If you do, you risk damaging your car."
Potholes ruin the suspension and punctures are frequent, he says. He calculates that the condition of the roads reduces the lifespan of a vehicle by at least two years.
"We even stopped buying new tyres, we always buy second hand because we know they'll be damaged in less than three months."
"When we drive around Samora we need to lower our speed to 20km/hour, which puts us drivers at risk of hijacking and robbery," says Uber driver Andile Makaula. Drivers need to be constantly on the alert, he says.
"We only accept trips from Samora when we are sure of the state of the road in that part of the area. In most cases we decline. I live in the area therefore I'm familiar with which streets are safe," he says. But he often has to change the tyres of his car and doesn't make enough money for it to be worth it.
Potholes are not the only problem on the road. Burst sewage drains overflow and are not fixed for weeks.
Ward Councillor Lungisa Somdaka (ANC), says the main problem with the drainage is unstable underground pipes which can't be fixed because shacks have been built on top of them.
"In order for these pipes to be accessed, these informal houses need to be removed."
He says illegal dumping causes blockage of storm water drains. Instead of flowing underground, water from the nearby Kosovo settlement, for instance, flows through Samora's streets because the storm water drains are blocked.
Sixty-eight-year-old Somikazi Bobani lives with her two daughters and three grandchildren in Robert Sobukwe Street. Since June 2022 she has been living with a pool of sewage water and rubbish in front of her yard. To leave the house, they step on a line of big stones they have placed at the gate. But when it rains, even the stones are covered with dirty water.
"We don't even get visitors anymore because people don't like either having to jump on top of stones to get to the house or tiptoe on a thin line from the next door yard to get to us."
Bobani says when she and her neighbours first reported the issue to Somdaka and to the City of Cape Town, the problem was fixed, but only for a day. The next day, the dirty water was back.
The residents kept on reporting the problem but there has been no permanent solution.
"When it rains heavily in winter, we can't even go outside the yard, we're trapped inside."
On dark winter mornings the grandchildren's school transport cannot come to the gate because of the stones.
"It waits for them a few minutes away from the house which means they need to walk alone in the dark at risk of getting mugged or kidnapped." She stands at the gate to watch over them.
The last time she reported the issue to Somdaka in March this year, he told her that all streets in Samora Machel are damaged. Residents then starting taking the only action they could, taking the rubbish out of the water and putting it aside to be collected by municipal cleaners. But there is still the dirty water to deal with.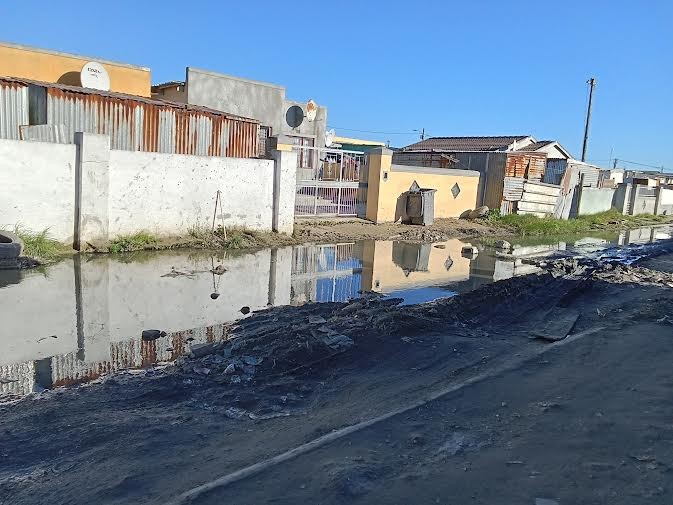 Somdaka says there is no excuse for dumping because every household gets a waste bin and people in the informal settlement of Kosovo have containers to dump waste. He says an increase in the number of backyarders is a problem. "You will find that more than 15 people live in one yard and they all use one waste bin, which gets full before the waste truck comes to collect it," he said. Then, he says, residents send children to empty the bin at an illegal dump site.
He says 40 people have been assigned to clean the streets of Samora Machel, but because of the issue of protection fees demanded by gangs in the area, they cannot work properly.
An attempt to bring a waste truck into the area to clean all around had been disrupted by the taxi strike, he says, and has not been started again.
A City of Cape Town spokesperson said plans were in place to resurface roads within the next financial year, "subject to drainage issues being resolved". The spokesperson said potholes were common and directly related to heavy rains. Apart from illegal dumping in drains and sewers, other problems which caused roads to deteriorate were illegal car wash establishments, open stand pipes that are left running and vandalism of infrastructure.
The roads department was considering rehabilitation of the roads. "In the interim, we will continue to do pothole patch repairs under the current conditions to ensure the road surface is drivable until a longer term solution is found."
© 2023 GroundUp. This article is licensed under a Creative Commons Attribution-NoDerivatives 4.0 International License.
You may republish this article, so long as you credit the authors and GroundUp, and do not change the text. Please include a link back to the original article.
We put an invisible pixel in the article so that we can count traffic to republishers. All analytics tools are solely on our servers. We do not give our logs to any third party. Logs are deleted after two weeks. We do not use any IP address identifying information except to count regional traffic. We are solely interested in counting hits, not tracking users. If you republish, please do not delete the invisible pixel.