Poor sanitation and lousy maps contribute to Khayelitsha's crime problems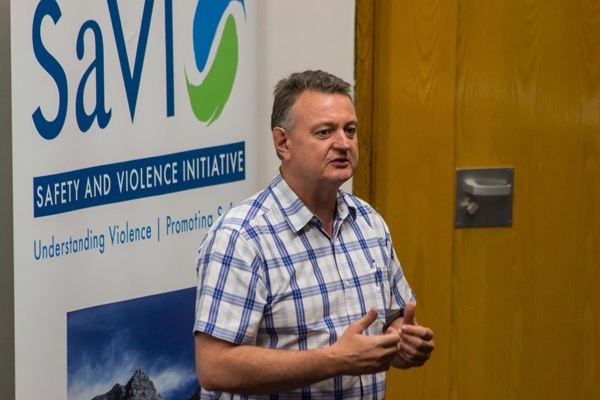 Following the Khayelitsha Inquiry into Policing, a series of meetings are being organised between SAPS and the Khayelitsha community. One took place at the University of Cape Town's middle campus on the weekend.
The purpose of the meeting titled "Knowledge and Evidence", hosted by the SAPS Khayelitsha Cluster, was to take a step forward to address policing problems in Khayelitsha. It was attended by several community organisations, researchers as well as officials from national, provincial and local government. gathered together with members of Khayelitsha police cluster in a mini-summit on Saturday.
Khayelitsha cluster commander General Johan Brand told the delegates the police were committed to working with communities to fight crime. He described the day's event as "digging the foundation for solutions", and not only for the problems that emerged during the Khayelitsha Inquiry. Brand said, "Our aim is to create a working model for safety and policing that can be used in other parts of the province and the country."
Brand said, "We want to build the trust of the community and gain their confidence. That will help us to show respect for our constitution and help us fulfill our constitutional mandate."
Axolile Notywala of the Social Justice Coalition (SJC) described the resources needed to achieve effective policing in the township. He explained that poor area maps make it difficult for police to locate the streets and houses in informal settlements. Notywala said police need vehicles that are designed to navigate the streets of the informal settlements. He also mentioned the need for professional counsellors for members of SAPS and community victims of crime. He called for improvement in the quality of detectives. Notywala said there is a proposal for a new police station in Makhaza. There is also a proposal to invest in more CCTV cameras. He said the municipality needs to fix the street lights.
Notywala also addressed the problem of poor sanitation. He said, "Some residents are using toilets that are far, away. Others relieve themselves in the bushes. And they become victims of crime." He said the Department of Human Settlements needs to upgrade the township.
Khanyiswa Gxotani, also of the SJC, said people of Khayelitsha need workshops on road safety. She said most victims are pedestrians and they need to learn about safe ways of walking to avoid accidents. Gxothani emphasized the need for speed bumps and traffic lights, as well as improved school transport. She said learners are transported in bakkies and parents need to take responsibility for the transport they use for their children.
The SJC's Nomthetho Kilo said there is a need for drug rehabilitation centres in Khayelitsha. She said there is a need for drug awareness in schools and community centres and called upon community residents to report druglords who are operating in their residential areas. She said police need to probe crimes that are taking place in shebbens. Kilo said, "There are people who commit crimes even at licenced shebeens. Some drink over the limit and drive and that results in road accidents."
Aden Mohamed of the Somali Association of South Africa spoke about the dangers faced by Somali traders in the townships. He said his organisation is committed to work with police and community organisations.
The issue of vigilantism was also raised. The number of vigilante killings led to the SJC lobbying for the Khayelitsha Commission on Policing. SJC's Chumani Sali said children as young as five-years old witness vigilante killings. Sali said communities need more education on the criminal justice system and how they can assist in bringing suspects to justice instead of taking the law into their own hands.
On the issue of domestic violence the Treatment Action Campaign's Mike Hamnca said there is a need for men's forum to help men regain their dignity. He said four cases of rapes of women are reported daily in Khayelitsha. Hamnca said safety is everyone's role. He said communities also need education about the Children's Act.
Activist organisation Ndifuna Ukwazi called for skills programs for youth that have dropped out of school. The organisation's Nkosinathi Swaartbooi said dropouts join gangsters because they are seeking titles and gangsterism gives them that. Ndifuna Ukwazi said City of Cape Town runs about 300 community programmes and the City needs to do more to inform communities about these.
The organisations, including SAPS, agreed to work together to tackle the problems raised at the meeting. They will report back on their efforts on 7 March 2015.
Dodgy people are suing us. Please support us by contributing to our legal costs and helping us to publish news that matters.
© 2016 GroundUp.
This article is licensed under a
Creative Commons Attribution-NoDerivatives 4.0 International License
.