Police remove students protesters at Malmesbury college
West Coast (TVET) College management says 1,769 students still have details outstanding before they can be approved for allowances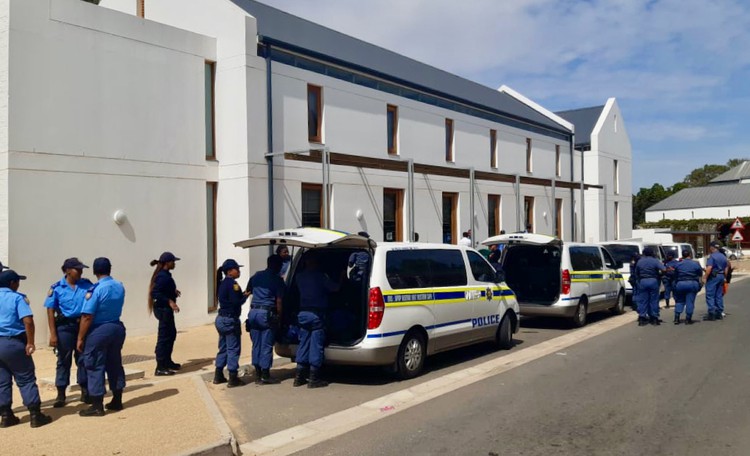 Armed public order police (POP) were called to the West Coast (TVET) College in Malmesbury on Tuesday morning to remove protesting students. The students were escorted to college transport shuttles.
The college was cleared by noon according to a member of the Student Representative Council (SRC), who did not want to be named.
Classes and transport have been suspended.
On 27 February, students protested at the college saying they had no money for food and accommodation because they had not received their National Student Financial Aid Scheme (NSFAS) allowances.
The college administration met with the SRC and some students on 28 February and the protest was called off.
But protests resumed this week leading to the shutdown.
Students from West Coast College Vredenburg Campus had joined the protest. The students wished to stay anonymous, saying they feared being suspended.
Students said they were angry over unexplained deductions from their allowances. They said they are meant to get a personal care allowance of R290, but some only got R15.
Other students claimed they have not received NSFAS allowances since October last year. They also claimed that accommodation was only provided to students studying finance and hospitality.
In the absence of NSFAS allowances, the students depend on their parents' support to rent accommodation at the nearby Lingelethu township where a room costs R1,200 to R1,800 a month.
Some female students said they have to skip class when they menstruate as they cannot afford sanitary pads.
Some students told GroundUp they had resorted to sex work out of desperation.
West Coast College spokesperson Ivan Swart said students have been requested to check their NSFAS status and verify their banking and other details at the campus.
Swart said those who have not been paid have either not been approved by NSFAS, not submitted their banking details, or verified their details. He said the college receives funds from NSFAS and then pays the students.
Regarding accommodation complaints, he said, "The college did make provision for hospitality and financial management students as these are specialised skills that have been identified within the community that we need to train for. But there are indeed other students who are studying other programmes who are returning students who are staying in the residence."
Swart said of the 6,146 registered students at the college, 3,851 are funded by NSFAS. Of these, 2,082 students have been paid and 1,769 students still have outstanding details which have not been provided to the college administration.
Of the 1,735 students registered at the Malmesbury campus, 1,112 have NSFAS funding and all but 242 have documentation awaiting verification.
According to the Department of Higher Education and Training, students who did not fully complete and sign their allowance application forms by 31 January will not receive any payments, and all allowances are subject to students maintaining a minimum 80% attendance at the college.
The following subsidised allowances, which are paid from February to November, apply: incidental/ and personal care allowance of R290 per month; transport allowance of R735 per month to NSFAS qualifying bursary students who do not qualify for TVET college accommodation scheme; meal allowance of R735 per month.
Students in private accommodation do not qualify for a meal allowance as this amount is already included in the monthly allowance paid by NSFAS.
The college accommodation scheme is applicable to students living outside a 40km radius from the college and is subject to application and proof of home address.
A feeding scheme providing one cooked meal per day is open to all students attending classes, including NSFAS bursary students on transport allowance.
Western Cape police spokesperson Sergeant Noloyiso Rwexana said, "Malmesbury police and POPS attended to the complaint of the students who threatened to disrupt classes at a local college (West Coast College, Malmesbury). No reports of violence and no arrests made."
Dodgy people are suing us. Please support us by contributing to our legal costs and helping us to publish news that matters.