Police call centre workers march to Union Buildings
Strike started in July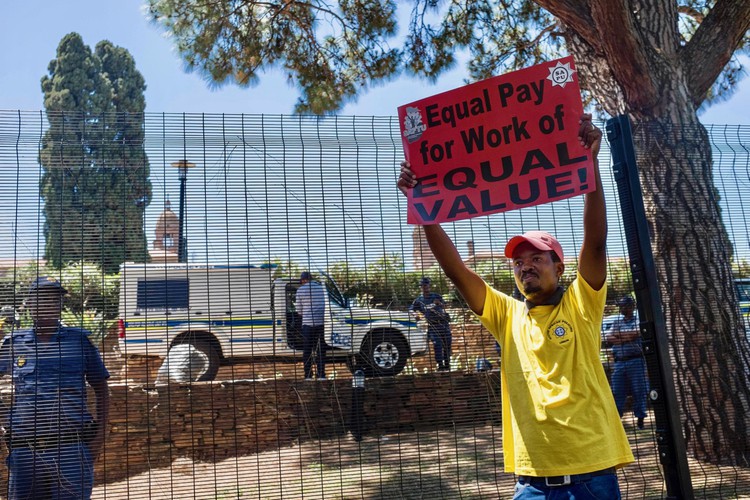 Striking 10111 police emergency call centre workers marched to the Union Buildings in Pretoria on Monday. About 200 workers affiliated with the South African Policing Union (Sapu) and its labour federation, the SA Federation of Trade Unions (Saftu), gathered at the Pretoria Art Museum and made their way through the streets. They are calling for an increase in wages.
The workers started strike action in mid-July. They have already demonstrated outside the offices of the National Police Commissioner and the Minister of Police. This time they took their demands to the Presidency.
Percy Samkelo, a call centre operator in Gauteng, said that although the strike was lasting much longer than he had anticipated, he was determined to stay the course. He said the strike is having a negative impact on policing, but the workers had exhausted all other options at their disposal. Downing phones had been a last resort.
"We know that the police service is suffering because of the strike. That is why we want this issue sorted out as quickly as possible as we also wish to return to work so that we can assist in helping people," said Samkelo.
Sapu says it wants its members' salaries to match those of call centre workers in other departments such as Home Affairs, SASSA, SARS and the Presidential hotline, who it says get paid about R50,000 per annum more. Former police commissioner Riah Phiyega had formed a task team to look into the matter. Its report recommended the salary level increase. Workers accuse the police minister and acting police commissioner of failing to implement the recommendations.
Protesting workers were led onto the lawns of the Union Building by leaders of Sapu and watched closely by a sizable contingent of police officers. The gate leading up to the Union Buildings was closed. Union leaders handed over their memorandum to a representative from the Presidency.
Saftu general secretary Zwelinzima Vavi addressed the protesting workers. "The demand for a level 7 salary has long ago been agreed to by police management. They conceded that your demands are just and fair and so this continuing strike is unnecessary," Vavi said.
"We are paying for the mistakes of putting clowns here in this building," said Vavi and pointed to the Union Buildings behind him. "They are self-serving crooks who have no time for anyone else except for themselves and their families."
Sapu deputy president Tumelo Mogodiseng said current police minister Fikile Mbalula is more concerned about being popular on social media then attending to workers' concerns. "The minister does not have time for our members. He is busy tweeting and busy on Facebook," said Mogodiseng. "We are calling on President Zuma to recall Minister Mbalula. He must go back to sports."
The South African Police Service (SAPS) has brought an application at the Labour Court to stop what it claims is intimidation of call centre workers by Sapu.
Sapu stated that it is considering legal action against SAPS for what it claims are threats of disciplinary charges if the strike continues.
The memorandum of demands was received and signed by Calvin Humbles from the office of the President. He said that the document would be forwarded to the correct people and that a response would be issued in seven working days.
Dodgy people are suing us. Please support us by contributing to our legal costs and helping us to publish news that matters.
© 2017 GroundUp.

This article is licensed under a Creative Commons Attribution-NoDerivatives 4.0 International License.
You may republish this article, so long as you credit the authors and GroundUp, and do not change the text. Please include a link back to the original article.