Pikitup, the pastor and the lost recycling depot
No sign of depot launched by Joyline Josamu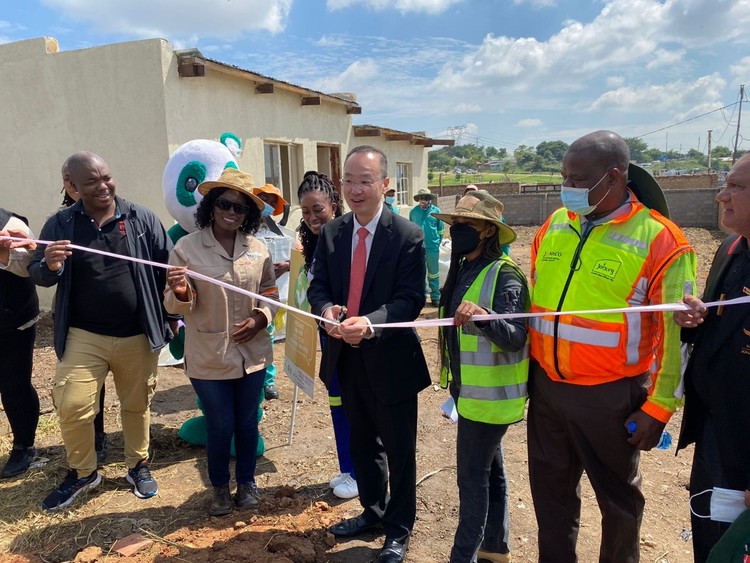 A recycling depot "launched" by a non-profit company which has a contract with Johannesburg's waste company Pikitup does not exist. The depot, supposedly set up by non-profit company Maru Ciberconnect, a beneficiary of Lottery money, was opened with fanfare by Johannesburg Mayco member Michael Sun in March. But Maru CEO Joyline Josamu admits that the depot is not operational and does not even have an address yet.
Maru's "new" Ivory Park depot project, supposedly to benefit poor waste pickers in Ivory Park, was launched by Sun at an event to mark World Recycling Day on 18 March.
On Twitter there is a photograph of Sun cutting a ribbon at what is supposedly the depot (see photo above).
Several senior Pikitup staff, including the organisation's managing director Bukelwa Njingolo also attended the "launch" and Pikitup's official Twitter account tweeted enthusiastically about the "new facility". Pikitup is the waste disposal agency of the City of Johannesburg.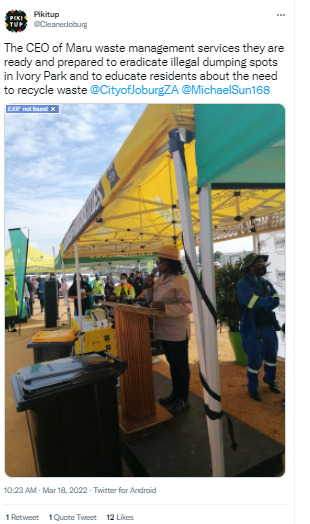 "It was a great privilege to join hands with our partners and the community to open the Maru recycling centre in Ivory Park today," Sun tweeted. "This is a facility where waste reclaimers will be empowered and no longer have to travel tens of km to sell their reclaimed materials."
But a several day search by GroundUp for Maru's depot was unsuccessful. Efforts to get Sun and Josamu to explain where it was came to nothing. Recycling depots and waste pickers operating in the area said they had never heard of the new depot. Even workers at Pikitup in Ivory Park said they did not know where the depot is.
Josamu told GroundUp the depot is situated "between" the Ivory Park taxi rank and Busy Corner, a local landmark. But "we do not have a physical address," she said. In a telephone interview, she said the depot was not yet operational and she was "busy fundraising" for money to open.
"We are not working at the moment, we are just raising some funds, so that we can be buying their work (recyclers). We rely on funding, so when we get the funds, then we at least collect and we are able to pay those who have collected waste. When we do not have funds, we do not open," Josamu said.
Sun's spokesperson Nickolaus Bauer said: "Sun along with Pikitup officials was taken to this location in Ivory Park by members of Maru. It was a 15 minute drive from the Ivory Park taxi rank. Beyond that MMC Sun doesn't have an address or location for the facility."
"As-and-when"
Maru was one of a dozen non-profit companies awarded one year "as-and-when" street cleaning tenders by PikitUp in 2020, providing a service when required by the City. Maru's tender covered Ivory Park in Gauteng. Pikitup, the waste disposal agency of the City of Johannesburg that awarded the tender, did not answer a question as to how much Maru earned from the contract.
Sun was at pains to point out that he was only appointed to the Mayoral Committee after the tender was awarded and had merely attended the event in his official capacity. He said that he did not have the authority to investigate the tender awarded to Maru by Pikitup.
Joyline Josamu and the Lottery
Maru Ciberconnect had been in existence for several years when it was awarded Lottery funding of R3,358,218 in the 2018-19 financial year. The directors are Joyline Josamu, a relative, Isaac Lutere, and Precious Buthelezi. Her husband, Isaac Josamu, is a former director of the company, which was first registered in 2011.
Josamu is a pastor in the church of wealthy televangelist Chris Oyakhilome. She and her family members and associates are linked to a syndicate of several non-profit companies awarded more than R14 million in funds from the National Lotteries Commission over a 12 month period, GroundUp has previously revealed.
Companies and Intellectual Property Commission (CIPC) records revealed that seven of the eight grants to the syndicate involving Josamu were awarded within months of the purchase of shelf companies and the registration of new directors in the 2018-19 and 2019-20 financial years.
A Special Investigating Unit (SIU) source told GroundUp that these grants are currently being investigated in terms of a presidential proclamation authorising the SIU to probe corruption involving the Lottery.
Maru is involved in "arts, heritage and culture", "wildlife economy" and "training and development", according to its website.
Most of the projects listed are several years old, with some dating back to 2012, 2013 and 2014. One of the most current projects spotlighted on the Maru website is for an event in 2018 in Qunu in the Eastern Cape, celebrating the centenary of Nelson Mandela's birth.
Maru also lists its participation "as an enterprise development specialist" in a Jozi@work programme in November 2014 to September 2015. Maru claims to have raised R14 million in a partnership with Resource Africa for Enterprise Development for communities around the Kruger National Park. 2014 to 2016,
It also claims to have raised R18 million between 2012-2014, with the Sabi Sand game reserve and University of Johannesburg to capacitate communities living around Sabi Sand Game Reserve and Kruger National Park and link them to business opportunities within the protected areas.
However, none of those projects gets a mention on Maru's Twitter or Facebook page, which mainly involve clean-up events projects.
Maru also lists South African National Parks, The National Heritage Council, Vukani Agri, and African Farmers' Association of South Africa as some of its working "partners" - funders - on their website. But absent from the list of "partners" is the National Lotteries Commission, a breach of its grants policy that beneficiaries acknowledge this.
It says on its website: "Maru believes that the promotion of arts, heritage and culture is important in modern day society and can lead to social cohesion and national building."
Josamu appears to be very good at raising money. What she spends it on is much less clear.
© 2022 GroundUp. This article is licensed under a Creative Commons Attribution-NoDerivatives 4.0 International License.
You may republish this article, so long as you credit the authors and GroundUp, and do not change the text. Please include a link back to the original article.
We put an invisible pixel in the article so that we can count traffic to republishers. All analytics tools are solely on our servers. We do not give our logs to any third party. Logs are deleted after two weeks. We do not use any IP address identifying information except to count regional traffic. We are solely interested in counting hits, not tracking users. If you republish, please do not delete the invisible pixel.