Philip Kgosana honoured in Cape Town
De Waal Drive renamed after struggle veteran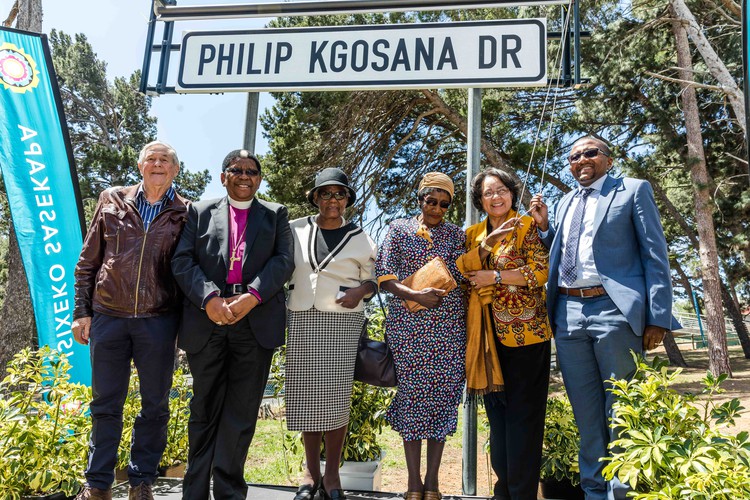 About a hundred people attended the unveiling by Mayor Patricia De Lille of Philip Kgosana Drive in Cape Town on Thursday.
Members of the Kgosana family, the Pan Africanist Congress and the Langa community, retired archbishop Njongonkulu Ndungane, and several other notable figures attended the colourful event. The Vumani Choral project choir provided entertainment.
Kgosana was a Pan Africanist Congress (PAC) member who, as a student aged 23 in 1960, led a march of 30,000 people from Langa to Parliament to protest against the apartheid pass laws. Kgosana passed away in April this year. The unveiling would have coincided with his 81st birthday.
It was former Cape Times editor Tony Heard who proposed the renaming of De Waal Drive.
Bani, Kgosana's third child (of five), said in his speech: "The family feel humbled, happy and proud. … The renaming of De Waal Drive represents the courage of the 30,000 people whose names, because of the limitation of space, couldn't be up on that road along with my father's name."
Later Bani told GroundUp that his father was not a politician but a student who looked at the world around him and responded.
Bani said, "My father never forced us into any political affiliations, never forced us to become members of the PAC, but what he did was to teach us to think and open our eyes … If you see injustice around you point it out, do not pretend. If that is politics then he was a politician, but if its consciousness then he was a conscious person."
In his speech Heard said, "My proposal in changing of the name had nothing to do with politics but peaceful disciplined protest and courage. During my time as a journalist I had witnessed Kgosana leading a huge protest from Langa to the CBD that led to the closure of businesses and schools. He stood up to say enough is enough."
© 2017 GroundUp.

This article is licensed under a Creative Commons Attribution-NoDerivatives 4.0 International License.
You may republish this article, so long as you credit the authors and GroundUp, and do not change the text. Please include a link back to the original article.