Pensioners queue from early hours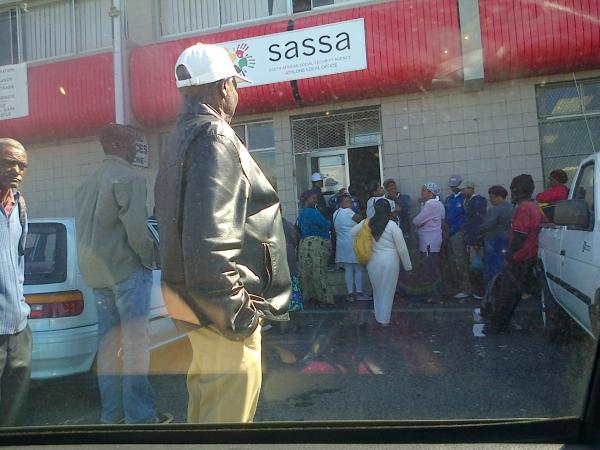 Getting a social grant is not for slackers. You have to be up early in the morning.
I went to go see the queue on Monday 8 January. Pensioners and people with disabilities were waiting in line for their grant renewals at the South African Social Security Agency (SASSA) office in Athlone. Some people told me they woke up at 5am to get a place in the queue and not be turned back for the next day.
Some people told me they didn't get a grant in January and will only get paid in March which leaves them without food and electricity. For some people evens children's stationery couldn't be purchase. Derick Van Graan (not his real name) is 53 and from Manenberg. He says it's difficult for him to stand in the long queue. He said he suffers with tuberculosis and is short of breath so he has to send his daughter to stand in the line while he waits on the pavement where there is also no shade. "I need the money because my daughter is still at school. My wife is unemployed and we live off my grant. Once you have renewed the paper you have to then go back to the clinic and wait till the doctor comes around to approve your papers. The doctor sends it back to SASSA and you have to stand in the line again."
© 2016 GroundUp.
This article is licensed under a
Creative Commons Attribution-NoDerivatives 4.0 International License
.