Panayiotou murder case brings out rival picketers
Groups of women picket in solidarity with women victims; others support the accused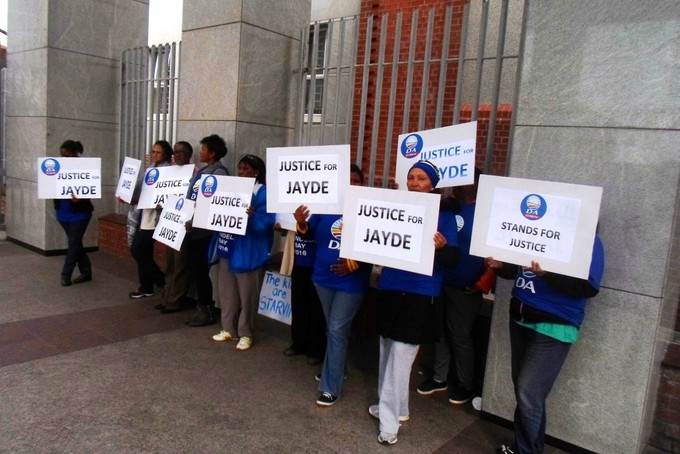 At Port Elizabeth Magistrates' Court today, where Christopher Panayiotou, 28, stands accused of murdering his wife, Jayde, two groups of women picketed against each other.
Outside, holding placards with 'Justice for Jayde' written on them, the Democratic Alliance Women's Network (DAWN) stood silently at the main entrance to the court.
"This is to raise awareness around the impact of gender violence on women and their families. Why is it that women and children are easy targets for killers?" asked a member.
Inside the court, the situation was different. Employees of Panayiotou sat in the front row to show their support for him. They wore T-shirts with 'Innocent' written on them.
After the court proceedings, some workers from OK Grocers in Algoa Park posed for photos. Panayiotou co-managed the OK with family members.
A Panayiotou supporter said, "He is our boss. He has suffered enough. They should release him if they failed to convict him. Why all these postponements? He is innocent."
The DAWN protesters were equally disappointed by the postponement.
"I am very much disappointed because of these delays," said one. "This court case should get over. I am also a woman; Jayde was a woman. I feel for her and the parents she left behind. As women, if we don't do it today, it's us tomorrow. We also have daughters at home. We should support one another."
Christopher Panayiotou was arrested on 28 April 2015. His wife had been abducted outside her Kabega Park home while waiting for a friend to take her to Uitenhage, where she was a teacher. Her body was discovered the following day, dumped on a farm near KwaNobuhle. She had multiple bullet wounds to her head and upper body.
Investigations suggest that Panayiotou paid one Luthando Siyoli, 31, a bouncer at the accused's nightclub in Kabega Park, to find a hitman.
Siyoli has since turned state witness. He identified Sizwakhe Vumazonke as the hitman with Sinethemba Nenemba as a co-accused.
The case has made headlines and draws crowds.
Last month, prosecutor Marius Stander said the State wanted to transfer the matter to the Port Elizabeth High Court.
Regional spokesperson for the National Prosecuting Authority, Tsepo Ndwalaza, said the State was prepared for trial. "We are a bit frustrated on our side because we thought we were going to the High Court today. The third accused, Nenembe, apparently informed us that he wants to change his legal team. The case was therefore postponed to 16 May … We are committed to finish the court case without fear or favour or any prejudice. We have completed our investigation and we hope we will get convictions."
Dodgy people are suing us. Please support us by contributing to our legal costs and helping us to publish news that matters.
© 2016 GroundUp.

This article is licensed under a Creative Commons Attribution-NoDerivatives 4.0 International License.
You may republish this article, so long as you credit the authors and GroundUp, and do not change the text. Please include a link back to the original article.