Northlink students boycott classes over delayed NSFAS payments
The college says it's waiting for NSFAS to verify list of qualifying students to be paid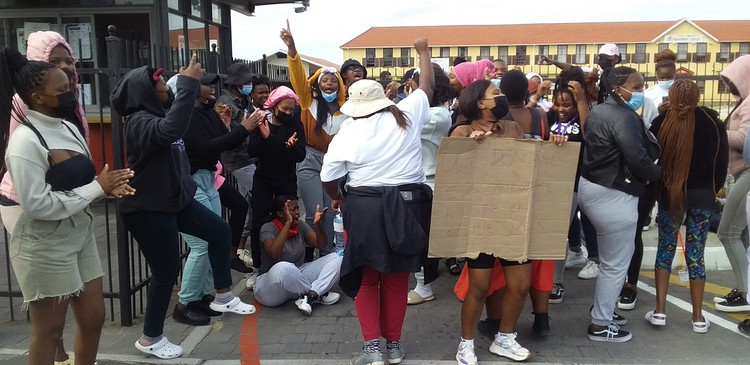 Lectures at Northlink College's Protea campus in Bellville have been disrupted by ongoing protests by students demanding that their National Student Financial Aid Scheme (NSFAS) allowances be paid.
Students have been blocking entrances at the campus and protesting since Monday. They have vowed to continue boycotting classes until their funds are paid.
Some students told GroundUp that they have not been able to submit their assignments while others can't apply for college accommodation without the outstanding allowance payment.
Protea campus students' chairperson Khanya Tonise said they needed the allowance of R1,025 for transport. She accused the college of failing to pay students' accommodation and that they were now facing eviction.
"There are students who were given 72 hours to vacate their residences. Others fear they too might be kicked out if the college does not pay," said Tonise. This affects about 250 students, she said.
NSFAS spokesperson Kagisho Mamabolo said it had already made funds available to the college. Mamabolo said they wanted to get feedback from the college on this matter before responding to our questions in greater detail.
Northlink's spokesperson Ranaldo Van Rooy insisted that the college was still waiting for confirmation from NSFAS over the payments to eligible students.
When asked when payments are likely to be completed, Van Rooy said that the payment process was being led by NSFAS and therefore the college was not in a position to confirm any dates.
Meanwhile, student Sinesipho Goji said her transport allowance was expected to be paid last week Friday. "Most students no longer come in because they do not have money for transport. Every year at this college we are forced to protest before the college pays us our allowances and that is not fair," she said.
Goji said her mother has been borrowing money since January to pay the R50 fee for a round trip to the campus every day. "At home no one is working. I'm relying on this allowance. I'm going to struggle attending classes," said Goji
Protests are expected to continue.
Dodgy people are suing us. Please support us by contributing to our legal costs and helping us to publish news that matters.
Letters
Dear Editor
I write this letter hurting because since Monday 28 February 2022 I haven't been attending classes due to the NSFAS delays. Payments were promised to go out by Friday 25 February 2022. I have been struggling with transportation fees because I am depending on the allowance to put food on the table for myself and get to campus. I have no one to rely on. For the past month I have been borrowing money from my neighbors. People are getting tired of me being a burden and they are starting to lose trust in me and they are no longer lending me their money. It is very hard for me because I don't have parents to turn back to. I have no food and my landlord is even getting fed up of me too. This is very sad and depressing. NSFAS, please step up and help. We need this allowance to survive. Right now I have been looking for a job because I'm having second thoughts about studying, which was never the plan. I beg you: we as students need the little help you can give.
I hope you find this written piece a wake-up call. One day someone dear to you might also go through this heartache. How would that make any of you feel? I'm sorry for the tone but I'm really hurting.
© 2022 GroundUp. This article is licensed under a Creative Commons Attribution-NoDerivatives 4.0 International License.
You may republish this article, so long as you credit the authors and GroundUp, and do not change the text. Please include a link back to the original article.
We put an invisible pixel in the article so that we can count traffic to republishers. All analytics tools are solely on our servers. We do not give our logs to any third party. Logs are deleted after two weeks. We do not use any IP address identifying information except to count regional traffic. We are solely interested in counting hits, not tracking users. If you republish, please do not delete the invisible pixel.