No water for three months in Sundays River Valley homes
Clinics and schools severely affected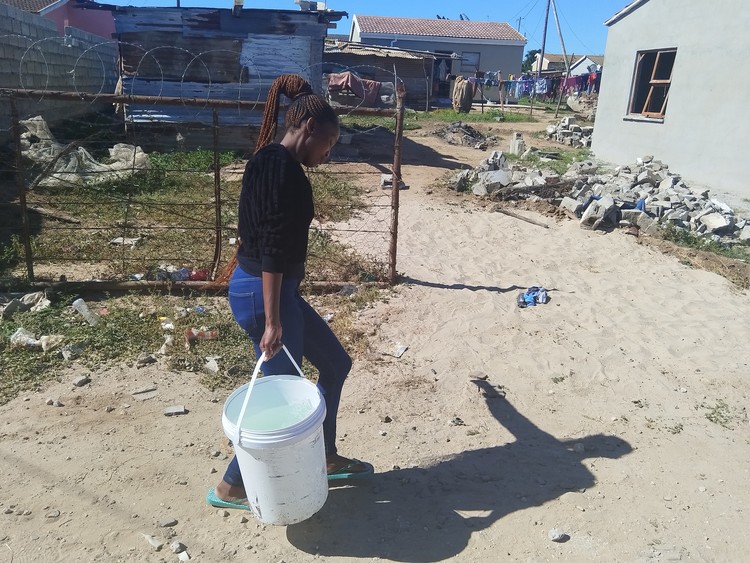 Some households in the Sundays River Valley Municipality in the Eastern Cape have been without water for three months.
Some families, in the higher parts of Addo and Paterson, beg for water from houses in lower areas.
The councillor and the municipality blame loadshedding for the problem but residents are sceptical.
Some families in the Sundays River Valley Municipality have been without water for three months. Clinics, schools and businesses have been severely affected and residents are unable to flush their toilets. The municipality blames loadshedding for the problem but residents are sceptical.
Households in Addo and Paterson are relying on harvesting rainwater and from drawing water from illegal pipe connections. They say the situation is getting worse as seasonal workers flock into the area for the citrus-picking season.
Houses in the upper part of Mandela Village in Paterson are the most severely affected.
"For three months our water taps have completely dried up," said Nontsikelo Ntseta from Mandela Village. "In this upper area we have about 80 households but only two households have water from their taps. This area is old, but the municipality has failed to fix its water problems. It has been struggling to supply us with water for many years."
Ntseta says even before loadshedding started, water supply was already intermittent because water pressure from the reservoirs was low. "There were times when we lived for three days or a week without water. Then we had to go and ask for water from houses in the lower area," she said.
"The municipality then decided to provide us with Jojo tanks in order to harvest rain water," Ntseta said.
"At our KwaZenzele Clinic the nurses say they are only taking 20 patients a day because there is no water. They do this in order to prevent the patients from using the toilets. In the past when water was available the clinic used to take more patients a day."
Ntseta, who is diabetic, says she has to wake up early to queue at the clinic to be seen.
"I have three children who are still at school. Sometimes we are told by their teachers to keep them at home for three weeks because there is no water at the school. The schools have been asking our children to bring 5 litres of water to school in order for learning and teaching to continue," Ntseta said.
She said Afgri, an animal feed company where her husband works as a driver, has been helping the community with water from its borehole for drinking and cooking and for funerals and traditional events.
But she has had to delay extending her house because there is no water for construction.
Her neighbour Thulani Ngqamfana told GroundUp: "Harvesting rain water is not a solution because the rain is also scarce. Most people's Jojo tanks here are empty."
"When our toilets were built in 2021, we were promised that our water supply will improve. But now they are making an excuse with loadshedding," he said.
Addo
In Addo, residents in the upper part of Luthando Village say their taps run dry and the water supplied by tankers is dirty.
GroundUp met Zandile Magaqa carrying a heavy 20-litre bucket of water for her family. "Since I arrived here in February this year, I only saw water once in our tap," she said. "Since then the tap has been dry."
"We go and ask for water in houses in low lying areas where the water supply is not affected. Now we spend most of our time begging for water," she said.
Joyce Simayile, 84, was busy collecting rainwater from her drums to flush her toilet.
She told GroundUp, "We have water meters in our yards but our taps are dry. Most of us here decided to buy our own water pipes and connect illegally from the municipal pipes in order to have water. But for three weeks our connections have been without water. In some of the streets people do get water."
"At least I have a back-up Jojo tank and other drums of water which I use to harvest rainwater for my family of five," she said.
Simayile says in public meetings she often gets into arguments with ward councillors who fail to give exact answers to questions about the constant water outages.
"When we ask them about the lack of water at our homes they blame us for our illegal connections. But we tell them that we made these illegal connections because we have no water to flush our toilets. The municipality just installed the water meters and locked them."
Some of the residents have resorted to using pit toilets in their RDP houses.
Andile Mbambani told GroundUp that water taps had not even been installed in the RDP houses built in 2004, because of a lack of a reliable water supply. "We share standpipes. We pour water with buckets to flush our toilets. Some of us are using pit toilets to avoid this water crisis," he said.
Ward councillor Lunga Baka (ANC) attributed the water crisis to loadshedding which he said affected the pump stations. "They rely on electricity in order to function and supply Paterson which has about 5,000 households.
"However, we do supply the affected communities with water carts. The municipality is in the process of buying two water tankers and generators to service this community," he said.
Municipal spokesperson Zusiphe Jaji also blamed loadshedding.
"We're experiencing challenges with pumps at our treatment plant in Addo. The pumps were hit by high voltage after load shedding. We are therefore pumping less water and unable to meet the demand. Loadshedding is also making the situation worse by reducing the pumping hours," she said.
Jaji says illegal connections are also affecting the water supply.
© 2023 GroundUp. This article is licensed under a Creative Commons Attribution-NoDerivatives 4.0 International License.
You may republish this article, so long as you credit the authors and GroundUp, and do not change the text. Please include a link back to the original article.
We put an invisible pixel in the article so that we can count traffic to republishers. All analytics tools are solely on our servers. We do not give our logs to any third party. Logs are deleted after two weeks. We do not use any IP address identifying information except to count regional traffic. We are solely interested in counting hits, not tracking users. If you republish, please do not delete the invisible pixel.