"No-fee" school charges parents R207 a year
Crisis brewing: evidence suggests the problem is widespread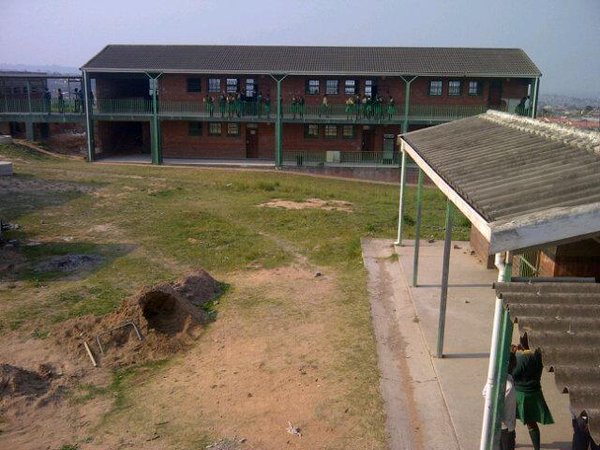 Umtapho High School is a no-fee school in the north of Durban that forces parents to pay fees every year. The fees charged to parents are R160 for maintenance, R35 for a new student card and R12 per registration form for each child each year. Parents say the principal of the school, Bukisiwe Satimburwa, withholds their children's report cards or bars their children from the school if they do not pay the fees.
The South African Schools Act (SASA) stipulates that no-fee schools may not "charge any registration, administration or other fee", although parents may be encouraged to make "voluntary contributions" of money or time to the school.
However, numerous cases of parents being forced to pay fees at a no fee school have been reported to Corruption Watch. In some cases, the fee is "sugar coated" as a voluntary contribution. Corruption Watch is investigating 27 complaints about schools around the country, but there is evidence to suggest the problem is far more widespread. In a formal statement to Groundup, Corruption Watch said: "There is a brewing crisis which must urgently be nipped in the bud."
At the beginning of the school year, parents of learners at Umtapho High School say they are under pressure to make the payments to ensure that their children get a place at the school.
The school currently has over 1,600 learners and classes can be as large as 80 learners, a parent, who did not wish to be named, told GroundUp.
Umtapho High School is located in Lindelani, a township north of Durban. In the past, Umtapho was a fee-paying school, but in 2008, Umtapho became a no-fee school. However, the school continued to compel parents to pay fees, as if nothing had changed, claiming the fees were "donations".
Sithole*, the parent who spoke to GroundUp, said that people struggled to pay the fees every year, particularly if they had more than one child. Many parents are unemployed or work in the informal sector. During the first week of term, about 50 learners were allegedly forced out of the school because their parents could not afford to pay the fees.
"For most parents, those who have two or three children, it's hard. Like us, like me," said Sithole. "The majority don't know where to seek help. That's why they end up making the payments although they can't afford them."
Parents who approached Corruption Watch said there was a policy of "no exemptions" from these fees. Corruption Watch commented: "[This] is among one of the examples where learners suffer directly because they are victimised together with the parent because of the parent's inability to pay at that particular time."
Attempts by GroundUp to reach the principal for comment were unsuccessful.
Sithole is the legal guardian of two children who attend Umtapho High School – her daughter and niece. At the beginning of this year, Sithole did not have enough money to pay the "maintenance" fees for both of them.
"This year I had a problem paying because my social grant got stopped so I went to the principal and I explained that, but she refused the child. She chased her away from school," Sithole said to Groundup. "[My niece] only started school in March. Just imagine, a matric student, starting school in March."
Not only was her niece prevented from coming to school for the first two months of the academic year, but the principal made an example of her to make other children "afraid". The principal wrote on the school notice board, visible on the street outside the school, that this particular child's parents "refused to donate" and therefore the child did not deserve to come to school. The principal also allegedly went to classes, telling learners to pay the fees or else they would end up like Sithole's niece.
Sithole said she approached the school three times to discuss the situation, but the principal refused to give an exemption from the fee. Sithole also said that she had eventually approached the KwaZulu-Natal Department of Education circuit office for help, but had been "ignored". Sithole said: "The man who was supposed to help me, blamed me."
Corruption Watch believes that district offices in provincial education departments are ineffective and allow corruption to be swept under the carpet. In their statement, Corruption Watch explained: "What is of major concern is the fact that upon investigation, we find that not only were the issues reported to the district offices, but were also taken up with the provincial department of education. In both instances, it is either action is never taken or investigations are started but never seen through."
GroundUp's attempts to contact the KZN Department of Education for comment on the situation were unsuccessful.
Learners are each compelled to bring a ream of paper to school every year, and every week, parents are informed that they must send money for cleaning materials for the school. Sithole says that she does not know where the maintenance fee goes. "What is the maintenance fee we are forced to pay for at the beginning at the year, since we are being asked for an extra R5 every week?" Sithole asked.
The school is overcrowded, and many learners have to share textbooks and desks. Sithole wishes the maintenance fee could be put towards alleviating these problems.
Corruption Watch describes the problems of maladministration and corruption in schools as a "scourge". It says: "The reports we receive from parents and concerned stakeholders are deplorable."
* Sithole is not the parent's real name. 
© 2017 GroundUp.

This article is licensed under a Creative Commons Attribution-NoDerivatives 4.0 International License.
You may republish this article, so long as you credit the authors and GroundUp, and do not change the text. Please include a link back to the original article.