No budget to fix main road littered with potholes
The road between Ga-Rankuwa and Kgabalatsane is eroded and potholed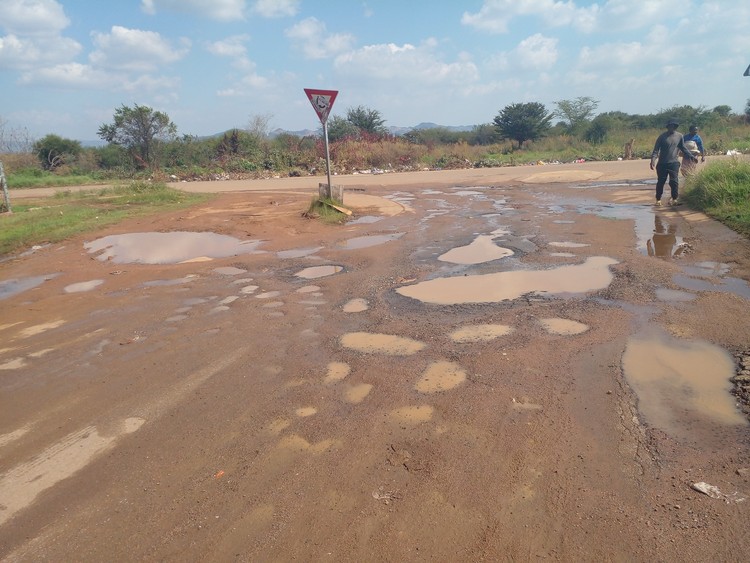 Residents of Ga-Rankuwa View near Pretoria have pleaded with the City of Tshwane to fix the main gravel road in the community.
The road between Ga-Rankuwa and Kgabalatsane is eroded and potholed.
The City acknowledges the problem but says resurfacing the roads depends on available resources.
The City of Tshwane does not have enough funds to fix a busy pothole-ridden gravel road between Ga-Rankuwa View near Pretoria and Kgabalatsane in the North West.
Last month GroundUp reported on complaints by residents, business owners, learners, shoppers, commuters, truck drivers and taxi operators in Kgabalatsane who complain that their main access road is muddy, potholed and eroding away at the sides. They say the City has failed to maintain the road for over ten years.
"This road has never been fixed," said resident Mpho Mohlala. "It's the main road used by taxis and people going to the Ga-Rankuwa industrial area and local schools."
He said that the condition of the roads in the community is always raised during community meetings, but to no avail. Mohlala said the community was over 15 years old and its roads and sanitation infrastructure needed upgrading.
Tshepo Khutoane, a scholar transport driver, said, "Transporting kids every morning and afternoon is uncomfortable and risky. The ANC has done nothing for us here," said Khutoane.
Ward 30 Councillor Violet Phalwane (ANC) told GroundUp that the City told her that there was no budget for roads in this area. "Almost all of the roads are not maintained. When it rains, soil is wiped away by the water." She acknowledged that the issue of roads in Ga-Rankuwa View "is very serious".
Phalwane said another challenge is a lack of stormwater drainage which results in flooding and erosion when it rains.
City of Tshwane spokesperson Lindela Mashig acknowledged that "most roads are in a severe state". He said that when it rains, the gravel roads in Ga Rankuwa View experience soil erosion. Mashigo said the City was still looking into resurfacing the roads, but this depended on budget and resources.
Dodgy people are suing us. Please support us by contributing to our legal costs and helping us to publish news that matters.
© 2022 GroundUp. This article is licensed under a Creative Commons Attribution-NoDerivatives 4.0 International License.
You may republish this article, so long as you credit the authors and GroundUp, and do not change the text. Please include a link back to the original article.
We put an invisible pixel in the article so that we can count traffic to republishers. All analytics tools are solely on our servers. We do not give our logs to any third party. Logs are deleted after two weeks. We do not use any IP address identifying information except to count regional traffic. We are solely interested in counting hits, not tracking users. If you republish, please do not delete the invisible pixel.