NEHAWU threatens to "close" Eastern Cape
Union says provincial health department is dysfunctional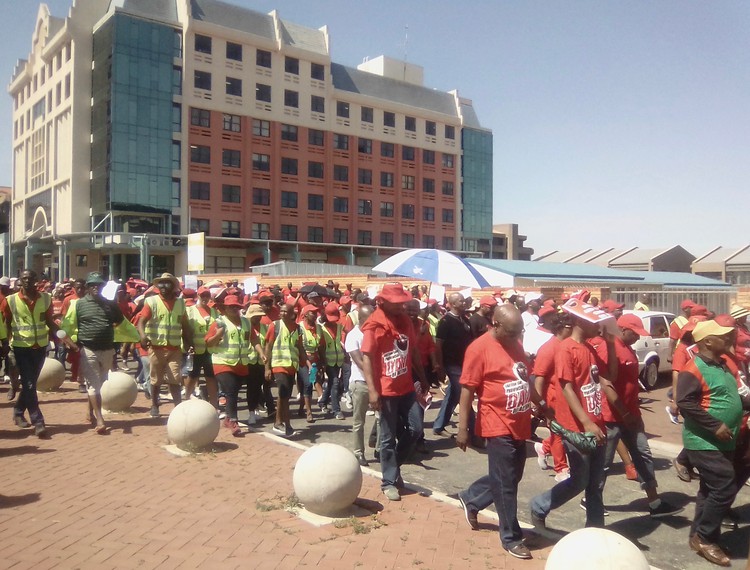 Thousands of members and supporters of the National Education, Health and Allied Workers' Union (NEHAWU) marched from the Bisho stadium to the office of Eastern Cape Premier Phumulo Masualle on Wednesday afternoon.
NEHAWU is making numerous demands.
"We are not in the march because we are lazy to work … The Premier never sat in even one meeting with us as NEHAWU," said the union's provincial chairperson, Siya Kobese. "The Department of Health in the province is the worst. The offices people work from are pigsties, but no action is being taken."
Kobese said, "If the Premier continues to ignore us, he must brace himself for a massive action. We will do the same thing we did in North West here. If demands are not met, next year we won't vote for the ANC, and secondly, we will close the province with strike action. This is just a warning to war."
NEHAWU president Mandla Makwayiba said, "In almost all our nine provinces, where the ANC governs the Department of Health is dysfunctional, especially the Eastern Cape. Why is that so, Premier? You would rather spend money on lawyers than engage us."
NEHAWU provincial secretary Miki Jaceni read out the memorandum of demands and gave Masualle seven days to respond. The list of demands included: immediate scrapping of the Provincial Coordinating Management Team based in the office of the Premier; safe buildings, especially in health and social development offices; absorption of all community healthcare workers and contract workers by government departments; filling of all vacant posts; grade progression for all health professionals;
appointment of nurses "who are roaming around the streets while there is shortage of professional nurses in hospital and clinics"; and unions to be consulted on the appointment of senior managers.
The union also wants a full investigation into cases of fraud and corruption. It also wants the insourcing of all outsourced services in the Eastern Cape Provincial Administration.
Masualle accepted the memorandum and signed it. "I promise to look into the issues that need to be resolved with regard to the provincial government. I will also do a report and forward to NEHAWU after looking at the demands," he said.
"The issue of corruption in the province has been a challenge. We don't need to even argue on it. Corrupt officials must be removed from office," said Masualle.