"My school looks like a place for cows"
Eastern Cape students march on Bhisho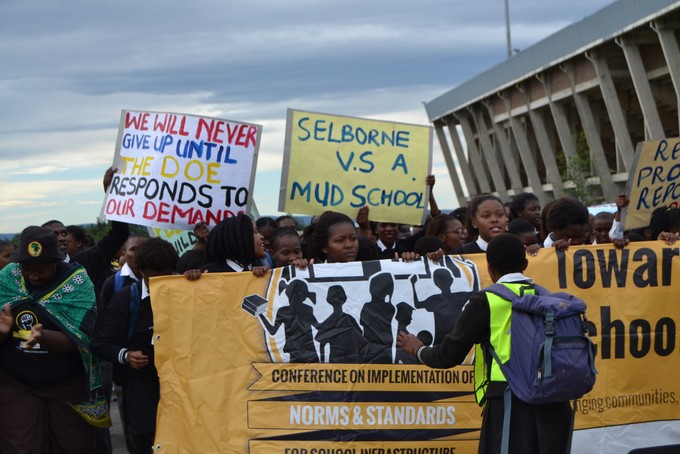 Silindokuhle January, a student at Dimbaza Central High School, says her school looks like a cattle kraal.
"I'm even ashamed to call that place my school, but what can I say? I do not have a choice - it is my school. The place looks like a place for cows, but we are humans studying under those conditions. There are no windows in classrooms, and when you open a door you have to make sure that you are fit enough to kick it open or use a spoon, because there are no door handles," said January.
January, who is in Grade 11, was addressing other students outside the Eastern Cape legislature in Bhisho on Friday.
Students from around King William's Town marched on the Premier's office in Bhisho demanding better schools.
The march, led by Equal Education follows the march earlier this month to the Eastern Cape Department of Education in Zwelitsha, where hundreds of students and parents called for the resignation of MEC for Education Mandla Makupula.
On Friday students marched from Bisho stadium to the Eastern Cape legislature where they held a mass meeting. They started by singing with a hope that someone from the legislature was going to join them, but no official came out.
The students were demanding progress reports showing when their schools would be built. They also asked Premier Phumulo Masualle to hold Makupula accountable for the poor infrastructure in Eastern Cape schools.
Students said they were tired of studying in dusty and wet classrooms. They wanted to know when the Eastern Cape Department of Education would fix their schools or build new ones.
January said her school did not have textbooks. "Teachers have to make photocopies every day. Sometimes papers get lost. Our schools have no libraries and the toilets we are using are very dirty. We are getting infections because of those dirty toilets," she said.
Another grade 11 learner, Sinethemba Rom from Hoho High School in Mgqeshe location, also complained about dust inside classrooms and bad toilets.
"These are the conditions we are studying under. I'm worried now that we are getting to winter and some of us are going to study in wet classrooms. Sometimes teachers have to stand on top of the desk because of water that comes in through the window. This is very sad and the Department of Education does not seem to care about us. I wish they could see the toilets we are using," she said.
In its memorandum Equal Education expressed the hope that the legislators and Masualle would join them in the struggle to fix the education crisis in the Eastern Cape.The organisation warned of a collapse of the education system in the province.
"From severe textbook and school furniture shortage to 46,000 learners left stranded without scholar transport to over half a billion rand for school infrastructure unspent. The department's track record reveals a complete lack of ability to provide the very basics. Basic Education Minister Angie Motshekga reached this same conclusion in 2011, when her department took over running of the [Eastern Cape Department of Education]. This has never been formally withdrawn," said the memorandum.
Equal Education said ECDOE officials had acknowledged that they would fail to meet the first deadline of 29 November 2016 set out by the Norms and Standards for School Infrastructure Regulations.
Luzuko Sidima, co-head of Equal Education in the Eastern Cape, said the organisation had been informed that no one would accept the memorandum.
"We tried our best to get the official from the premier's office to accept our memorandum but we were told very late that we were supposed to communicate with the speaker's office first, not the Department of Education. We sent emails to the speaker's office and they acknowledged receiving them but it seems that they did not forward the message to the premier's office," he explained.
Sidima said Equal Education had received an invitation from the Education Portfolio Committee to attend the budget speech next month. "At least we will have a chance to raise these issues," he said.
GroundUp was unable to get comment from the Eastern Cape government.
Correction: An earlier version of this article misspelt Dimbaza Central High School.
Dodgy people are suing us. Please support us by contributing to our legal costs and helping us to publish news that matters.
© 2016 GroundUp.

This article is licensed under a Creative Commons Attribution-NoDerivatives 4.0 International License.
You may republish this article, so long as you credit the authors and GroundUp, and do not change the text. Please include a link back to the original article.