Municipality fails to fix burst pipe for two years, says resident
Uitenhage resident says area around his house remains waterlogged despite reporting the problem to the City several times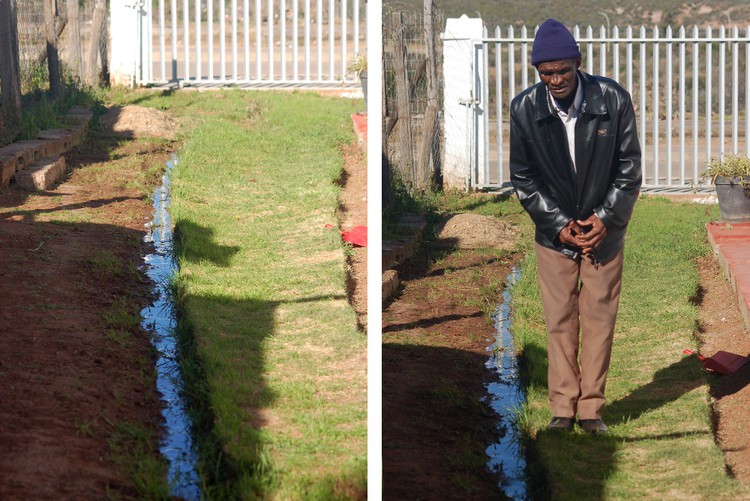 Nzimeni Ngqiqi from KwaNobuhle township in Uitenhage, Eastern Cape says water from a burst pipe has been overflowing outside his house for two years.
The 77-year-old lives with his wife, their adult daughter and grandson. He says the clean water has been gushing from a neighbouring house which has been vacant for years. He has built a trench between the houses to allow the water to run into a drain on the street.
"We have endless colds as a family because of this mess." Ngqiqi has made several trips to the office of ward councillor Lindelwa Qukubana to report the problem. Ngqiqi has been sent "from pillar to post" while the foundation of his house gets damper every day, he says.
"The secretary at the councillor's office knows my name and often tilts her head when she sees me. The councillor does the same. They often ask, 'didn't workers fix it?' I always tell them, no." Ngqiqi says council workers assessed the pipe in March and promised to return to fix it but never did.
"The people at the Councillor's office keep telling me that they have sent my complaint to the relevant people in Port Elizabeth. It is causing me a lot of stress."
Ngqiqi says his elderly wife has fallen three times this year while walking on muddy ground to their toilet in the backyard. "This is total humiliation. We also don't sleep at night because of frogs croaking throughout the night."
Councillor Qukubana told GroundUp she was aware of the Ngqiqi's complaint and that her office was doing its best to resolve it. "We often phone the municipal toll-free number 0800 20 50 50 and send emails to the relevant officials. We depend on these channels at this stage. We don't know what the holdup is for this complaint."
Executive Mayor Athol Trollip's spokesman Sibongile Dimbaza also promised to assist the Ngqiqi family but said he could not commit to a timeframe. "The matter has been escalated. [Ngqiqi] is advised to lodge a complaint with the municipality for his municipal account to be adjusted based on his monthly average water consumption."