Municipal workers threaten to intensify protests
Expanded Public Works Programme workers want permanent jobs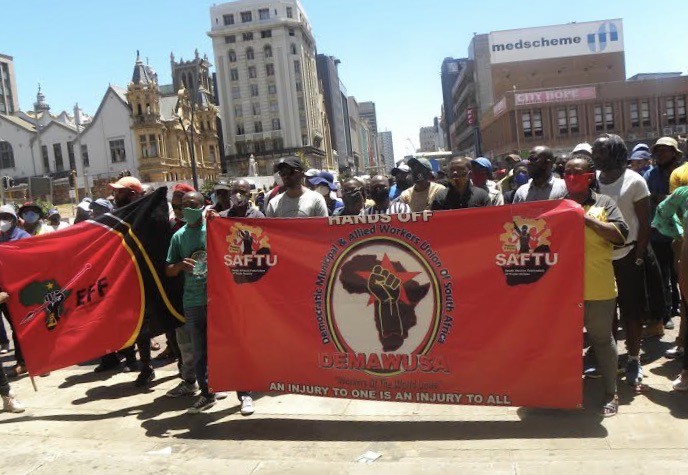 Workers are demanding that the Nelson Mandela Bay Municipality hire them on a permanent basis.
They have accused the municipality of corruption and mismangement.
The workers' contracts through labour brokers ended in December 2018.
After negotiations, they were rehired through the Expanded Public Works Programme in January this year.
They have promised to intensify protests should their demands not be met.
Water leak repair technician Monde Petani says he is "willing to fight to the death" until the Nelson Mandela Bay Municipality reverses its decision not to insource him and other workers.
"The ANC and the DA have shown their true colours … I even regret voting for the ANC in the first place."
Petani has been working for the municipality for 13 years, first under a labour broker. He said he was being underpaid by the labour broker and had no benefits when its contract was terminated in 2018.
On Tuesday, Petani joined about 80 Expanded Public Works Programme (EPWP) workers who protested outside the Port Elizabeth City Hall, demanding that the municipality reverse its decision not to take them onto the permanent staff.
The protest was led by the Democratic Municipal and Allied Workers Union of South Africa (DEMAWUSA) and other workers who had been working under labour brokers until January 2018 when the municipality terminated the companies' contracts.
The workers were left unemployed for nearly two years but were hired again in January 2020 under the Expanded Public Works Programme, as plumbers, water and electricity meter readers, security guards and seasonal staff.
Petani said that they had submitted several petitions to the municipality demanding permanent employment. He said they also planned to ask the Public Protector to investigate. "People trusted with public money are looting while the metro is rotting with uncollected rubbish. Sewage is flowing all over and no one cares to fix the problem. I want the Public Protector to investigate this municipality," said Petani.
Siphiwo Ndunyana of DEMAWUSA said: "The ANC and DA came together [last week] and reversed the workers' achievements when they voted against insourcing. They destroyed South African Airways, they bankrupted Eskom and Transnet, they looted SABC, and now they want to loot the Nelson Mandela Bay Municipality. We will not allow that to happen."
Ndunyana said protests would intensify until their demands were met.
The protesters handed over a petition to the municipality's head of petitions, Thembisile Mgwanza. The petition calls for a special Covid-19 danger allowance of R7,000 per worker per month. It also demands that the municipality insource all workers in accordance with a 4 December 2018 council resolution.
Mgwanza has seven days to respond before the group say they will return in larger numbers.
Dodgy people are suing us. Please support us by contributing to our legal costs and helping us to publish news that matters.