Municipal workers demand permanent status after six years
Mass protest planned for Pietermaritzburg by garbage collectors and street cleaners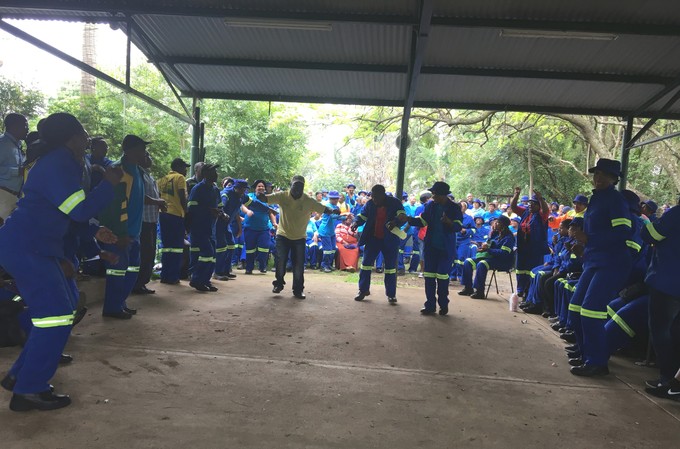 Yesterday, hundreds of Expanded Public Works Programme (EPWP) workers under Msunduzi Municipality in Pietermaritzburg gathered at Alexandra Park, saying they are prepared to fight the termination of their contracts.
Workers, including garbage collectors and those who clean parks and streets, downed tools on Wednesday. Last week, workers took to the streets, some emptying bins and disrupting traffic in the city.
The workers say they have been on contract for five to six years and feel exploited. They were told that their contracts terminate in November and that the municipality will be hiring new people from 1 December.
At the gathering in the park with union representatives, a worker told GroundUp: "We resorted to a peaceful and disciplined gathering. We know they were hoping that we will go to the streets and cause chaos so that they bring the police to shoot at us."
"I have been working for the municipality for six years. All along they have been renewing our contracts after a year … How can a person be on contract for six years?" the worker asked.
"We know that the people they will be hiring are the people of their choice. With our municipality, it's all about favours. They are rubbing each other's back because of the previous favours we know nothing about. We won't allow that; those people will be hired when we are dead, not as long as we are still alive," the worker said.
Regional Secretary of South African Municipal Workers Union (Samwu) Sbu Molefe said they will fight against the exploitation of employees particularly in Msunduzi municipality.
"As the union we we believe that these employees should be deemed permanent … The municipality has raised the hopes for these workers, only to tell them that their contracts have been terminated," said Molefe.
A permanent employee who has worked for the municipality for 15 years said they supported their EPWP colleagues. "Out of hundreds of employees only 30 employees are permanent … We are behind them; they have our full support. No one will be hired in 1 December, that will happen when we are dead," she said.
Workers plan a mass protest to City Hall on 17 November.
Attempts to get comment from the municipality were unsuccessful.
© 2016 GroundUp.

This article is licensed under a Creative Commons Attribution-NoDerivatives 4.0 International License.
You may republish this article, so long as you credit the authors and GroundUp, and do not change the text. Please include a link back to the original article.