Motorists pay toll fees to Zimbabwe's pothole entrepreneurs
Holes filled with bricks and sand and motorists charged a "thank you" fee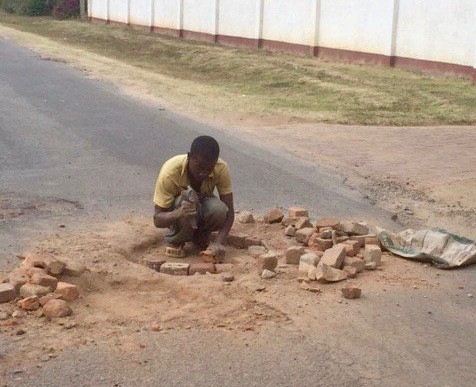 Potholes are a common and serious hazard on Zimbabwe's roads. But jobless youths have seized on the problem as an opportunity. They fill the potholes with rocks, broken bricks and soil, and ask motorists to pay a "thank you fee".
On social media, Zimbabweans joke about doing laundry or farming fish in the potholes, they are so large and numerous.
"We reasoned that whoever calls themselves [the] city municipality in Harare is either dead or uninterested in repairing road potholes.
"We thought – let´s occupy the potholes and charge motorists a dollar each time they drive through," says John Gava, 25, sipping from a bottle of illegal Kachasu gin hidden in a roadside flowerbed.
John is one of dozens of young men who make a dubious business out of fixing potholes in Harare.
He wakes up every day at 5:30am in Mbare, the city's oldest township and its largest slum. He dresses in a torn blue overall, carries a shovel, and takes a wheelbarrow with him. To get to his work, he flags down a minibus taxi and demands a free ride.
On the day GroundUp accompanies Gava, Nason Mwale, 24, helps him. They fill potholes in the industrial suburb of Willovale. Buses, minibus taxis, freight lorries, even police vans slow down to go around the men working in the middle of the road.
"Drivers – be they politicians, chefs or nuns – have no choice but to slow down and smile at us," says Gava.
Another member of the pothole crew, Musa Mufudzi, 21, rattles a tin to collect money from passing motorists.
Those who don't want to pay are threatened. "Pay or we will put a nail in your taxi wheels," Mufudzi tells a resisting taxi driver. The driver drops a R5 coin in the tin.
"We give free taxi rides home to these pothole boys as a courtesy," he protests, before speeding away.
Next, Mufudzi sprints over to a woman in a Honda Fit (Jazz). "Mum, we are pothole technicians. Your donations enable us," he says. She hands him a box of KFC chicken wings, then hoots as she drives off.
"Motorists should be grateful. We are doing what they can only dream municipal road engineers [will do]," says Gava.
Gava has created a WhatsApp group on his mobile – Pothole Technicians 2017.
"We use our phone cameras to map and record photos of road potholes that lie unfixed in Harare. We share the names of the roads, suburbs, and allocate boys to work the roads weekly. We pool our earnings and share money every Friday," he says.
At 1pm they knock off. Gava says, "Another crew will take over the pothole from 1pm to 5pm."
Gava says his earnings are confidential, "but I don't get less than US$5 on a good day".
Ngoni Katsvairo, secretary to the head of the Greater Harare Taxi Owners Association, says, "We appreciate the efforts of these so called pothole technicians … But they are crooks. You see…they pour soil into holes slowly so as to squeeze more money from drivers."
However, unfixed potholes takes their toll too.
"Our members have to change tyres almost every two months. And car tyres in Zimbabwe fetch up to US$73 each. These hideous road holes are eating car wheels," says Katsvairo.
Bothwell Petro of Harare Municipality commented: "Only the city engineering department has a mandate … to rework road potholes. We face financial pressures. City residents owe the municipality $US590 million in arrears."
Minister of Transport Joram Gumbo recently said Zimbabwe urgently needed $US80 million dollars to fix potholes and broken bridges after Cyclone Dineo.
© 2017 GroundUp.

This article is licensed under a Creative Commons Attribution-NoDerivatives 4.0 International License.
You may republish this article, so long as you credit the authors and GroundUp, and do not change the text. Please include a link back to the original article.