Metrorail or Metrofail?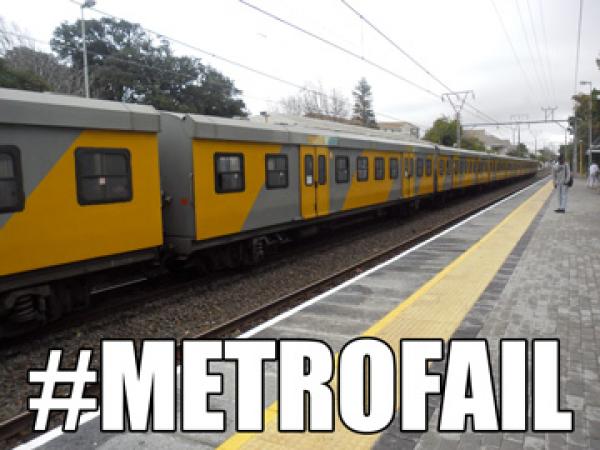 Metrorail is one of the three divisions of the Passenger Rail Agency of South Africa (PRASA), the state-owned enterprise which is responsible for most passenger rail services in South Africa. It is also one of the most troublesome forms of public transport.
Though thousands of commuters use the Metrorail trains across six of the country's large cities to go about their daily business, many of them have endless complaints about the trains and the service. In Cape Town there are 172 stations and 1,167 of the yellow, silver and black carriages, familiar to commuters. Bonga Dlulane, who takes Cape Town's northern suburbs route, has been a frequent train user for the past five years. He started using Metrorail when he got to Cape Town in 2008.
"It was new and interesting then as I had never been on a train but I quickly got the hang of it. I used it to travel to varsity for four years and I am now using it to go to work. I am on the northern suburbs route and I take the 23, 32 and 34 trains that travel to Eerste Rivier, Strand and Muldersvlei as I stay in Kuilsriver. It's a high-demand route which means trains are usually full and late. The trains are few and far between, but I do not understand this since it's a popular route," he said.
Dlulane, who usually voices his frustrations about Metrorail on his social network pages, recalls one particularly bad example, "I started a new job at a local radio station. I made my way to the station as I did everyday. I got to the station five minutes before my train was scheduled to arrive and waited. After about ten minutes passed the train had not arrived and I was panicking as this meant I would be late for work. Time got to 8.30am and I was still waiting for the train which was supposed to arrive at 8am, with no explanation from Metrorail, no apologies or update as to what was causing the delay. Only at 8.59am did the automated announcer, in such an irritating voice, tell us the train was delayed with no reasons given. I had called ahead to the office to ask them to find out what was going on, but they called back saying the official comment by Metrorail was that all our trains are on schedule. I arrived at work at 10:15am, an hour and half later than my starting time. I had to take a taxi which is expensive since I had a monthly train ticket and not to mention I was starting a new job," he said.
Dlulane is not the only commuter who takes to social networking sites when he experiences bad service on Metrorail trains. Many commuters update their statuses when trains are delayed or have suddenly stopped in the middle of nowhere. Some commuters take their complaints to Metrorail's Facebook page, under the "Recommendations" section.
Gareth Campbell wrote:
R100mil on security which comprises mostly of overweight lazy people that eat greasy chicken on the job, spit, swear and basically don't care. The trains still have a 3rd and 1st class separation that splits people according to some sort of class, not to mention that the trains still run late everyday. MetroFail is a joke. And by the looks of things you don't give two shits.
Johnorr Appies wrote:
Get better, fit and commuter friendly security and staff [because] your workers chat up schoolgirls, BBM and generally just don't care. But if they even hear a whisper of the word strike that they will [that] do with full effort and effect.
Metrorail trains are split into two, commonly known as first class which was changed to Metro Plus, and third class which is just Metro. Most carriages are covered in graffiti as well as penis enlargement and illegal abortion adverts. It is seldom that windows open properly or can even be seen through. It is often hard to see the names of the stations that the train stops at. Opening the carriage doors at train stops often takes great strength. The service is also not disabled-friendly.
Metrorail's regional manager for Cape Town, Mthuthuzeli Swartz didn't answer most of the questions I asked him, but he did send me a press release with information on Metrorail's security. There are 429 Metrorail Protection Service employees and a further 150 trainees. One hundred of them have previous military experience. They also use 400 railway police and seven private security companies that collectively provide 1000 security guards. When I got hold of him on the phone his response was to blame commuters for the poor state of Metrorail:
Do you know that R12 million is spent every month on security for safety against commuters? Commuters verbally abuse the train inspectors and ticket examiners. They break surveillance cameras. They do grafitti and go as far as destroying train carriages by setting them alight. Just last year, a thousand train windows were replaced, but if you go and take a look at them now, you will find that a third of them have already been destroyed.

We are doing the best that we can but each time we fix something, it gets broken again. The level of crime in the Western Cape is too high. We have employed 320 additional [security] personnel for the financial year ending in April. We are aiming to get 500. We are providing training which is part of a national programme. Last year 100 army reservists were employed. In all of this we have successfully seen a 40% reduction in crime.
The City of Cape Town's Mayoral Committee Member for Transport, Roads and Stormwater, Brett Herron, who had mentioned in an interview with GroundUp last year that the city was working together with Metrorail to improve its services, said, "The City remains concerned about the quality, reliability and safety of Metrorail services. Over the past 18 months I have had frequent meetings with Metrorail management and we are doing what we can to support Metrorail's programme to improve."
He said that last year October they had reached an agreement with Metrorail to work together on a number of issues, including safety and security, graffiti, communication, informal settlements occupying rail reserves—which Herron explained is a danger to residents and has an impact on the rail service—and integration of timetables.
Herron said, "In the meantime, we are currently doing a due diligence study of Metrorail and its operations in Cape Town to determine the future role the City should play in commuter rail. In December I took a train trip from Lentegeur to Cape Town. I walked through the train and talked to commuters to check whether they have noticed any improvement in the service. A number of commuters told me that they did feel the service had made a slight improvement, with the biggest complaint being train delays and failure to communicate when a train is delayed between stations. I will raise these issues with management at our next meeting."
Zora Dick is a Metro Plus ticket holder. She has been using the trains for the past six years. She takes the Cape Town Southern line which is probably the most well-resourced in Cape Town. "My train trip is only five minutes so I basically hop on and off. I use Metro Plus so there is almost always a space to sit and security guards every other week," she said. Though her train ride is quick, like Dlulane she would also like to see improvements. "I would like all the windows to be functional. If the train is delayed, I would like to be told an approximate time that it will arrive at the station. Also I would like security to be visible in the Metro carriages because that is where most of the people are and where crime, like pick-pocketing happens." In rush hour, the Southern line is packed to the brim and it is often hard for commuters to get on and off the train.
Nobesuthu Faku from Gugulethu uses the train from Heideveld station to Khayelitsha's Site C, Nolungile Station. "The Khayelitsha trains do not have window panes and every day we are scared because kids throw stones through the windows. I have been hit once while coming from work. The Metrorail trains are not safe and are bad in winter and summer. When it rains you can't sit down because chairs are wet and the doors do not work. I have once missed my station because the doors were stuck," she said.
She recalls a terrible experience in December 2010. "I was still working in Maitland. The train was empty and four guys came in and demanded money and our cellphones. Every one ran to the next carriage and got off at other stations, so Metrorail trains are not safe."
Dlulane mentioned that some of the improvements that he would like to see for Metrorail included more trains on his route, better train conditions and Metrorail providing alternative transport when trains have been cancelled. "Why do we spend close to R300 on a monthly ticket if I have to take a taxi in-between? It inconveniences us and messes with our budget," he said. In cities like London, replacement buses, at no extra cost to commuters, are used when the subway system breaks down.
Metrorail has 4,638 coaches across the country. About 90% of these date back to the late 1950s. According to a statement by PRASA's communications head, Moffet Mofokeng, there is a programme to replace the current fleet over a 20 year period, from 2015 to 2035, at the cost of R123 billion. The new fleet will apparently include air-conditioning, closed-circuit television cameras for safety, automated doors and an on-board communication system.
Metrorail has had its fair share of damages this year. Four carriages were set alight and destroyed in Woodstock on 23 January, while the same occurred earlier in January in Gauteng, where four trains were burned. Most recently, in Atteridgeville, Pretoria, hundreds of people were injured when two Metrorail trains collided.
So what is PRASA, the company responsible for Metrorail, and who runs it? Getting hold of PRASA's senior executives is not easy. The company's Group CEO is Tshepo Lucky Montana, who previously was responsible for the controversial taxi recapitalisation programme. He has been involved in public spats with the Black Business Council over Prasa's broad-based black economic empowerment capital expenditure plan and with the South African Transport & Allied Workers Union who accused him of corrruption. In response he threatened to sue the union. The Chairman of PRASA is Sfiso Buthulezi who is the Chief Operations Officer for Makana Investment Corporation Limited. PRASA reports to the National Minister of Transport. The person responsible for PRASA's Metrorail division is Mosennngwa Mofi. I tried to interview him, but he had not got back to me by the time of publication.
The trains have lots of potential. If they were clean, safe and reliable, they would make public transport a pleasure to use in Cape Town and probably other cities. But there is a long way to go before that happens. Enrique Peñalosa, the former mayor of Bogotá, the capital of Columbia, says, "An advanced city is not a place where the poor move about in cars, rather it's where even the rich use public transportation." We can only hope for that to be the case in South Africa.
Update at 15:45 on Wednesday 6 February 2013
At 14:45 today, sometime after this story was published, Mary-Anne Gontsana received the following reply to an email she sent to Metrorail requesting answers from CEO Mosenngwa Mofi.
Mary-Anne
Your email is very sketchy and we do not understand the context of your statement that carriages of trains are in a bad state. You need to elaborate on this, otherwise we are shooting in the dark.
For the record Mr Mofi consistently travels on the Metrorail trains and ensures that on a weekly basis he boards the trains and interacts with commuters, visit stations and interact with staff and consistently reviews the quality of our service offering. I must also emphasise that Metrorail has made significant strides over the last few years to improve the quality of its services, which included, amongst others, on-time performance, general upkeep of the operational environment and customer services. The massive investments in infrastructure that supports commuter rail and the rolling stock fleet renewal programme (R123 billion) which will see a new fleet of trains for Metrorail from 2015 will go a long way in transforming commuter rail in the country.
Regards
Lawrence Venkile
HEAD: MARKETING & COMMUNICATIONS
SPOKESPERSON: METRORAIL & SHOSHOLOZA MEYL
Dodgy people are suing us. Please support us by contributing to our legal costs and helping us to publish news that matters.
Letters
Dear Editor
We frequently make use of (trying to) the Hercules to Eerste Fabrieke/(Pienaarspoort) train route in Pretoria. The service reliability/delivery is extremely poor. Can we please be provided with a reasonable explanation.
© 2016 GroundUp.
This article is licensed under a
Creative Commons Attribution-NoDerivatives 4.0 International License
.