Meet the Senegalese man who teaches South Africans how to make and sell crafts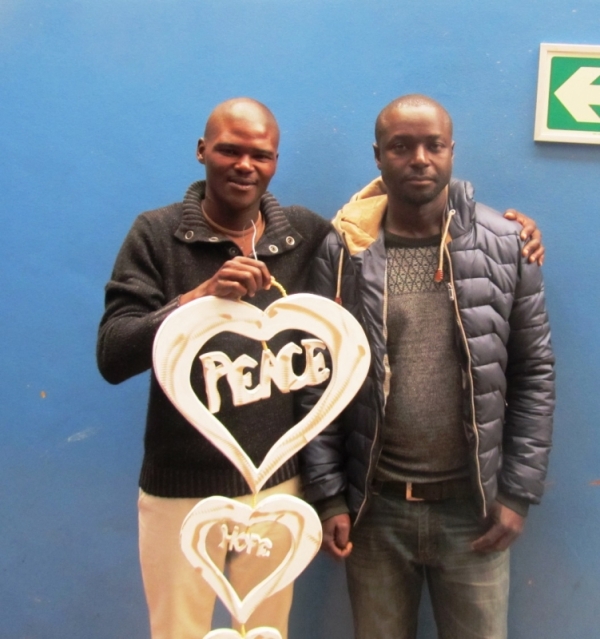 Seeing how many unemployed young people there are in Imizamo Yethu informal settlement, Moustapha Fall, originally from Senegal, decided to teach them craft skills.
Fall, who is 40, left Senegal for Spain in 2006. He is a trained industrial designer specializing in craft work.
"Economically my country was not performing well, so I decided to visit other countries to sell my craft work," he says.
He went to the Canary Islands and Tenerife. Then in 2008, he travelled to the Ivory Coast, Ghana, Mali, Morocco, Egypt and Ethiopia.
"History tells me Africa was colonized, so I travelled this far in Africa to familiarize myself with what is happening in different countries. I was specifically looking at craft work," says Fall.
He arrived in South Africa at the end of 2008. He has now married a South African and they have a child.
It wasn't easy for him to make a living at first. "I was informed that Cape Town is a tourism hub, so I decided to sell my craft work here," he says. "I got a stand at Green Market square, but it was short lived because [the authorities] sent me away. So I had to go to Hout Bay harbour. Again, I was sent away."
Fall now makes his crafts at his home in Imizamo Yethu informal settlement in Hout Bay, and he sells the crafts at Big Bay, Blouberg, where he met a member of the Africa Unite organization. Africa Unite also agreed to let Fall teach his skills to unemployed youths in Cape Town.
Africa Unite aims to show how foreign nationals contribute positively to the South African economy. "We decided to engage Moustapha in a skills sharing program that would see local unemployed youths benefit," says Brilliant Nyambi, youth co-ordinator for the organisation.

Siyaka Plam of Nyanga East with a Christmas tree he plans to sell for R250.
Photo by Bernard Chiguvare.
On Friday in Gugulethu at the sports complex, Africa Unite put the new craft work on show.
"I dropped out of school in 2006 because of financial challenges," says Siyakha Plam, 28, from Nyanga East, one of the trainees. "I tried to join drama groups, but that did not work well and up to now I am not employed. The community informed me about Moustapha. I decided to join [his] course."
"I loved craft work during my school days but could not turn it into a means of living. Now that I have someone to teach me, I believe I will make use of this great chance. I wish to go into the community and also teach other unemployed youths," he says.
Plam has already made a Christmas tree of wire which he is selling for R250.
"My challenge is where to get the plain wire for the craft, because I am planning to make as many trees as possible before Christmas," he says.

Nosiphe Ludwele, 20, from Fishhoek with the bangles and necklaces she makes.
Photo by Bernard Chiguvare.
Another budding crafter, Nosiphe Ludwele, 20, from Fish Hoek, says, "This could be my chance … I only worked for Food Lovers Market on a three-month contract in 2013, and up to now I am unemployed."
Ludwele has already made bead necklaces and bangles to sell. She hopes to sell each for R25.

Bongiswa Mbuyazwe from Gugulethu hopes to supplement her income by selling craftwork. Photo by Bernard Chiguvare.
Bongiswa Mbuyazwe, 23, from Gugulethu takes casual work at various companies, but she is looking for projects to supplement her meagre earnings.
"The project is a good idea. I would like to seriously get into this project and at the end teach other youths in the community," she says.
She is now ready to sell a wire Christmas tree, bead bangles and necklaces.
Fall advises his students, "Now that you are able to do the craft you need to sell the finished product. Buyers usually come to someone who is presentable and gentle. Your approach to clients is very important. You meet different characters, but never lose your temper."
© 2016 GroundUp.
This article is licensed under a
Creative Commons Attribution-NoDerivatives 4.0 International License
.