Meet Adriaan du Toit, the "independent" geologist who trolls environmentalists and Cyril Ramaphosa
Du Toit's work helped an Australian company get prospecting rights on the West Coast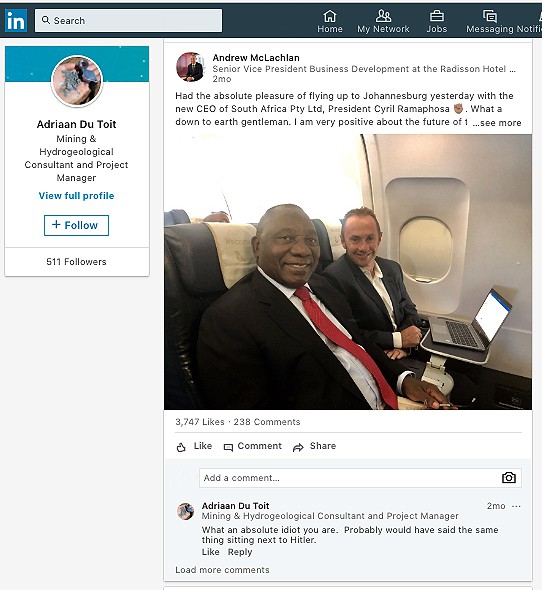 A consulting geologist whose work enabled a controversial Australian mining company to win a further new prospecting right on the West Coast, has repeatedly insulted President Cyril Ramaphosa and the South African government on social media – with his unflattering remarks even referencing Adolf Hitler.
And concerns about the geologist's independence — a statutory requirement for the work he'd performed as an Environmental Assessment Practitioner — have not been investigated by the Department of Mineral Resources, despite a formal request on legal grounds by the Cape Town-based Centre for Environmental Rights.
Stellenbosch University-trained, West Australia-based Adriaan Du Toit has also derided environmentalists on social media as "idiots" and argued that the impact of most mines is "generally only visual or aesthetic, not significant within the boundaries of environmental variance".
Earlier this year, he reacted to a post on LinkedIn by a prominent businessman, Andrew McLachlan, who after sitting next to President Ramaphosa on a flight to Johannesburg had praised him as "a down-to-earth gentleman". Du Toit responded: "What an absolute idiot you are. Probably would have said the same thing sitting next to Hitler."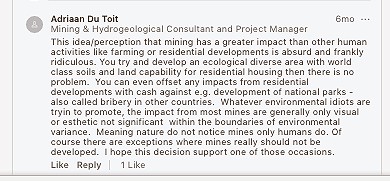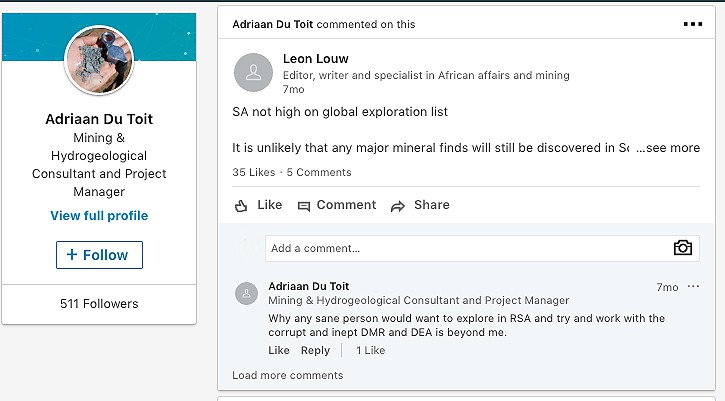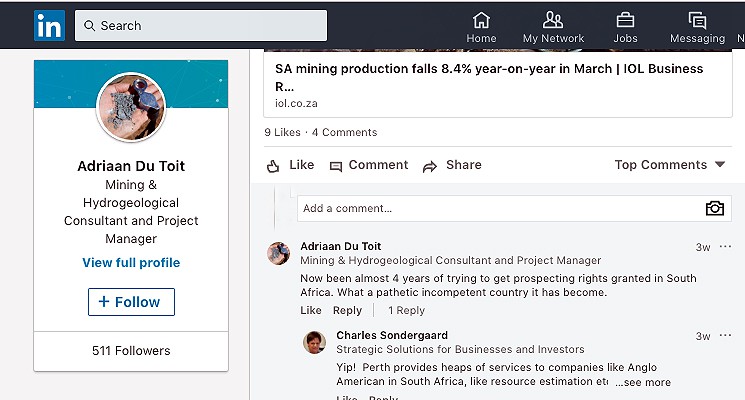 A report by Du Toit, for which he was legally required to be independent and objective,­ was the basis on which the Department of Mineral Resources last month approved a prospecting right for Australian mining company Mineral Sands Resources (MSR) over 4,500 hectares of land in the Olifants River estuary area, a highly productive and environmentally sensitive ecosystem with a Critical Biodiversity Area rating.
In his Basic Assessment Report for this application, Du Toit dismissed a legal concern raised by Jan Briers, a former senior official in the Department of Mineral Resources with extensive personal and professional knowledge of the issues, as "irrelevant" and "a highly disturbed ranting with anarchistic undertones".
In another comment in the report, Du Toit lashed out at the Centre for Environmental Rights for having raised concerns with the Department about his independence, even though the Centre had not commented on the merits of the prospecting application:
"This is a typical approach from activist [sic] who has no environmental reason to object to a legitimate application activity. This approach undermines the purpose of environment [sic] assessment and protection and make [sic] a mockery of the due process. It is classified as eco terrorism by Donal [sic] R Liddick in his 2006 publication 'Eco-Terrorism'. It should be treated with the contempt and disgust it deserves."Du Toit's disdain for South Africa is reflected in other social media posts where he questions investment in the country. "Why any sane person would want to explore in RSA and try and work with the corrupt and inept DMR [Department of Mineral Resources] and DEA [Department of Environmental Affairs] is beyond me," he remarks in one LinkedIn post.
Nonetheless, he includes his work with government in South Africa on his CV: "External consultant to the Department of Mines [sic] and Energy as a review judge on the Excellence in Environment and Management (EMEM) Awards". The EMEM awards were launched by Susan Shabangu, then Deputy Minister of the Department of Minerals and Energy, in March 2000.
---
Du Toit, who operates a small, family-owned geological-geohydrological-environmental consultancy based in Joondalup City in the Perth metropolitan area of Western Australia, has worked extensively in South Africa, elsewhere in Africa and in many other countries around the world.
In early 2016, he was appointed by Mineral Sands Resources as its Environmental Assessment Practitioner (EAP) for an application to prospect for heavy sand minerals like ilmenite, zircon, rutile, garnet and leucoxene on two West Coast properties totalling nearly 4,500 hectares, just south of the company's existing Tormin mine.
Mineral Sands Resources is a subsidiary of Australian parent company Mineral Commodities (also called MRC) that has had a highly controversial operating history in South Africa over the past decade, both at the Tormin mine and – particularly – at the bitterly contested Xolobeni site on the Transkei coastline, where the company wants to mine titanium and other mineral sands.
According to his own LinkedIn profile and his CV on his company's website, Du Toit has worked extensively for both companies. His LinkedIn profile states that he was employed by MRC for two years as its "Principle Geologist and Superintendent" and was responsible for "directing company decisions and implementing best strategies with the MD". As recently as last month, in a slide presentation at the company's annual meeting in Australia, Du Toit was listed as a geologist in the MRC management team.
In June 2016, the Centre for Environmental Rights asked then Mineral Resources minister Mosebenzi Zwane and his Department to investigate Du Toit in terms of the Environmental Impact Assessment (EIA) regulations.
According to these regulations, an environmental practitioner must have "no business, financial, personal or other interest in the activity or application" and there must be "no circumstances that may compromise the objectivity of that EAP, specialist or person in performing such work".
Du Toit was not independent as required by the regulations, the Centre argued.
However, the Department ducked its responsibility by irregularly referring the Centre's request for an investigation to Mineral Sands Resources that had contracted Du Toit to do the work. Not surprisingly, the mining company gave Du Toit the green light, and the Department then ignored further attempts by the Centre to engage it on the issue.
In response to a query by GroundUp last week, the Department claimed to have resolved matters. "The complaint was brought forward by the CER [Centre for Environmental Rights] and attended to. It was established that at the time of lodging the application, the EAP [Du Toit] was no longer working for the company. This was communicated to the CER," it stated.
The Centre does not agree.
Executive Director Melissa Fourie said the Department's Regional Manager had responded to their complaint "by simply forwarding to us a response from the company [Mineral Sands Resources]. This clearly does not discharge the Department's obligation to investigate the matter, but the DMR has failed to respond to our follow-up correspondence".
A comprehensive set of questions and an invitation to respond was emailed to Du Toit at 10am (SA time) on Tuesday, 5 June. At the time of the publication on Friday, 8 June, there had not been an acknowledgement of receipt or any response from him.