Mashaba has incited xenophobia, says immigrants' spokesperson
African Diaspora Forum has tried in vain to meet organisers of Friday's anti-immigrant march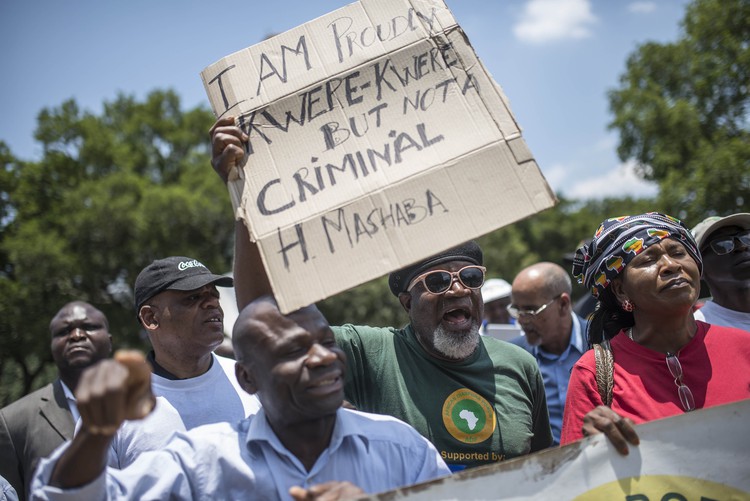 African Diaspora Forum spokesperson, Emeka Johnson, believes Johannesburg mayor, Herman Mashaba, has incited the ongoing violence against immigrants in Gauteng. Mashaba was quoted saying "[Illegal immigrants] are holding our country to ransom and I am going to be the last South African to allow it." Johnson referred in particular to the burning of shops and the imminent march against African immigrants living in the province.
The march against "illegal immigrants" as it is titled, is planned for Pretoria on Friday, according to the Mamelodi Concerned Residents group. The group distributed fliers which read: "Unemployment is at 34% in South Africa but they give people asylum seeker status, when there is no work in South Africa … Where must South Africans work?" A spokesperson told Groundup that "the march has been approved. It is a legal march, a peaceful march."
The march has been planned in the wake of numerous xenophobic attacks against immigrants living in Johannesburg and Pretoria, with 30 immigrant-owned shops looted and burnt in Atteridgeville, and a further 12 houses burnt down in Rosettenville, south of Johannesburg.
"We are of the impression that [Mashaba's] statement actually lighted new waves of xenophobic attacks across Gauteng," Johnson said. "We don't believe that mob action will solve the challenges, and it will affect the innocent too."
Following his controversial remarks Mashaba has issued a statement condemning xenophobia, saying his administration will do whatever is necessary to prevent violence. "Foreign nationals are not our enemy. Instead of planned xenophobic marches, the national government should be held to account for its failure to create meaningful and sustainable economic growth for our country and to secure our borders."
Johnson told GroundUp: "We have tried to engage members of the Mamelodi [Concerned Residents]. We were supposed to meet to hear their grievances, but last minute they didn't show up."
Johnson said that the ADF is trying to communicate safety precautions to its members in Pretoria. "We have activated our hotline and we have advised people to keep away from [violent] hotspots," Johnson said. Organisers of the march have said that they are "against xenophobia," and that "any looting… should be stopped." But even though the march is intended to be peaceful, Johnson still says that members of the ADF "are afraid" and "jittery" about the march and its potential repercussions.
For now, the ADF does not plan to have a counter protest. "We were not going to have a protest on the same day because it's not safe, and we are not permitted." Instead, ADF is focusing on trying to stop the march. The ADF does have plans to hold a "protest of solidarity against hate" next month, Johnson said, but details have not yet been confirmed. The ADF is inviting support from civil society and "everybody who is anti-xenophobia" to this protest. Johnson hopes that the march next month will attract similar crowds to the 2015 anti-xenophobia marches.
Johnson has lived in South Africa for 22 years. "It's a lifetime!" he exclaimed. "I have family here, I'm married to a South African, I have children here. I live here."
Letters
Dear Editor
On the day the comments were made I emailed the DA to protest about this unsubstantiated utterance from someone of the stature of Johannesburg mayor and received a response about two weeks later explaining that this was not meant as was perceived etc. I accepted the explanation with reservations but now again with what is happening it just shows us how serious these comments are and how it helps to incite violence!
One expects more from leaders and unfortunately, it shows the true views of the individual who makes these comments
Irresponsible and the consequences are not going to just go away.
Dear Editor
The economy of South Africa has stagnated for a long time such that jobs are not easy to come by for locals. Here the problem lies squarely with the Government. It is the protesting South Africans who have elected this government, therefore, they are responsible for their own problems. It is true that a few migrants are criminals, but so too are a few South Africans. My observation, based on the few days that I have been in Johannesburg (I am from Kenya, studying in South Africa) is that there are lot of entrepreneurial opportunities in South Africa, but locals are either unable or unwilling to take them up.
My uncle has lived in South Africa for over a decade and his small business provides employs 3 South Africans. I don't t get the reason why South Africans cannot undertake such small business ventures. Migrants from Zimbabwe clean people's shoes in street corners in cities all over South Africa, dirty jobs that South Africans won't undertake. In the face of a stagnant economy, choosy South Africans end up with no work, where foreigners thrive doing odd jobs below the "class" of local South Africans.
Killing a Kwere Kwere will not result in you getting a job offer the following day. Attitudes must change, the government must figure out how to grow the economy, investment (including the foreign investment by kwerekweres) must be encouraged and given room to thrive. Local criminality must be extinguished, foreign criminals must be arrested, prosecuted and later on sent back to their home countries.
© 2017 GroundUp.

This article is licensed under a Creative Commons Attribution-NoDerivatives 4.0 International License.
You may republish this article, so long as you credit the authors and GroundUp, and do not change the text. Please include a link back to the original article.